NYC's Most Iconic Meat Dish Is In Brooklyn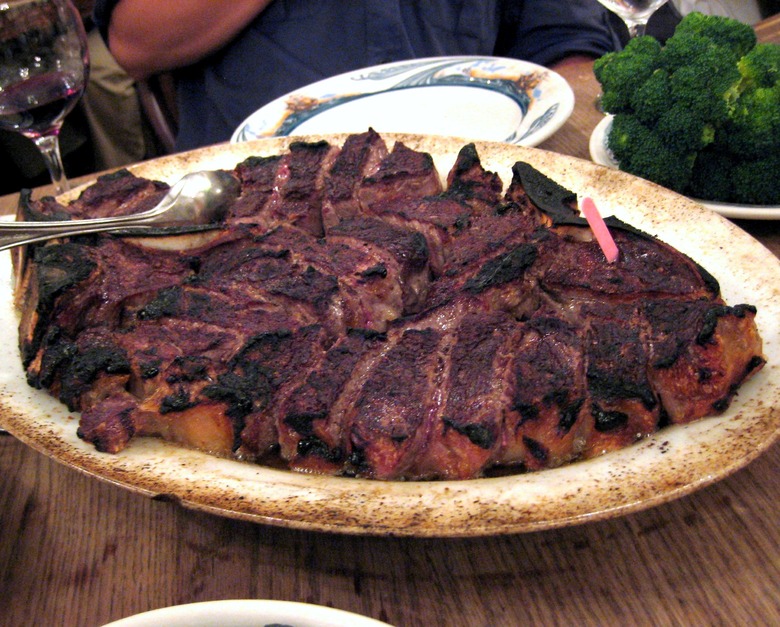 It's no secret that New York City is home to some pretty epic meat dishes. To welcome us all back from a meat-filled long weekend, Eater has written up a rather, er, meaty list of the city's 21 most iconic meat dishes. Yes, we certainly have meat on the mind here at Food Republic.
Taking the steak – we mean, cake – in the top spot is the porterhouse at Brooklyn's Peter Luger. Right on cue, Eater also released a breakdown of the composition of what many are quick to call New York's best steak. We have no qualms with that – and we're especially stoked to see classics like Katz's, Shake Shack, The Spotted Pig and The Halal Guys also get some love. There's a good mix of traditional and contemporary, with plates from city hotspots Carbone, Momofuku, Minetta Tavern and Balthazar receiving recognition.
We would have liked to see another hot dog get some credit, considering that a beef frank is about as NYC as it gets (the bacon cheddar dog from Bark comes to mind here). And, just because one Brooklyn steakhouse cracked the list doesn't mean that another should have been left off. Food Republic had one of the best meals of our year at St. Anselm. We still dream of that 50 (yes, 50)-ounce hunk of perfectly marbleized meat. There's also some quality barbecue to be had in the city: Fette Sau and Mighty Quinn's are as good as it gets. Overall, though, we'd be quite content leaving the office early tonight and enjoying any one of these 21 beauties.
Craving steak now? Try out these recipes on Food Republic: