With A Country On His Shoulders, Enrique Olvera Is As Cool As A Bowl Of Guacamole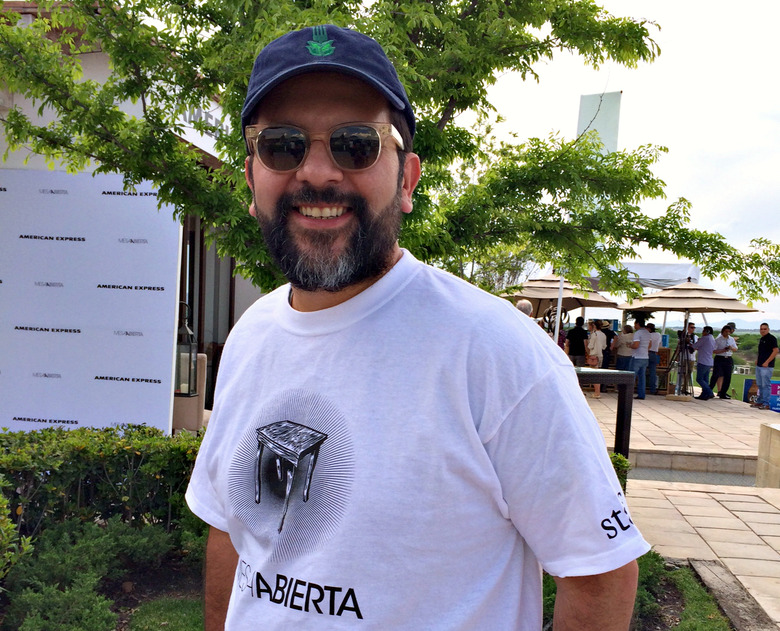 "Let's walk," says Mexico's most-famous chef, putting his arm around my shoulder with the bro-ish familiarly of SigEp pledge mates. We're standing in a field outside San Miguel de Allende, where beautiful Mexican children play tag and stilt walkers half-twerk to the songs of Stevie Wonder (apparently a normal thing in Mexico). There's a 700-pound cow slow roasting over coals. Palomas are flowing. I have met Enrique Olvera, chef-owner of the 17th best restaurant in the world Pujol, about 20 seconds prior to our embrace and he wants to show me around his new food festival, Mesa Abierta (an extension of his chef-centric Mesamérica conference taking place in the capital May 20-22).
Launching Abierta is a proud moment for the chef, 38, who is looked upon as a role model and culinary spiritual advisor with his cerebral, modestly priced, traditionally minded tasting menus (around $75, which is nuts considering the restaurant is a mere two spots behind Alinea on the prestigious World's Best list) featuring from-the-streets interpretations like smoked baby corn with coffee mayonnaise and a tortilla topped with three rare Oaxacan chiles aged over a year. Sure, Olvera's cooking is modernist — onion ash is used to powder smoked snook and escarole. But the spirit of the Mexico City restaurant is derived from the country's rich culinary heritage. There are sopes, grilled masa topped with nice things like Ensenada sea urchin roe. And, of course, tacos — though the two-bite tacos people are going crazy for in the States at places like Empellón.
As Olvera starts to lead me towards the tasting tents, perhaps for a sip of local semillon produced outside Dolores Hidalgo, it becomes clear that I have Mexico's most-famous chef on my arm. Soon photos are taken and media members begin to hover. A handler appears with a 10-minute warning. But that's enough time to get down to the serious business: namely, to tableside guacamole, or not to tableside guacamole.
You're opening a restaurant in New York, Cosme, and people are getting excited. Tell me about it.
We want the restaurant to be Mexican, because we are Mexican and have a Mexican mindset. But the products will be local, so we will have to adapt. If you think about it, the principles of Mexican cuisine are similar to many other cuisines. You use local ingredients. You stick to your flavor profiles.
So this restaurant will not be like Pujol?
It will not be like Pujol, but we will not be doing tortilla soup.
So you mean no guacamole mixed by the side of the table?
The guacamole we are doing! But not tableside.
I mean, you make too much money to ignore it.
That's what [Empellón chef] Alex Stupak told me (laughing). You pay your rent with the margaritas and guacamole. We will make killer guacamole.
What are some other items you will be serving?
We're taking an eggplant and charring it as if we were making a salsa, but mashing it up to make a guacamole. We want it to be accessible. We're going to do chiliquilla with burata. We're playing around with the idea of doing barbecoa with rutabaga. We have started some trials, but it all depends on the time of year we will be opening. If we are lucky and opening in June, the menu will be different than fall.
What about masa and tortillas? Will you make your own?
Masa is the only thing that we will be taking from Mexico, but dried corn travels well. We're going to open a tortilleria in Brooklyn. We have a little space and are going to make tortillas and ship it to the restaurant. This guy from Blue Hill at Stone Barns is doing fair trade corn in Mexico. As in, he's planting corn in Mexico and sending it back to America.
You cooked in Chicago in the late '90s. Did you get to know Rick Bayless, who is by far America's biggest ambassador for traditional Mexican cooking?
Of course. I love Rick Bayless and I think Rick has done the same — he's adapted to the terroir in Chicago. It's what we're going to do as well.
Why start a food festival in San Miguel de Allende, which is a little more rural than other Mexican cities?
I do work for a hotel here called Matilda and always wanted to do something to show people that I am happy to be here. I fell in love with the town many years ago and was amazed by how many passionate farmers and producers are here. It's a big dairy producing area, so the cheese is amazing. There are a lot of great lettuces and herbs. People have come here because the town is pretty, but I want people to come to eat. Mesamerica is for cooks, while Mesa Abierta is for the people.
Read more FR Interview on Food Republic: