One thing most truffle lovers can all agree on: they can't get enough of the funky delicacy. And yet, even the most diehard fans might have trouble envisioning their favorite fungus incorporated into dessert. "It's difficult, but you find components that work with the earthiness," explains Locanda Verde's  pastry chef Nancy Tran. "Chocolate tends to go really well." Case in point, her "Black Truffle Tartufo For Two."
Tran debuted the dessert for the Tribeca restaurant's most recent "Trufflepalooza," a one-night, truffle-centric dinner event in which every course gives marquee status to the earthy stuff. "Tartufo means truffle in Italian, so it was especially fun to do this particular dessert. And an actual truffle mushroom has a similar form as this. So people who are really dying for truffles get it," she said of the double wordplay and the dish's semblance to the real deal.
Sitting atop a mound of crumbled cookies rests an Italian-style tartufo, only this one contains a split of two gelatos: chocolate and vanilla-truffle, constructed to resemble the NYC classic black and white cookie. For good measure — literally — Tran generously crowns the shell with about an ounce of fresh truffle shavings. Read on for a further deconstruction of what's what.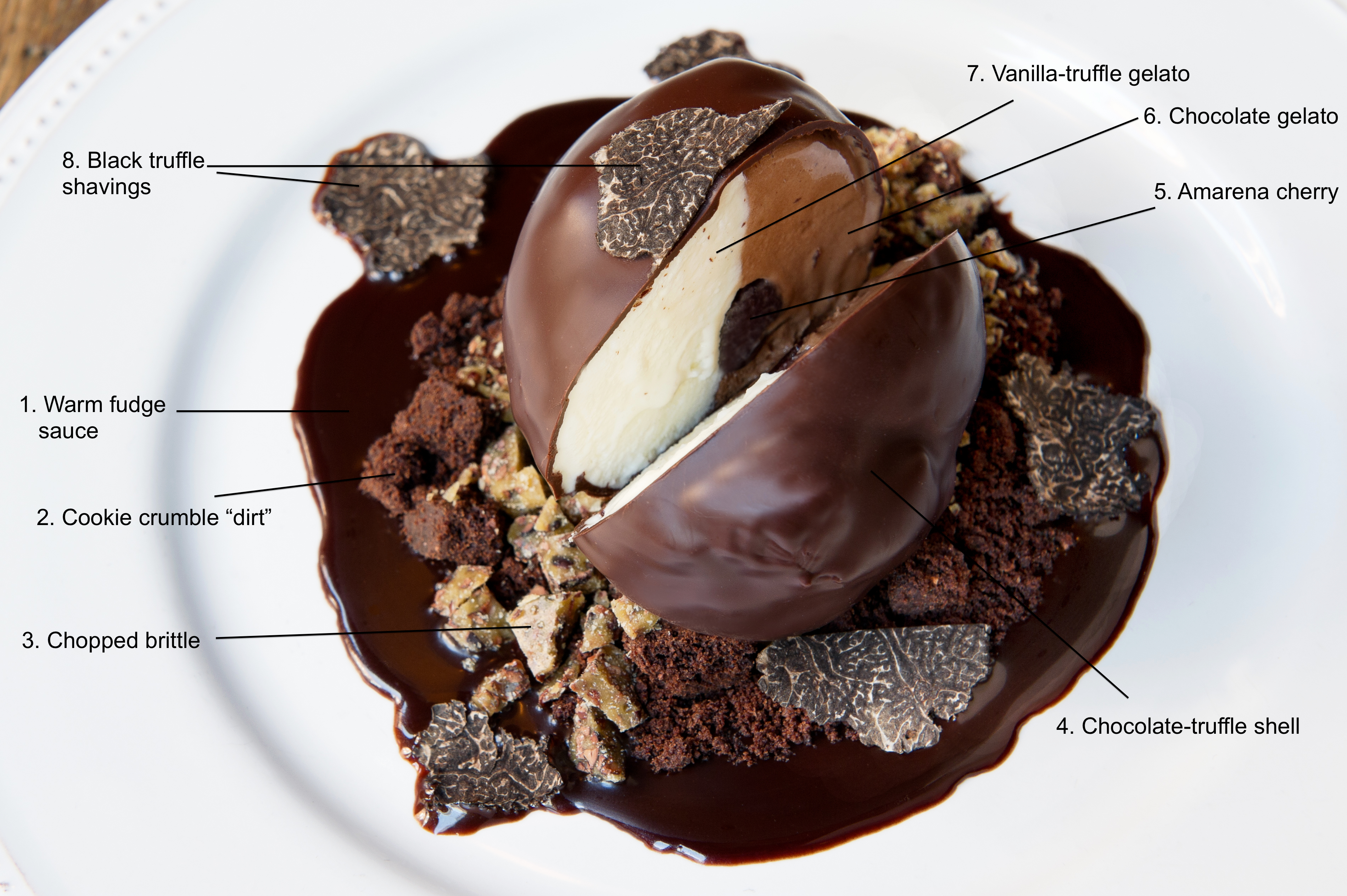 1. Fudge sauce | "It's a pretty basic fudge sauce, served warm."
2. Cookie Crumble "Dirt" | Chocolate cookie, crumbled. "It's our housemade version of an Oreo. When it's broken up, it almost reminds me of dirt."
3. Chopped Brittle | Housemade with cocoa nibs.
4. Chocolate-Truffle Shell | "It's like 'magic shell,' which is usually made from chocolate and some kind of oil. I often use coconut oil, but this one is made with black truffle oil. I wanted to get as much truffle flavor into the dessert, but sometimes it can get to be too much. This is very subtle with the truffle oil."
5. Amarena Cherry | Italian dark cherry, sweetened in syrup
6. and 7. Chocolate Gelato & Vanilla-Black Truffle Gelato | "A traditional tartufo usually contains one or two ice creams inside. I like that this resembles a black and white cookie, when you split it open."
8. Black Truffle Shavings | "Right before sending the plate out, we shave to order. I'd say we shave about an ounce over each dessert."
Locanda Verde, 377 North Moore Street, New York, NY, 212-925-3793, locandaverdenyc.com
More Plate Deconstruction on Food Republic: