Super Bowl Party Food: 5 Ways To Mail-Order Yourself Some Bragging Rights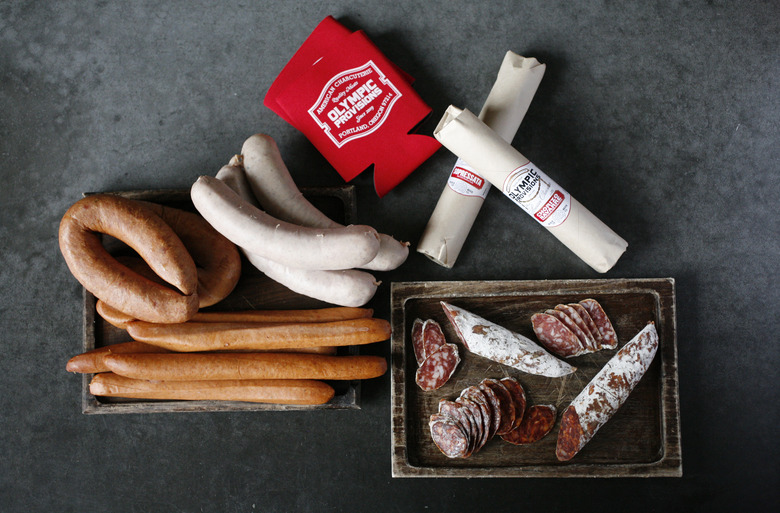 We may receive a commission on purchases made from links.
The whole point of throwing a Super Bowl party has nothing to do with the game. I know there are a lot of Richard Sherman (Crabtree, don't you open your mouth about the best!!!) fans out there. But are there really any Seattle Seahawks fans out there? No, Super Bowl parties have historically been more about the food than the game on the field. Plus, the commercials and pointless betting, of course. But food is the focus. It's that one day of the year when it's OK to eat half a White Castle Crave Case®, a plate of seven-layer dip, 14 BW3 medium-sauced chicken wings and two Yonah Schimmel knish (that was Super Bowl XXXIX, and with money on the line).
The best Super Bowl party host starts thinking about the menu a week ahead, which according to my calendar is just about now. And while stocking up on corn chips and 80/20 ground chuck (sliders, yo!) is a given, the best hosts offer a couple curveballs — a foodstuff that shows they've put some thought into the party menu. The best "bang for your buck" factor is to find something slightly exotic, but still crave-worthy and festive. A tray of fresh Santa Barbara uni is not the move. A tray of Walkers Nonsuch English Toffee is not the move. The move? How about these five mail-order products. I even paid tribute to the two Super Bowl teams competing in New York City (well, near New York City) on February 2. Wait, who? Eh, doesn't matter. It's all about the fooooood.
1. El Cholo Los Angeles tamales
The key to good tamales is fresh masa, ground from freshly harvested corn. When this fresh masa is combined with Cheddar cheese, canned green chiles and baked in its own husk, it's the perfect marriage of sweet, salt and spice. Los Angeles restaurant El Cholo has been making tamales since 1923 and serves them in the restaurant only from May to October. But through the magic of deep freeze, these famous tamales are available year-round and come with a pint of mole sauce. Great for the picky vegetarians. 12 for $42 elcholo.com
2. Olympic Provisions Super Pack
Portland, Oregon's Olympic Provisions makes 12 different salamis, hand-crafted chorizo and French-style saucisson and has become a go-to for chefs and fancy food store owners around the country. They also know their way around a tubesteak, which is why their Super Bowl sampler is a nice option. It includes one pound of frankfurters (five each), one pound of brats (three each), one pound of kielbasa (two each), 2 salamis (sopressata and chorizo navarre) and two beer cozies. "Game day is not complete without a bunch of meat," says the company's copywriter from the sky. We could not agree more. $80; olympicprovisions.com
3. Beecher's "World's Best Mac And Cheese"
Beecher's is an excellent cheese shop located in Seattle's famed Pike Place Market. But they are probably most famous for their trays of frozen mac and cheese, which they have christened the "world's best" and now charge something like $20 for a single serving. This prized mac is made with a special Beecher's cheese sauce and on the principle that the pasta should be undercooked by half, so that it softens to a perfect consistency once heated. Here's our move for the Super Bowl. Order the 9" x 13" pan that serves 15, even if only invited eight. Trust us. $125 beechershandmadecheese.com
4. Zingerman's American Cheese Board
As we wrote last month, Ann Arbor bakery/deli/fine food store Zingerman's might just serve the best rye bread in the entire country. The also know their cheese and have mongered their way into our hearts with a highly scrutinized list pulling from big and small producers alike. The all-American board is great for a Super Bowl party. Football, after all, is America's sport. Sorry baseball. There's Zingerman's own private label Cheddar from Vermont's Cabot Creamery, a gouda from Marieke Penterman in Wisconsin and Zingerman's Creamery's own Great Lakes Cheshire. Plus, comes with a loaf of their very good bread. $80, zingermans.com
5. Denver....hello?