A Newly Discovered Pompeii Fresco May Depict Ancient Pizza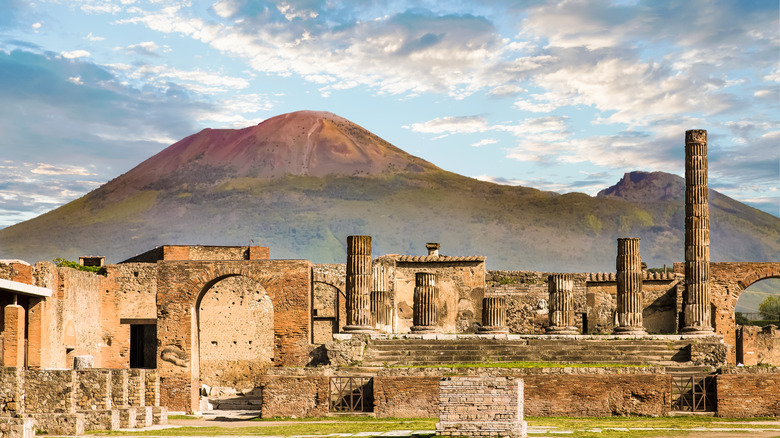 Darryl Brooks/Shutterstock
For much of the first century, Pompeii was a bustling city, but that all came to a halt when the eruption of Mt. Vesuvius showered the area with hot ash and pumice, burying the city's buildings. Today, archaeological exploration of the ruins still continues in a quest to unearth and preserve the history of the ancient city.
One such excavation of a home that had been attached to a bakery recently uncovered a fresco (a painting created on the wet plaster of a ceiling or wall) that appears to depict flatbread, possibly with seasonings, pomegranate, and dates, adjacent to a large glass of wine on a platter.
"It's an image that, obviously, to the modern observer, immediately brings to mind a pizza since we are near Naples," said Pompeii Archaeological Park Director Gabriel Zuchtriegel in a video from the organization posted on The Guardian.
Although the idea of an ancient depiction of pizza is a lovely thought, we're likely looking at something that preceded our concept of it.
The food in the picture could be pizza's ancestor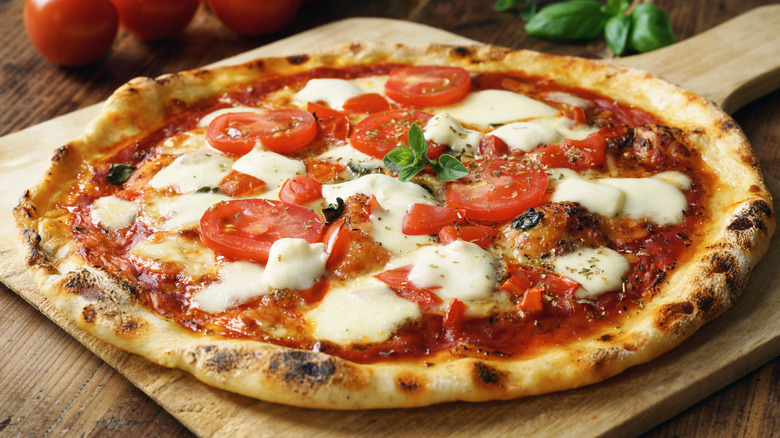 V. Matthiesen/Shutterstock
"Obviously, it's not a pizza, but perhaps it could have been a distant ancestor of this food," Zuchtriegel says in the same video.
The reason that the painting doesn't fit the definition of pizza comes down to the simple fact that it has neither tomatoes nor mozzarella. While Naples, only 15 miles away from Pompeii, is considered the birthplace of pizza, it would be centuries after the destruction wreaked by Mt. Vesuvius' eruption before the food was invented.
While there is clearly a physical similarity between flatbread and pizza, Zuchtriegel also points to the conceptual similarity between the depiction of the flatbread of Pompeii and the history of pizza. He notes the simplicity of the food while nodding to the elevated style of serving it on a silver platter alongside a silver cup of wine. He then compares it to pizza's humble beginnings as a food for the poor people of Naples to its evolution into a widely-enjoyed delicacy.
As published by Pompeii Archaeological Park, Zuchtziegel stated, "When considering this matter, how can we not think about pizza, also born as a 'poor' dish in southern Italy that has now conquered the world and is served in Michelin star restaurants[?]"