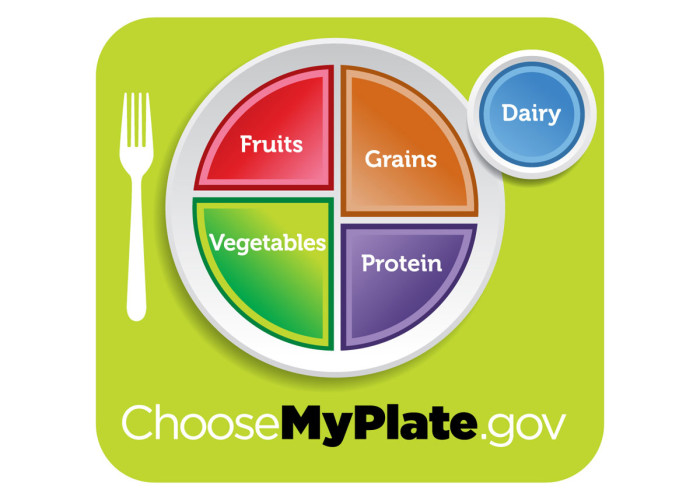 This morning Agriculture Secretary Tom Vilsack unveiled the new government food icon "MyPlate" along with Surgeon General Regina Benjamin and First Lady Michelle Obama. In addition to a promotional video for MyPlate, all three representatives spoke excitedly about the goals of the new design, intended to help combat the US obesity epidemic.
The plate, which features four different-colored sections, and a smaller circle on the side for dairy, quickly communicates portion-size and highlights fruits and vegetables. More information about the symbol along with nutritional tips and dietary guidelines can be found at choosemyplate.gov.
All of the speakers stressed the simplicity of MyPlate's design and the ease with which it can be incorporated into the everyday routine of busy American families. Surgeon General Benjamin noted that the government was, "Taking steps to make healthy choices easy choices." (As a side note, we've put together a gallery of international food pyramids if you want to see how other countries designed their guidelines.)
Agriculture Secretary Vilsack acknowledged that the complexity of MyPyramid, released in 2005, led to its failure as an effective symbol of nutritional information. In regard to MyPlate's easy to understand design, Vilsack stated, "What we have today is a simple visual research-based icon."
Surgeon General Benjamin commented on America's epidemic of childhood obesity and the high rates of diabetes and heart disease facing American children. "My priorities focus on prevention. We need to pay attention to the air we breathe, the food we eat, and the lifestyles that we lead," said Benjamin.
In her remarks, the First Lady focused on MyPlate as an easy reference for working parents. She emphasized that MyPlate could and should be used at every meal. Additionally, MyPlate offers a straightforward solution to the glut of dietary information that busy parents do not have the time to sift through. She appreciatively observed that families could start using MyPlate immediately and that children could use these guidelines for the rest of their lives.
While everyone agreed that MyPlate is a tremendous step forward in the fight against obesity, they recognized that it is not enough to solve the problem on its own. Michelle Obama pointed to MyPlate's inability to make children engage in physical activity for the recommended hour a day and she reminded parents that this is an area where they need to be proactive. She reassured Americans that MyPlate is part of a long-term initiative in conjunction with the Let's Move! program to increase healthy eating and physical activity nationwide.
The First Lady made sure to note that MyPlate has already been implemented in the White House. She remarked on the new design, saying, "When it comes to eating, what is more useful than a plate? What is more simple than a plate?"