How To Top And Sauce A Watermelon Pizza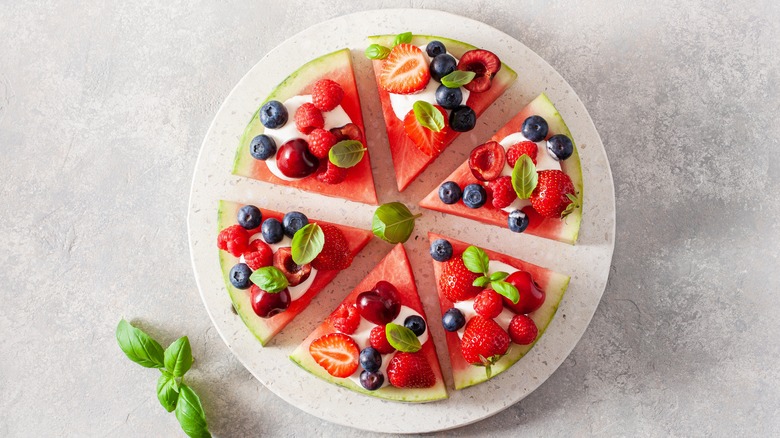 Olga Miltsova/Shutterstock
If you've spent any time at all on social media of late, you've probably caught a glimpse of the food craze known as watermelon pizza. Round slices of watermelon act as the pizza "crust" on which you can add all kinds of toppings whether they be sweet or savory. Sliced into triangle portions, the "pizza" makes for a fun, sweet, and refreshing snack or dessert that the young and young at heart are delighted by. If watermelon pizza is a new but intriguing concept to you, there are certainly plenty of ideas out there on how to prepare it. Think vanilla yogurt or Nutella as the pizza "sauce" with colorful sliced strawberries or blueberries as the toppings.
But if savory is more your game, that can be done, too, with a drizzle of tahini and slices of prosciutto, or chunks of feta with a glug of hot sauce. Despite it being a fruit, watermelon acts as a pretty versatile base for a huge variety of flavors. While this treat can be enjoyed all year round, it will be especially delicious in the summer when watermelons are in season, at their sweetest, and are available in gorgeous colors. Arguably the best part of watermelon pizza is there is no cooking required. Just slice up your melon, dab the top with a paper towel to absorb some of the moisture, place your toppings on, slice, and enjoy.
Who's to credit for the crazy concept?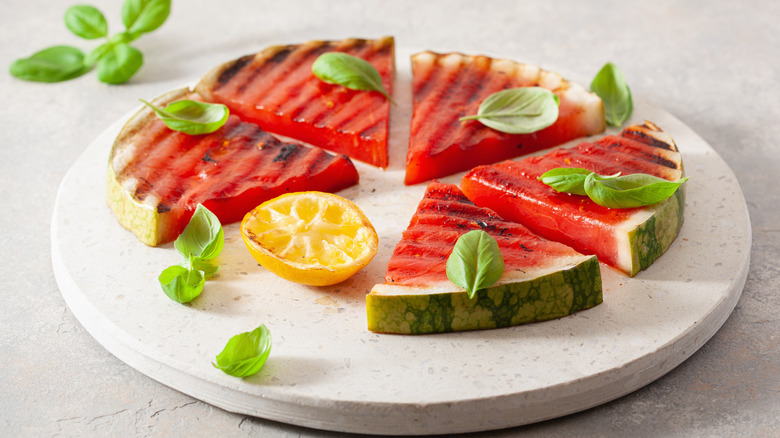 Olga Miltsova/Shutterstock
The idea of watermelon pizza isn't necessarily new, but TikTok user Oliver Paterson, also known as @elburritomonster on the platform, is credited with making the concept go viral. While his original creation is cooked and topped very much like a classic pizza, it inspired countless variations of the dish. Paterson's brief, viral video shows him grilling a round slice of watermelon to fizzle away excess moisture, saucing the slice with barbecue sauce, and topping it with mozzarella cheese and sliced chorizo sausage before grilling the concoction again to melt the cheese.
The video quickly became a sensation with even Domino's Australia recreating the dish only to be unimpressed. However, Paterson noted that the pizza chain didn't follow his recommendation of substituting barbeque sauce for tomato and chorizo for pepperoni — nor did the chain grill the watermelon before adding toppings. Since the hubbub, watermelon pizzas have been popping up all over the place, with many of them being uncooked, topped with fruit, and looking utterly delicious.
How many ways can you possibly top a watermelon pizza?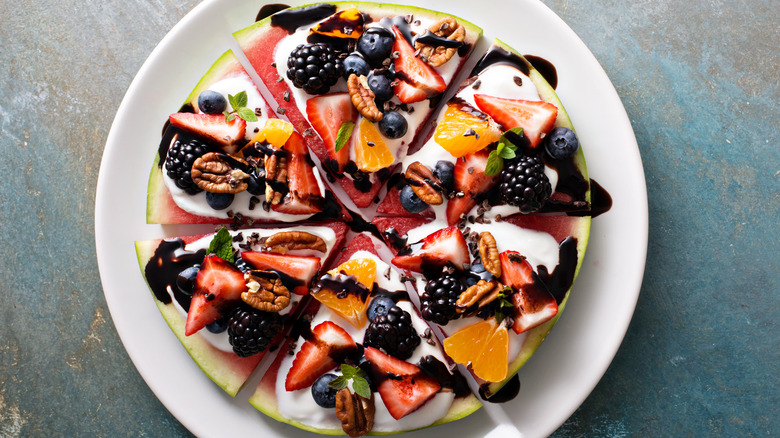 Elena Veselova/Shutterstock
Like classic Italian pizza pies, watermelon pizza is surprisingly versatile and tastes delicious with a world of toppings. First things first, though: the sauce. You can, of course, go sauce-less and just start piling on the toppings, but if you want a creamy base, think yogurt, cream cheese-based icing, chocolate-hazelnut spread, and whipped ricotta cheese (sweetened or unsweetened). Honestly, top your pizza with whatever you love and flavors that go well together.
Some ideas are watermelon topped with yogurt, mango, pistachios, honey, mint, and pomegranate seeds; chocolate spread topped with dried fruit, toasted nuts, and cocoa nibs; cream cheese icing with sliced kiwi, strawberries, and blueberries; and honey-sweetened ricotta cheese topped with apricots, cherries, plums, and lime zest.
For something more savory, try watermelon topped with feta cheese, ripe heirloom tomatoes, and basil; mozzarella pearls with fresh peaches, arugula, and prosciutto; mango, cucumber, and jicama sprinkled with lime juice and Tajin seasoning; and ricotta cheese topped with fresh figs, honey, and speck. Savory pies will do well if you roast them first, either on the grill or in the oven, just to get rid of some of that extra moisture.