The Music Hall of Williamsburg in Brooklyn is a sea of pink — pink T-shirts, bandannas, even bright plastic cups. On this December evening, it is packed with the only crowd that can be reliably counted on to go out on a Monday night: bartenders.
On stage, though, is not a band. Instead, a panel of judges sit at the ready. Across from them, two young women are poised behind individual bars, and although they are smiling, you can see them shaking with excitement — and nervousness. These judges, including cocktail writer Jordana Rothman, prominent bar owner Julie Reiner, pastry chef Johnny Iuzzini and Eben Freeman, the beverage director for Avroko hospitality group, are kind of a big deal in the NYC cocktail community. And whoever wins the competition that's about to ensue will also become a big deal.
Then out comes Ivy Mix, her long, tangly brown hair held back by a bright pink bandanna, her pink "Speed Rack" T-shirt cut at the neck and the sleeves, revealing toned bartender's arms. "And…go!" Suddenly, clubby music is blaring and tattooed arms are flying as the two women race to see who can make four different drinks the fastest, but also without botching other aspects, such as balanced flavor, temperature and appearance.
In five years, Speed Rack, which Mix founded alongside another New York City bartender, Lynnette Marrero, has expanded from just one city to ten. Part Iron Chef, part March Madness, part shitshow, the event has raised $450,000 for breast cancer research, awareness and prevention. It has also created community among female bartenders everywhere — despite being a cutthroat competition — and boosted their careers in a heavily male-dominated industry.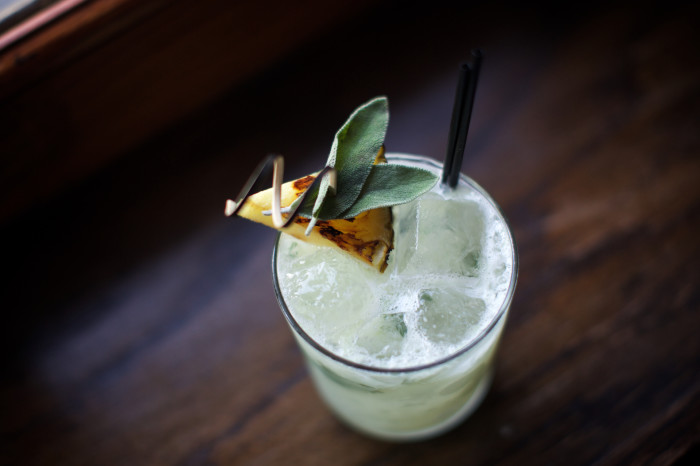 Twelve years ago, Mix was a bright-eyed 19-year-old in Antigua, an expat-heavy town in Guatemala, when she happened upon a bar called Café No Sé. It might sound familiar if you are fond of mezcal because it is on the label of Ilegal Mezcal, one of the first brands to dive into a now-booming market for the smoky Mexican spirit.
"Long story short, I fell in love with the bar, fell in love with a boy in the bar, and hung out every single day there," says Mix, recalling the story for a group of industry insiders who have gathered at Leyenda, the Brooklyn bar she opened in 2015. We have been invited to meet her through a program called the London Sessions and are seated at the bar sipping on old-fashioneds. "For the first time in my life I got to discover bar culture," she says. "Where I grew up in Vermont, we didn't really have bar culture."
Mix has developed a reputation not only for her work with Speed Rack; she is also considered a top mixologist in her own right, and for this was named Best American Bartender of the Year at the liquor industry's annual bacchanal in New Orleans, Tales of the Cocktail. In particular, Mix is known for helping to elevate mezcal from a relatively obscure spirit to its current status as the cocktail ingredient du jour.
"The level of knowledge and passion Ivy shows, being the mediator between producers and drinkers, has totally influenced the category of agave spirits in a really positive way," says David Suro, a mezcal importer who is hanging out at Leyenda when I go back a few weeks later. Suro's brand, Siembra, is made of a particular kind of agave called Cenizo, which comes from the high-elevation pine forests of Michoacán, about 400 miles north of Oaxaca. "The category needs a lot of Ivys to continue growing in this direction so it's respected and recognized," Suro says.
---
"With everyone trying to re-create this bespoke ancient cocktail culture, women were sidelined. Speedrack was created because I thought that was a load of shit."
---
Mix's time in Antigua at Café No Sé did more than turn her on to the largely undiscovered Mexican spirit; it also introduced her to life as a bartender. Café No Sé was run on an honor system, Mix recalls, meaning you just left money in a jar. Because she was hanging out there daily, and because she was too young to know any better, Mix soon ran up a huge tab and had to start working there to pay it off. "And then I had the realization that I could get paid for hanging out in a place where I'd be spending money anyway," says Mix, cracking open a Tecate and passing it to someone who arrived late. "That's when I made the switch and became a bartender."
And soon after, Mix became a smuggler, joining the founder of Ilegal Mezcal on trips to Oaxaca, where they would visit the palenques and fill plastic gas containers with freshly distilled mezcal. To get it over the border, they dressed as missionaries and told the guards they were bringing "libros para los niños," recalls Mix, laughing. And with her bright green eyes and enormous smile, it's somehow very possible to imagine that border guards would believe she was bringing books for poor children rather than smuggling booze for a bar. "I was like the coolest 19-year-old in the world," she says. "We'd be waving to guys with guns. It was crazy."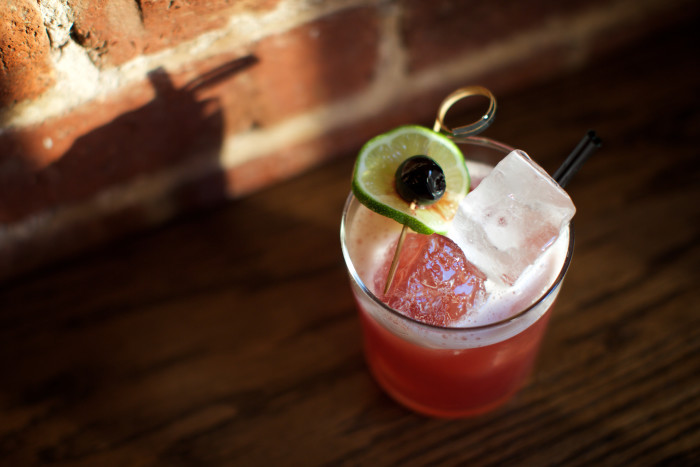 A few years later, Mix found herself living in New York City, looking for a job. "I didn't know anything about cocktails, but I knew about mezcal," she says. The agave-focused cocktail bar Mayahuel was just opening in the East Village, and Mix called up asking for a job but was told "straight-up no." She admits her own ignorance: "I didn't know there was this whole cocktail thing going on." This was 2008, right when the economy was tanking, and Mix watched a whole generation turn to bartending as a way to simultaneously pay rent and express their creativity and intelligence. "The only thing that doesn't suffer when the economy is failing is booze. People are like, well I've got nothing to do, I've lost my job, I'm going to go drink," she explains.
Mayahuel eventually did hire Mix as a cocktail waitress, and she gradually built up experience there and later at Fort Defiance, a destination cocktail bar in Red Hook, Brooklyn. As her career developed, Mix noticed something: Most of her colleagues were men. At that time, speakeasy culture was sweeping New York City, and by default those bars were the best cocktail spots. "Speakeasys are Prohibition style, and if you go back to that era, there were no women," says Mix. "So with everyone trying to re-create this bespoke ancient cocktail culture, women were sidelined. Speedrack was created because I thought that was a load of shit."
After Mix won at Tales of the Cocktail, people came from all over New York City to drink at Leyenda. And even though Mix regularly travels all over the country for Speedrack tournaments, four nights of the week she is at her bar and usually slinging drinks. One afternoon I stop by to talk more about Speed Rack. I ask whether it has been a serious career boost to many young women, and Mix gestures to the bartender on duty. "Shannon won three years ago — that's how I met her and decided to hire her." Some participants garner lucrative job offers from big-name brands.
Julie Reiner, whose Manhattan bar Flatiron is considered one of the progenitors of the modern cocktail renaissance, employed Mix at her SoHo tiki bar, Lani Kai, and later at her Brooklyn lounge, Clover Club. When Mix began talking about opening her own bar, something focused on mezcal and Latin food, Reiner and her business partners decided to chip in on the financing. "Ivy is very driven. If she says she's going to do something, she does it," says Reiner. "She wanted to open her own bar, and it's tough. Nobody wants to rent to you — there are so many obstacles." Reiner believed that Mix deserved her own place. "Ivy had made a name for herself in the industry, partly because of Speedrack," she says. But then Reiner remembers first meeting the young Ivy Mix, still fairly new to New York City and the world of professional bartending, and she bursts into laughter. "She showed up on a bike, looking like a surfer girl — to the interview!"
Mix can't help but laugh when she thinks back to those early days and how far her career behind the bar has taken her. "I remember when I first started out — jeez, have I really been bartending for 12 years?" Mix laughs. "I was a klutz. I knocked things over all the time. I dropped shit constantly."
Mix's klutz days are long gone, but she's still got the surfer-girl vibe — and as she shakes up your cocktail with a mile-wide smile, there's a twinkle in her eye that harks back to the 19-year-old girl, dressed in missionary garb, smuggling a backpack full of mezcal.