Marinated Vegetables Elevate Frozen Pizza In Every Way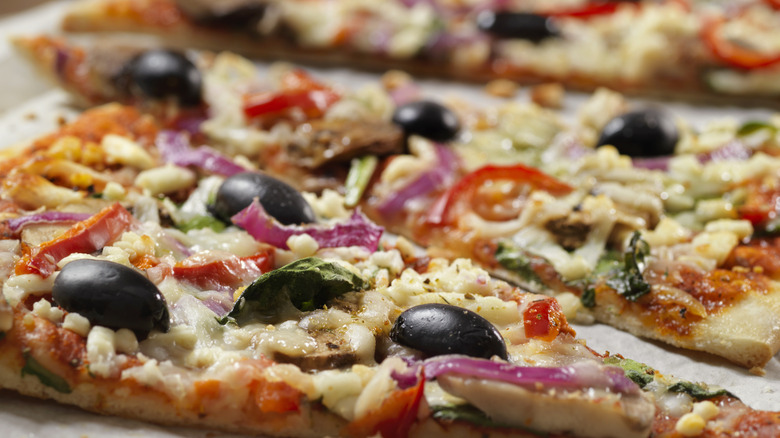 Lauripatterson/Getty Images
Frozen pizza often gets a bad rap, and for good reason. A poor-quality dough can lend a cardboard-like taste to each slice. Not to mention, they often come loaded with subpar ingredients like ultra-processed meats and high-fat cheeses. On the flip side, they're incredibly easy to make, coming in clutch during dinnertime on a busy weeknight, and are usually mess-free. Just rip open the packaging and throw it into the oven to bake until it's ready to eat. But, when it comes to whipping up a delicious and extra-savory frozen pizza, there's at least one thing that can take a mundane pie to the next level: marinated vegetables.
Marinades are often used to add flavor and moisture to foods, the latter of which is especially helpful at keeping vegetables from drying out when they're cooked. So, whether you have grilled vegetables left over from a barbecue or store-bought artichoke hearts, olives, and the like straight out of the jar, marinated veggies are the secret to elevating whatever your frozen pie may be lacking in terms of flavor and texture for a slice of pizza heaven with each bite.
Marinated veggies help to enhance flavor and texture
Bhofack2/Getty Images
No one likes a bland bite of frozen pizza, so whether you prefer rising crust dough or extra thin and crispy or a classic cheese or Margherita, give your favorite pie a tantalizing upgrade in the form of marinated vegetables. These veggies not only enhance the flavor profile but help to counter the typical cardboard-like texture of pre-made pies, too. The deliciously flavored oils of marinated veggies like artichokes drench the pizza, sinking into the cheese and seeping deep into the crust for layer upon layer of mouthwatering aromatics. 
The infusion of tasty oils also helps to liven sad frozen pizza dough, and the best part is that it only takes a few extra seconds to elevate your dinner. Simply pull your pizza out of the oven once the cheese melts and add on your selection of marinated vegetables, then pop it back into the oven until it's golden brown and ready to eat.
Other tasty ways to elevate frozen pizza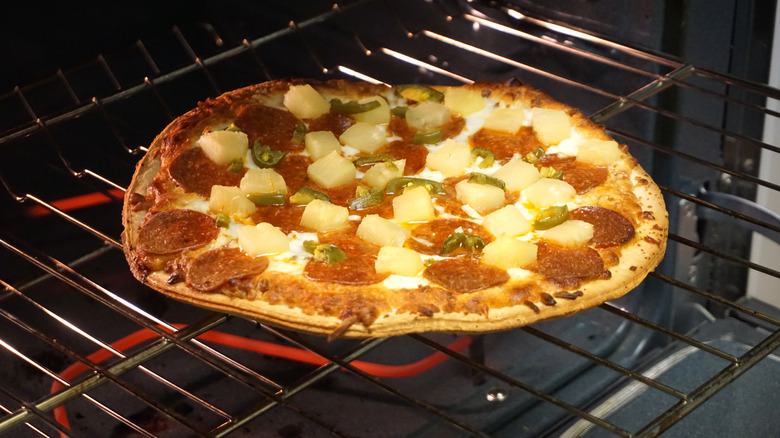 J.D.S/Shutterstock
Marinated veggies aren't the only hack for upgrading your meal. You can also elevate frozen pizza with a hint of lemon juice, which helps to impart a note of freshness to each slice. Just add a splash of lemon juice to the pie before you pop it into the oven, or you could even zest a little lemon on top or use lemon-infused olive oil to brighten the flavor as well.
Another easy way to make your dinner taste homemade is to sprinkle on a handful of fresh herbs like basil, oregano, and thyme, which complement tomato-based sauces incredibly well. And, for a brick oven to taste so good you'll swear it was delivered fresh to your door, ditch the pan. "Skip the aluminum foil and baking sheet and place the pizza directly on your oven rack," celebrity chef Max Hardy told Insider. "Poke holes in the bottom of the pizza to let trapped air escape, and you'll get a stone-oven taste at home."