Pumpkin Spice Is Back At Dunkin' With Iconic Latte And Bakery Treats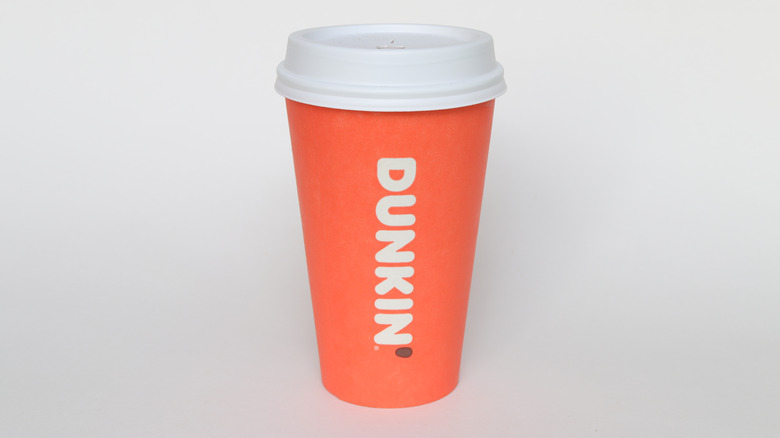 Deutschlandreform/Shutterstock
It seems as if the celebrations of the Fourth of July ended only a few weeks ago — and just like that, August has crept up, and with it, the beginning of the end of summer. As temperatures slowly drop to sweater weather and evenings are taken up by bonfires and leaf peeping, it's time to bid farewell to the icy drinks of summer and welcome all the wonderful flavors of fall.
Granted, some people may consider it too soon still to say goodbye to summer, but, as always, that's not the case for Dunkin' — one of the first ones to throw its doors open to autumn each year (other contenders are 7-Eleven and Krispy Kreme). A week ago, Dunkin' released a video on Instagram that shocked fans with the news that pumpkin spice was going to be back at the coffee shop starting August 16. That's right: Fall has already begun at Dunkin' — and it looks like a feast of all things pumpkin spice.
With the 2023 fall menu, Dunkin' is bringing back its Signature Pumpkin Spice Latte in both hot and iced forms. Originally introduced in 2020 as a twist on the classic PSL, Dunkin's Signature version features espresso flavored with pumpkin and vanilla, which is then topped with whipped cream, a drizzle of caramel, and a dusting of cinnamon sugar. But the iconic pumpkin spice latte isn't the only thing to look forward to — there are plenty of other fall favorites returning to Dunkin' this year.
Other returning favorites on this year's fall menu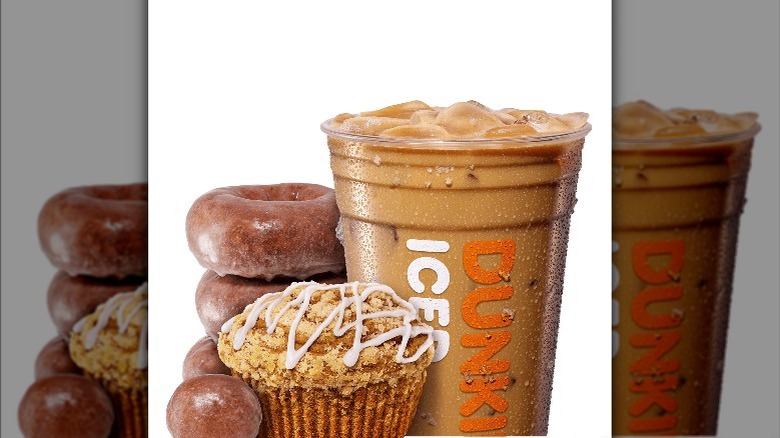 Dunkin'
Dunkin's fall menu rolls out nationwide on August 16, and there are more pumpkin spice goodies on the menu. Last year, Dunkin' introduced an all-new Nutty Pumpkin Coffee to its fall lineup, and it is slated to make a comeback this year as well. Available hot or cold, the Nutty Pumpkin Coffee takes Dunkin's Original Blend Iced Coffee and infuses it with hazelnut, cream, and pumpkin spice swirl.
Besides the pumpkin spice-flavored drinks, the fall menu also includes several bakes and snacks. Also back this year is the Maple Sugar Snackin' Bacon and the Maple Sugar Bacon Breakfast Sandwich. While the former features eight strips of smoked bacon caramelized with a maple sugar seasoning, the breakfast sandwich packs the maple sugar bacon between a warm croissant with white cheddar cheese and a fried egg — how's that for a start to a chilly autumn morning?
Dunkin' is also bringing back Pumpkin Cake Donuts, Pumpkin MUNCHKINS® Donut Hole Treats, and Pumpkin Muffins to go with the spiced coffees. Plus, there's even better news for those who loved Dunkin's partnership with Goldfish last fall — yes, those limited-edition pumpkin spice grahams, which feature goldfish crackers tossed in the same warm spices that flavor Dunkin's pumpkin-flavored drinks are back too! While Dunkin' is yet to announce how long the fall menu will stay, food blogger @markie_devo — who was spot on about the launch date — speculates that the pumpkin spice treats will be around till October 31.