7-Eleven Is Serving Up The First PSL's Of The 2023 Season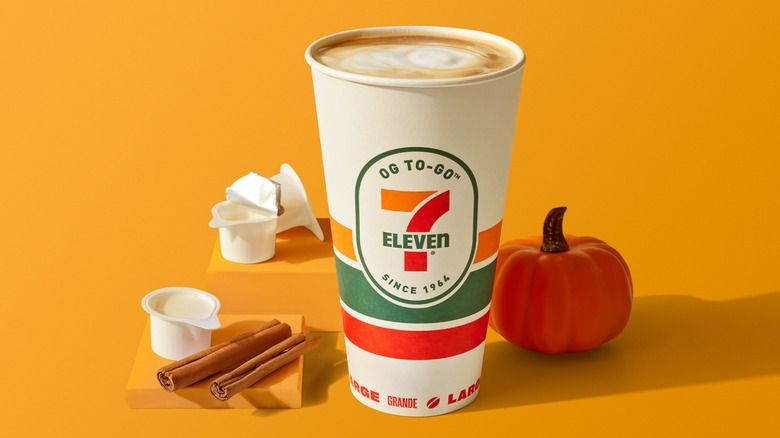 7-Eleven
It's official, Pumpkin Spice Latte season is upon us. While the giant in the game, Starbucks, typically releases its PSL (the one that started the whole craze) at the end of August, other businesses are already bringing that aromatic blend of spices to the dwindling days of summer. In particular, 7-Eleven is getting a head start on the competition "earlier than ever before."
The convenience store chain issued a press release August 1 announcing that its line of pumpkin spice products is now available. In addition to a traditional PSL, the retailer also now offers pumpkin spice creamer to add to regular hot or iced coffee and a proprietary pumpkin syrup if you want to really amp up the fall vibes, the latter two allowing you to fully customize your drink.
Any of these pumpkin-flavored beverages goes great with a sweet treat, and 7-Eleven has that covered too with limited-time offerings, including apple cider donuts, apple snack pies, and apple danishes. All are just $1 with the 7Rewards app. The press release also notes a pumpkin muffin will be available for purchase later in August.
How 7-Eleven's PSL stacks up to the competition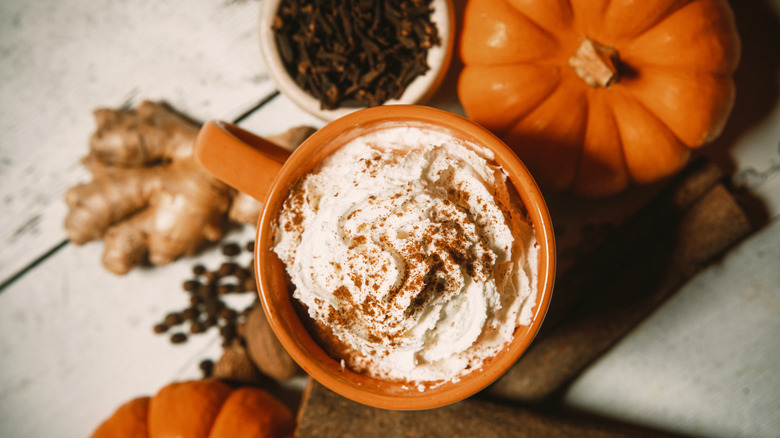 Ryanjlane/Getty Images
While it's true that 7-Eleven's version of the pumpkin spice latte comes out of a machine, that doesn't mean it's any less tasty than its competitors, who typically handcraft the drink. When PSL taste testers have compared 7-Eleven's take on the fall classic to versions made by other popular purveyors — Starbucks, Krispy Kreme, and Dunkin' — 7-Eleven's has actually often come out on top, with some solid reviews. 
Everyone has their own opinion of course, but if you're a PSL fan, it sounds like 7-Eleven's version is worth a try, especially since it is the first available this year. Dunkin's reportedly won't be out until August 16, and you may have to wait all the way until August 26 or 29 to sip on Starbucks' famous drink, if early reports are true.
But, now through October 31, you can find 7-Eleven's fall-flavored beverages at participating locations nationwide, as well as at Speedway and Stripes stores, or through delivery via the 7NOW app.
If pumpkin-spiced beer is more your thing, you can now enjoy those brews too as beer brands are also getting a head start on the season.