What Does It Take To Be A Mustard Sommelier?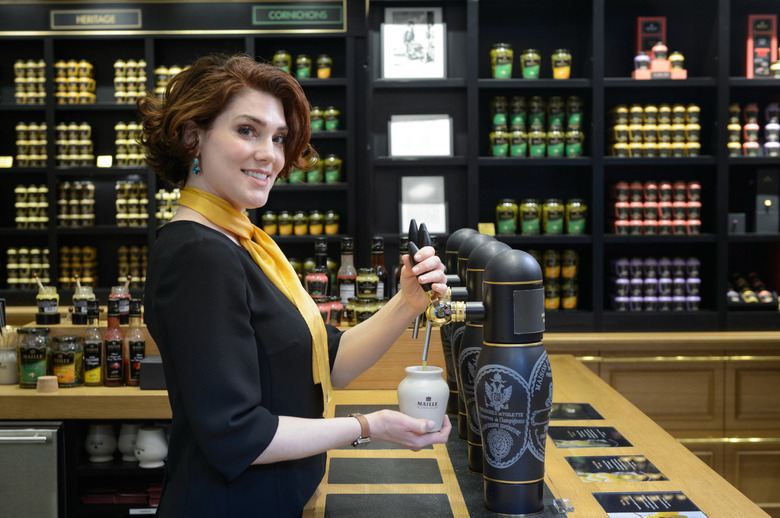 Pierette Huttner is Maille's very own mustard sommelier. (Photo: Maille.
The world of sommeliers is a well-respected one. Whether you're drinking wine or even water, the knowledge of a somm can be helpful as you plan what to pair with dinner. But what about the vast world of condiments? Enter Pierette Huttner, sommelier for iconic French Dijon mustard brand Maille at the company's first U.S. boutique in New York City, which has five mustards on tap (that's right, on tap) and more than 30 flavors in the store. "There really isn't a wrong use of mustard," Huttner says. We asked her about how she ended up with such a spicy job and why Maille is pouring mustard like others pour beer.
How did you come to be a mustard sommelier?
It was kind of a journey. I've always loved food; I've always loved to cook; I grew up in a very food-centric family. My mother loved Julia Child, so there was a lot of experimentation in my childhood. I was exposed to a lot of different ingredients, and Maille was something that she loved, so I grew up with it. In terms of me, I have a retail background, so I was very intrigued when I saw that they were hiring for this position and thought, "I can do that. I love to cook, and I love mustard." Luckily enough, they picked me.
Was there a test you had to take, like a traditional sommelier?
Not a certification, not like what you find in terms of wine. We haven't gone that far yet. We have mustard sommeliers for Maille when we open in a new region. For example, we have one in the U.K. and one in the United States. That's a new territory where we're really trying to drive the usage of the product. So we discussed mustard as less of a pairing and more of an ingredient, expanding beyond what you would think you would use for your mustards. I had a very in-depth training. Elsa [publicist for Maille] and I always laugh that I can taste the mustards blindfolded. You really have to know the product, and I think you really have to really love using it and be open to trying different things.
How long was the training process?
Several weeks.
What was it like?
It was a lot of eating and a lot of food. I visited all the boutiques overseas as well as the manufacturing facilities. I also met with the gentlemen who develop our recipes and gave them my feedback, and again, went through a lot of different tastings. Then I did a lot of fun things. I had a picnic in the field where we grow the grapes for our vinegars, and it was harvest season, so I got to take them off the vine and taste them. I did everything from seeing the cornichons being bottled to wearing an apron at the Place de la Madeleine store [in Paris], helping customers and really knowing the brand internally.
It's really part of my job to do the pairings and what helps to translate the product into an easy usage for customers at home. For example, truffle [-flavored mustard] is fantastic in a variety of ways. Some more traditional ways would be a pairing with a great piece of steak, mixed with panko bread crumbs on chicken breast and baked in the oven. It's actually my secret ingredient for fantastic mashed potatoes because it adds a great deal of dimension, a nice smoky flavor of the truffles, but doesn't necessarily discernibly taste like mustard. One of the more nontraditional uses is scrambled eggs. It's fantastic in scrambled eggs or an omelet. When you taste it, you'll see why. It's got this really delicious, earthy, savory quality. That kind of modernizes any egg dish or any quiche.
Do you ever just eat mustard by the spoonful?
Yes. [Laughs.] Quite frequently. Sauternes is definitely one you can use as a dip. We also have a blue cheese mustard which is very, very addictive if you're a fan of blue cheese. I cannot own that because I did take a jar home once, and what I did basically was [eat the whole thing] with a bag of pretzels. I can't be trusted around it.
Moving on to the mustards on tap. Why have them on tap? Does it do anything special to the mustard?
There are a few things: One, it's the base of the wine. Mustard can traditionally be based in vinegar, wine or verjuice. Using wines and particular vintages of wines, using a Chablis versus a Sauternes, makes an enormous difference in terms of how flavorful the base of the mustard is and how it tastes. So it really completely transforms what you're tasting. In addition to that, they're actually kept cold from the moment that they're made to the moment they're served to a customer. They're put in a cold ship across the sea, in a cold storage unit, on a truck to the store that's cold and refrigerated. And what that does is, it helps to retain the nuances of the recipes so that what you get from the moment you open the jar is what you taste at the end.
---
Love Dijon as much as we do? Here are five recipes to make good use of the stuff: