Gordon Ramsay's Weirdly Sensual Hack For Prepping Avocados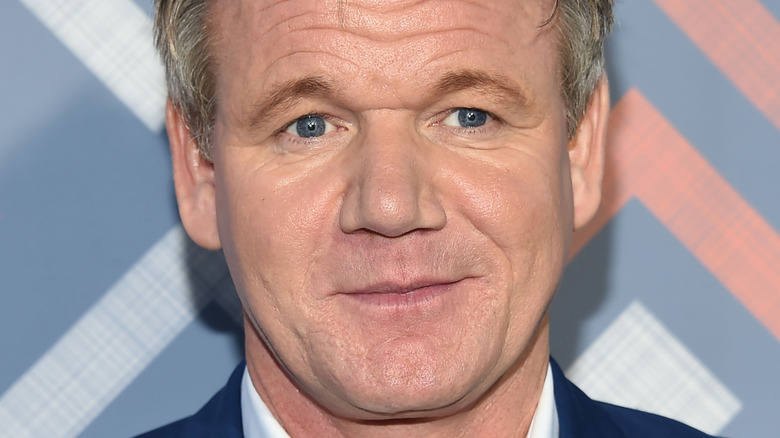 DFree/Shutterstock
A viral clip of the world-renowned chef and restaurateur Gordon Ramsay is making rounds on social media yet again. And no, it's not an outlandish review of a TikTok user's bad recipe, but rather, his particular method for dicing avocados, which involves Ramsay giving them a rather nice lime juice rub down.
Despite his numerous gastronomy accolades — which include highly acclaimed Michelin-starred restaurants like his eponymous fine dining establishment, the London-based Restaurant Gordon Ramsay, and the upscale Le Pressoir d'Argent located at the five-star Grand Hôtel de Bordeaux & Spa in France, among many others — Ramsay is probably best known for his fiery temper and explosive kitchen antics displayed on television screens around the world via cooking shows like "Hell's Kitchen" and "Kitchen Nightmares."
Granted, the opinionated celebrity chef doesn't always get it right; Ramsay once gave really terrible grilled cheese advice – not to mention, he was wrong about aluminum foil. But, his strange and mildly sensual avocado hack, which includes spritzing the fruit with lime juice and cutting it with a knife, might be just the trick for keeping avocados from turning brown.
Ramsay's avocado hack gets mixed reviews
Ramsay shared his unique avocado tip back in February in a YouTube Short posted to his channel, which has garnered more than 6.4 million views, and on TikTok where it's amassed more than 27 million views. "Little tip when you're dicing avocado: Leave it in the shell, hit it with a little touch of lime juice, and then very carefully get your finger in there and rub," he said while preparing avocado for a breakfast dish.
But it's the rubbing in particular that has social media all hot and bothered, with comments from TikTok users ranging from "the way he rubbed that avocado," to, "Man said get your finger and rub it." The response was similar on YouTube, with user @reillyfleming4411 writing: "Fully convinced he makes this stuff up, that lime thing was so extra."
Not everyone was vexed by the avocado hack, though. "I loved the way you rubbed the avocado," said TikTok user @blackestrose13, with another writing that he "makes the simplest things look artistic." But, however artistic the trick may seem, Ramsay's method for distributing the lime juice on avocados is actually quite useful when it comes to preventing them from turning brown.
Lime juice delays browning in avocados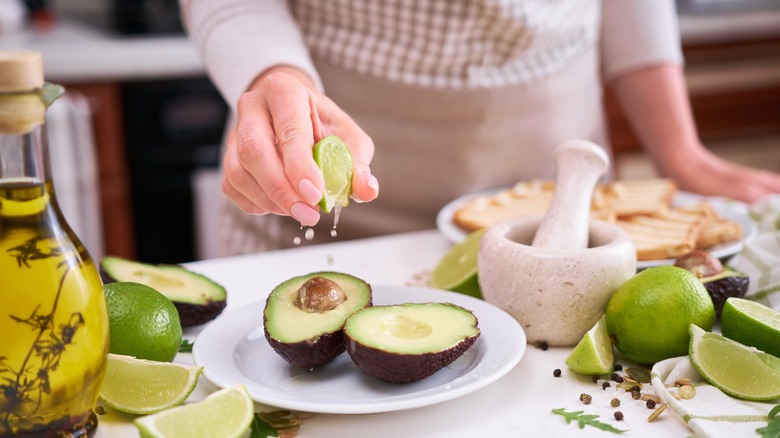 RESTOCK images/Shutterstock
After cutting the avocado in half, removing the seed, squirting it with juice from a lime wedge, and, of course, giving it a good rub — Ramsay goes on to cut the halved fruit carefully with a knife in a criss-cross pattern, cutting lines across in one direction before flipping it cutting again going the opposite direction, for an easily diced avocado that's perfect for any recipe. But, while the finger massage helps to distribute the lime juice evenly across the entire avocado, it's the juice itself that helps to prevent the avocado from turning brown.
Similar to lemon juice, lime juice is a natural antioxidant, and the citric and ascorbic acids contained within help to lower the pH levels of avocados, as well as other cut fruits like apples, bananas, and pears. This restricts enzymes, which are trapped in the fruits' tissues, from mixing with oxygen found in the air, thus delaying browning, a process known as oxidation. So, whether you decide to give your avocados a sensual stroking or not, this lime juice trick is definitely worthwhile for keeping the avocado flesh nice and green.