Giada De Laurentiis' Sparkling Sangria Is The Ultimate Refreshing Summer Drink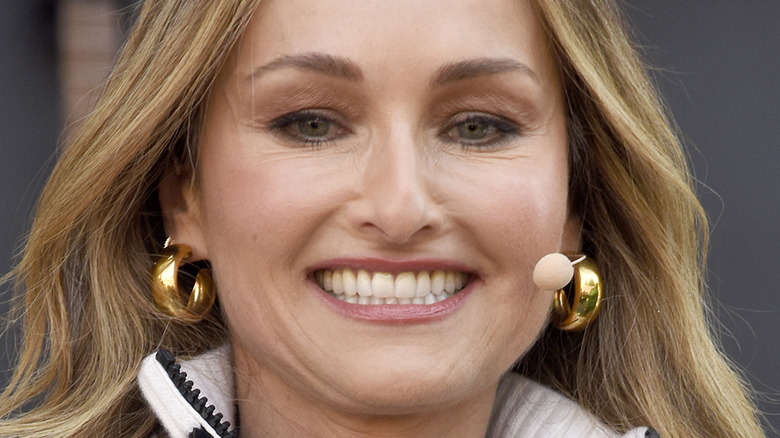 Tim Mosenfelder/Getty Images
There are few drinks better suited for summer than a fruity, refreshing sangria. Make that sangria sparkling, and now we're talking. Make it Giada-De-Laurentiis-style? Even better. If you're looking for that quintessential summer drink to sip on, look no further than the popular chef's take on the classic.
Traditional sangria originates from Spain; it's a sweet alcoholic punch made with wine, an array of fresh fruit and fruit juice, usually another type of liquor like brandy or vermouth, and sometimes a splash of sparkling soda to finish it off. De Laurentiis's version honors the traditional concept, but as usual, she adds an Italian twist to the cocktail.
"Giada's Sangria" is one of the specialty cocktails on the menu at De Laurentiis's Italian restaurant Giada in Las Vegas. But don't worry — you don't have to go all the way to Vegas to sip on one. Let's break down this minty, citrusy, sparkly concoction, so you can enjoy one at home. According to the menu at Giada, Giada's Sangria starts off with a base of bubbly. The chef specifically uses either Lamarca Prosecco or Brachetto D'acqui — giving you your choice of Italian sparkling wine, either white or red. That's mixed with a homemade mint simple syrup, and then the drink is finished off with fresh fruit: lemon, lime, and strawberry.
How to stir up Giada's Sangria
So how would you go about making one at home? The first step is to make that fresh and herby mint syrup. Based on a similar sangria recipe from De Laurentiis that uses the same ingredient, making the simple syrup is fairly, well, simple: Just combine two parts water and two parts sugar with one part fresh mint and heat them all up in a saucepan. First, over medium heat until boiling, then over low heat to simmer for five minutes. Then remove the mix from the heat, let the syrup cool for around 20 minutes, and strain.
From there, it's just a matter of mixing together your choice of sparkling wine with the simple syrup (for context, De Laurentiis uses two cups of simple syrup for one bottle of Prosecco). Then add your sliced lemon, lime, and strawberry — feel free to throw some zest in too if you'd like — and don't forget the ice. Voila! You have an Italian sparkling sangria that's perfect for brunch, dinner, or an afternoon barbecue. 
Giada De Laurentiis's tips for serving up sangria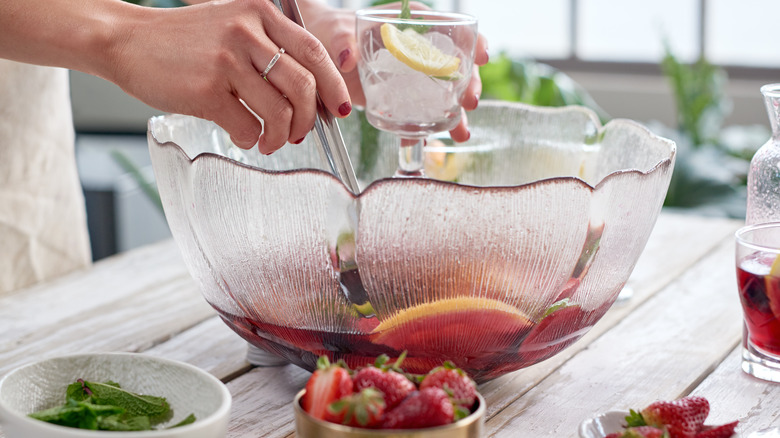 Daxiao Productions/Shutterstock
De Laurentiis has several sangria recipes under her belt, and as an ultimate party-thrower and home entertainer, she shares some great tips and tricks for transforming your sangria into something special. If you want to impress your guests, take a page out of the chef's book.
De Laurentiis's first tip is to build the sangria right inside the bowl — it's not only very easy to do and saves you other dishes and equipment, but it also ensures you can mix everything evenly while maintaining a nice presentation. She likes to prepare her sangria in a large serving bowl filled with ice, gently mixing in the fresh fruit slices and herbs.
The chef's trick to make that bowl of sangria even more beautiful? She tops off the sweet and sparkly mixture with an assortment of edible flowers for a picture-perfect presentation. However, just be sure that if you do add flowers, you've purchased food-safe edible varieties from a store, to ensure there's no pesticide or other spray on the petals. All that's left to do is serve, sip, and soak in the summer.