José Andrés' New Cookbook Is A Mediterranean Pilgrimage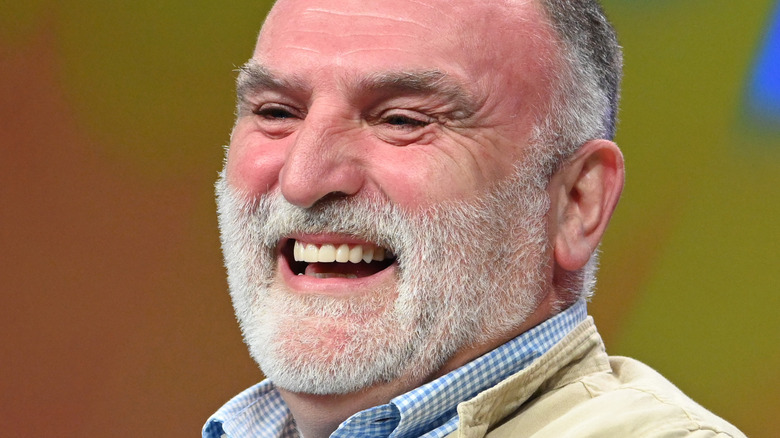 Amanda Stronza/Getty Images
Chef José Andrés is famous for a lot of things: His activism has long earned him the respect of thousands across the world, the Andrés-run World Central Kitchen has a legendary reputation for catering food to people in times of need, and his cooking, of course, has a fan following of its own. For residents of Washington and New York, however, it's the Mediterranean restaurant Zaytinya that is perhaps Andrés most-loved venture yet.
Zaytinya's 400-seater outpost in Washington, D.C. has been a hot spot for locals since it opened in 2002 and only last year, New Yorkers were graced with a second Zaytinya in the Ritz-Carlton, NoMad. Now, Andrés is all set to expand his Meditteranean restaurant even further, taking its most-loved dishes and packing them up in a brand new cookbook — "Zaytinya: Delicious Mediterranean Dishes from Greece, Turkey, and Lebanon."
Spilling the details of his latest cookbook on Instagram, Andrés said that the "Zaytinya" cookbook celebrates the flavors and cooking traditions of the Eastern Mediterranean region, featuring 150 recipes that are all inspired by "a region that I am in love with because of its food, its people, and especially its history." While the cookbook doesn't actually come out until March 19, 2024, fans can pre-order a copy for $45 starting now.
Everything that fans can expect from the Zaytinya cookbook
Dining at Zaytinya is, according to the restaurant, "a culinary voyage across the Mediterranean" so fans can likely expect the same experience from its namesake cookbook. The "Zaytinya" cookbook will explore the history of the Eastern Mediterranean region, highlighting its cooking techniques and ingredients alongside the places and the producers that have inspired Andrés over the years.
Dedicated to the flavors of Turkey, Greece, and Lebanon, Andrés' new cookbook will include cocktails and recipes for Zaytinya's most famous items, including the Crispy Brussels Sprouts Afelia, which has had a devoted following for years, as well as the Adana Kebabs and the Greek Yogurt Parfait. Considering the extensive selection of spreads and flatbreads served in both D.C. and New York, it's likely that a hummus or pide recipe may be featured in the cookbook as well. Plus, while Zaytinya does have its fair share of meaty kebabs and seafood mezze, the restaurant has an even more vast selection of vegetarian items — something that may be reflected in the cookbook as well.
Similar to the concept of the Zaytinya restaurants, the new cookbook too is an ode to sharing meals together and will feature family-style recipes for dips and roasts that can be whipped up for a crowd. With the "Zaytinya" cookbook, Andrés hopes to bring a taste of the Mediterranean through his iconic restaurant to everyone's homes, albeit in an easier and more accessible form.