Dig Into Our Most Creative Eggs Benedict Day Recipes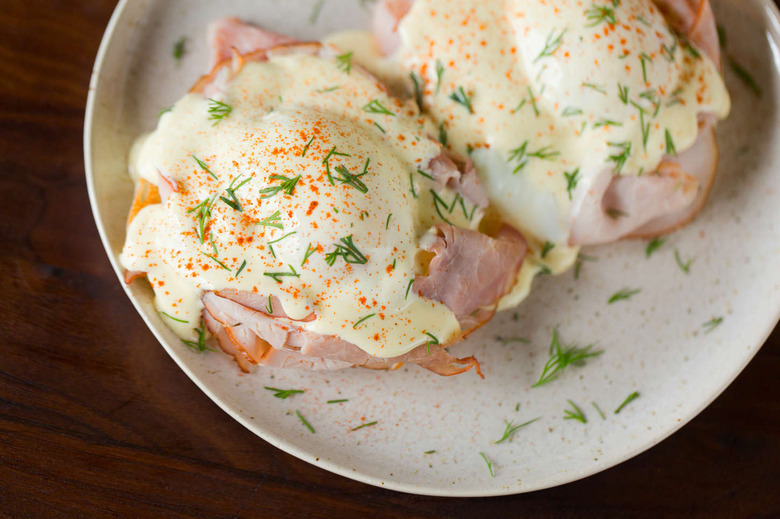 All brunch egg dish enthusiasts (even the newly acquainted) know and love eggs benedict. The formula is simple: poached eggs on toasted English muffins drizzled generously with tangy, buttery Hollandaise sauce, sometimes with a salad or potatoes on the side. We've enjoyed this dish more times than we can count, which means it's time to switch it up. Check out our most creative eggs benedict recipes, and celebrate National Eggs Benedict Day like you mean business.
How To Make Eggs Benedict At Home
Every weekend, all over this great country, brunch spots serve up eggs Benedict by the dozens — all while wrangling byzantine Bloody Mary customizations and tantrum-prone toddlers and lines of hangry hipsters stretching out the door. How do they do it? Timing and technique! And believe our friends over at ChefSteps: You, too, can use timing and technique to serve up amazing eggs Benny at home, with zero risk of messing things up. Oh, and guess what else? Your saucy egg dish will be the best version that you — and your guests — have ever tasted.
Fried Soft-Shell Crabs Benedict
Normally we'd never endorse Hollandaise-in-a-packet, but you're finding soft-shell crabs for brunch, setting up a dredge station, frying and draining the things and poaching eggs. If we asked you to make real Hollandaise (read: we're asking you to make real Hollandaise) it might be a little much for a Saturday morning. The packet hack subbing milk for butter also cuts down on fat, which is nice because soft-shell crabs shouldn't be eaten any other way than fried.
Eggs Benedict BLT With Avocado-Tomato Relish
Ah, the Southern life. Whenever we feel the need for ultimate comfort recipes we turn to Southern Living magazine's new Feel Good Food cookbook. This recipe for an Eggs Benedict BLT sure sounds like it'll make us feel good, but let's enjoy it for brunch just to make sure. Remember that time you were trying to choose between the Eggs Benedict and the BLT? Good times.
Steak And Chipotle Eggs Benedict
If you have some steak and spinach left over from this weekend's cookouts, steak and eggs benedict is a damn good way to put it to use. If you've already got the meat and spinach, you can whip up a hollandaise sauce and you're good to go.