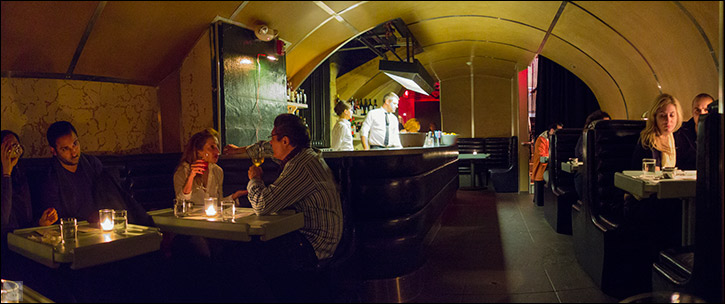 While we gear up for New Year's Eve, arguably the year's biggest drinking holiday, let us reflect on the year in drinking. There were new bars, and old favorites — along with innovative products, terrible products and bartenders making it all look easy (or too complicated in some instances). Here, Food Republic writers and editors list the good, the bad and the boozy. 
Jeffrey Morgenthaler, Contributing Cocktail Editor
Favorite new bar: I was on book tour this summer, so I got to see a bunch of new bars I hadn't been to before. And honestly, I had the most fun at Half Step in Austin. It's one of that new breed of bars that does really serious cocktails, but is also actually really fun. There's a great backyard, with corn hole and horseshoes and stuff, and you can just kick it on the huge porch while drinking a perfect Old Fashioned.
Best bar trend of 2014: Bartenders ditching the speakeasy bullshit and just making quality drinks and showing people a good time.
Worst bar trend of 2014: Bartenders not getting the above memo.
Describe your hangover of the year: Those people in Kansas City do not mess around. They drink amazing cocktails, killer local beer, and they wash it all down with a shit-ton of barbecue. I couldn't keep up, I had the meat sweats for a week afterward.
What will you be drinking on New Year's Eve:  A bunch of us are renting a house on the coast, and most of us are bartenders. So we'll be making cocktails, sipping champagne, and eating a mountain of crab legs.
What do you hope will happen in the cocktail scene in 2015: I love seeing that more and more people at home are starting to get into making cocktails. That's how you know a thing is back for real, when folks are serving up a tray of really well-made Manhattans at their dinner party at home. I'd like to see more of that.
---
Chad Walsh, Contributing Wine Editor
Favorite new bar: Not a shill, I honestly love what @hamsterdance is doing with The Evening Bar at The Smyth. It's not just because of the, admittedly amazing, stuff happening upstairs at Little Park, but balanced cocktails and a nice room are just waiting for you a few blocks South of where you're probably already.
Favorite new product discovery (old or new): This, as far as I know, is the first year Sierra Nevada is brewing their annual "Celebration" ale on the East Coast, at their facility in Mills River, North Carolina. In some senses this is the O.G. I.P.A. and now that I don't have to feel guilty about dragging it all the way across the country it's that much more enjoyable. 
Best trend bar of 2014: I kind of hate to say that it's Miracle on 9th Street. Across the demographic board people who have actually been like it, meaning "Trend Bars" are potentially the means to be really successful. The challenge will be finding a way to make it successful in February or August.
Worst trend bar of 2014: Miracle on 9th Street, because, honestly, open a real bar.
City you discovered this year knows how to drink well! Hands down Los Angeles.  It was the first town I'd ever been in where the chefs need to start catching up with the mixologists (although I'm not cool enough to eat with Ludo et al.). I met some incredibly talented barkeeps, that had the passion of New York in the late aughts, and ate mostly derivative, albeit well executed, "Mediterranean" cuisine.  
Describe your hangover of the year: The Dutch went all-American on Thanksgiving day, which is the only night of the year that the entire staff of the front (waiters, bartenders, bussers) sit down with the back (chefs, cooks, porters) for dinner after service. This was a unique year because there were a bunch of European wines lying around, so we drank them. Tom and Jerry's, a Midwestern bar that I have only been to on Thanksgiving or Christmas, gave up early this year, but there were Banana Daiquiris abound at Mother's Ruin. I was shaking like a chihuahua when I got to work, but that was mainly because we were actively being inspected by the DOH. Honestly? On Black Friday in SoHo? I still feel hungover now that you mention it…
What will you be drinking on New Year's Eve? Despite going "all-American" I decided to keep Champagne as its own category, which gave me the license to develop my guilty pleasure. Keeping with the spirit of weirdness, I will only be drinking Champagne made from the "other" varieties of the appellation, including, but not limited to, Pinot Blanc, Petite Meslier, Arbanne and perhaps some varietal Pinot Menier. I have also acquired two Salmanazars (9Ls, aka 12 btl each) of Laurent-Perrier for the occasion, and since they literally require a professional to serve, I suspect I will have a glass or two of that as well. So, all Champagne, all night.
What do you hope will happen in the cocktail scene in 2015? I hope everyone will forget about the cocktail scene, and get into having great service, everywhere, all the time.  Cocktails compliment a lot of things, but the scene should be like any great drink: "Balanced." I'm tired of waiting 35 minutes for a drink at a bar that doesn't serve food, just like I'm frustrated to eat perfect tacos alongside Margaritas made with shitty ice.
---
Naren Young, bartender and man about universe
Favorite new bar: Boilermaker
Favorite new product discovery (old or new): All the spirits from the 86 Company. Anything from Garrett Oliver from Brooklyn Brewery. Del Maguey Iberico jamon mezcal
Best bar trend of 2014: I'm always scared of the word "trend" but the return of aperitifs and low alcohol drinks excites me
Worst bar trend of 2014: Flavored spirits. Enough already
City you discovered this year knows how to drink well! Prague
Describe your hangover of the year: Don't remember but most likely it was at Tales of the Cocktail
What will you be drinking on New Year's Eve? Obscenely expensive champagne that I can't afford and Barolo out of a rocks glass. Most likely I'll be working so this will numb the pain
What do you hope will happen in the cocktail scene in 2015? I'll open my own bar. Watch this space….I also want more people to drink sherry, vermouth, aperitifs, beer cocktails and highballs, which you can also do at my bar
---
Matt Rodbard, Contributing Editor
Favorite new bar: I have to shout my man Jeffrey Morgenthaler with his new place Pepe Le Moko at the Ace Hotel in Portland. Just off a long flight from NYC, and after finding my first choice closed for the night (WTF), I grabbed a solo spot and ordered a single drink (a delicious and refreshing Long Island Iced Tea, not a typo) with a delicious grain salad and some charcuterie from Olympic Provisions. My favorite tiny, windowless, effortlessly cool basement bar in a minute.
Favorite new product discovery (old or new): Del Maguey, anything beyond Vita. Drank mezcal a lot this year and am always surprised by the range of Ron Cooper's products. Also, the Casa Dragones blanco is my go-to when it's not insanely over-priced on cocktail lists. Lastly, I found myself drinking a lot of St. George gin. Always my go-tonic in the summer. 
Best bar trend of 2014: $8 drinks.
Worst bar trend of 2014: Stop it with the barrel-aging your cocktails and charging $24 bullshit. Shame on you. Also, shame on us.  
City you discovered this year knows how to drink well! Easy; Houston, TX. Bobby Heugel is a really smart real estate guy, socially aware and just runs killer bars. Alba Huerta, at Pastry War, is defining mezcal's new (rapidly growing) place in the bar world. Justin Yu and Justin Vann's Wine & Whisky should be on the national radar very soon. And what a stash at Poison Girl. Having spent a lot of time drinking on the road this year — Nashville, Paris, Atlanta, Portland, Rome, Charlotte, Chicago, Barcelona — Houston impressed me the most.     
Describe your hangover of the year: Naren gave me a list of bars to go to in Barcelona and I think I went to all of them one night. Bar Mut, Caribbean Club, Boadas, maybe another one? Plus, wine and more wine. That two-hour drive to Cadaques the next morning was fun.  
What will you be drinking on New Year's Eve?  I've made this Audrey Saunders pisco punch the past 3 years, so it's a bit of a tradition now. French 75s will find their way into the mix.
What do you hope will happen in the cocktail scene in 2015? Generally, I agree with the pro guys up top. The more casual, fun and fast, the better. But, in general, America's obsession with over-aged bourbon needs to chill out. Time is certainly bourbon's best friend (I ranted about white dog last year), but 18 or 21 or 23 years on wood is just not always the means for making good bourbon. The 8s and 12s are just fine by me.
---
Emma Janzen, writer
Favorite new bar: Half Step in Austin. Former Varnish alum Chris Bostick revamped this old Rainey Street house to have the same cozy, intimate atmosphere the L.A. speakeasy boasts. Outside it's all laid back Texas charm with patio tables, a communal ping-pong setup, and backyard ice house where enormous blocks are sliced and diced for cocktails. They have the best margarita I've ever had (on draft, no less), and the staff are trained to improvise and execute drinks with a friendly smile and delicate precision. 
Favorite new product discovery (old or new): I probably sound like a broken record with how often I've praised the new Venenosa Raicilla line, but I just can't get enough of these new agave spirits. Each of the four expressions (they all come from different kinds of agave sourced from different regions in Jalisco) have a completely different flavor, ranging from sweet grassy notes to tart bing cherries and wet earth. As a mezcal/tequila junkie, these really blew me away. 
Best bar trend of 2014: I love watching cocktail bars shift attitudes from overly serious to irreverent. Cocktails on tap, bottled drinks and punch service have been great examples of this, and many of these new places also embrace DJs, dance floors and other sassy elements that deliberately work to eliminate stuffiness. Craft doesn't have to be sacred anymore, and that's really fun. 
Worst bar trend of 2014: I'm tired of seeing cocktail bars open with mediocre menus centered around classic vintage recipes. Classics certainly have their place, but I'd rather see bartenders really dig into local history and regional flavors to come up with original, cohesive concepts. If I'm visiting a California bar, I don't want to feel like I could just as easily be drinking in Chicago. Find a way to create a sense of place and relevance with your menu. 
City you discovered this year knows how to drink well! Mexico City! I only scratched the surface of the city's infatuation with mezcal earlier this year, but I'm itching to go back and dig deeper. Highlights: wild, varied mezcal lists, smart and well-crafted cocktails, and some delightful local craft beers. 
Describe your hangover of the year: The morning after my wedding. The "big night" in New Orleans included (but wasn't limited to) pre-game drams of scotch, bridal party 50/50 shots, Pimm's Punch, Creole Cocktails and classic Frozen Daiquiris, and I killed a bottle of Wahaka Mezcal before diving into the courtyard pool and adopting a bottle of Champagne to tide me over until kicking out the last guests at sunrise. Needless to say, I barely made it out of bed the next morning and spent most of the day nursing the most satisfying hangover of my life. It was a blast. Love you, New Orleans. 
What will you be drinking on New Year's Eve?  Maybe some Prosecco, but definitely a bottle (or two) of crisp, cold rose to go with the spicy Asian takeout with my man I have planned.  
What do you hope will happen in the cocktail scene in 2015? I'd love to see bars think more about sustainability. There are so many ways to reduce a bar's environmental footprint, so I hope more bar managers and owners jump on that bandwagon.
---
Gabi Porter, photographer and writer
Favorite new bar: 151. Alex Day and David Kaplan just know how to drink really well, and create places that are really enjoyable to drink in. I love a good dive bar, and with a little spit and polish they re-opened a good one. Maybe it's not quite as divey as it once was, but I don't think that any dive bar starts out with the intent of being a dive bar. So this is a great jumping off point for drinking like an adult in a place with great dive potential.  With all the great old dive bars closing in NYC, re-opening 151 was a comeback kid story that I appreciated.
Favorite new product discovery (old or new): The cacao liqueur that is being produced at Tuthilltown Spirits.  Everyone thinks of Tuthilltown as a bourbon distillery with their Hudson Whiskey, but they've got a couple of young guys up there who are mad scientists. When I went up there they were experimenting with distilling all kinds of awesomely weird stuff (two kinds of absinthe, their own amer picon and other genetian projects) in a literal shed with a 100+ year old pot still from France. I think they moved to better digs, but what sets apart their cacao liquer is the care with which they've sourced their cocoa and the fact that they keep it on the drier, less sweet side. They told me my favorite fact of the year: apparently a lot of old liqueur recipes called for X amount of sugar in their recipes which in the past would have been beet sugar, which is far less sweet than cane sugar, but the recipes were never adjusted for sweeter cane sugar.  
Best bar trend of 2014: Imaginative beer cocktails. Sometimes you just don't want stirred and boozy all the time, or citrusy shaken cocktails. Beer cocktails are lower proof, you can drink more without embarrassing yourself, they have potential for earthiness, flavors that hit a broad spectrum across the palate and effervescence. Plus they're great with food which means cocktail hour can extend into dinner.
Worst bar trend of 2014: I'm trying not to focus on the negative. I'm still traumatized by last year's meat straws.
City you discovered this year knows how to drink well! Denver! Go to Williams & Graham and see what I'm talking about. Then talk to your bartender and go wherever he or she tells you to go.
Describe your hangover of the year: I gotta say I love the fact that 2014 seemed to be the year of wellness and looking after yourself. Sure I had a few hangovers, but mostly I tried to leave an hour earlier, drink water, take some vitamin B before bed, wake up early and start my day with a nice breakfast and a walk with the dogs.  
What will you be drinking on New Year's Eve? Probably lots of punch at a party I am photographing.  Whatever the bartender is pouring.  And hopefully a Jungle Bird or two.
What do you hope will happen in the cocktail scene in 2015? It's all happening.