September is a month of abundance as it caps the end of summer produce and begins showcasing goods that get better as the weather cools down.
"An extension of the summer season means a lot of crops hit their peak in early September," says Dave Conn, chef de cuisine at Jose Garces' Tinto in Philadelphia. At this Basque-style tapas bar, they get about 50 percent of their fruits and vegetables from the nearby Luna Farm in Oxville, something Conn raves about. "We do our best to be avid supporters of what they are doing," he says, adding that it does add challenges to cooking since sometimes they get more goods than they know what to do with. But, he says, "it's totally worth it, since the organic products from Luna come fresh, super-pristine and flavorful."
While Conn gets his goods delivered, you can head to your local farmers market and look for some of the chef's favorite ingredients right now, including ripe heirloom tomatoes, husk cherries, wild mushrooms and sporadically spicy padrón peppers.
Heirloom tomatoes
Though you have seen heirloom tomatoes in the farmers' market for most of August, it's in the cooler months that these bright fruits really sing. "The heirloom tomatoes will continue to be great, and in the Tri-State area they start to show their quality when it starts to cool off," says Conn. Look for all sorts of varietals right now including the dark purple-brown Black Crimson, bright green and yellow-striped Green Zebras, yellow Amish Gold and pink-tinged Brandywine. All have different nuances that make experimenting and taste-testing them loads of fun. You can also simply slice them up to create a rainbow-toned caprese salad for your end-of-summer barbecue.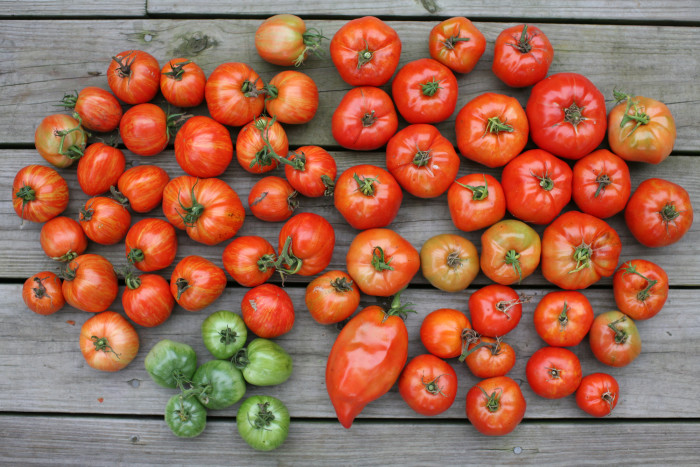 When picking tomatoes at the market, make sure the skin is bright, taut and smooth. Then weigh the fruit in your hand – it should feel heavy and full of juice, and if you press on the skin, the flesh should prove firm with just a tiny bit of give. Also, don't worry about breaks in the skin — it's common for large, ripe heirlooms to split a little when they are growing.
Porcini mushrooms
It makes sense that certain mushrooms have seasons, and early fall is when foragers start digging up domestic porcini. You can find these fungi in the cooler warm months, meaning spring and fall, and they grow wild in the moist forest floor among tree roots. Use them as you would any mushroom: in an omelet, sliced on a pizza or roasted whole and served atop a steaming plate of polenta. Also keep an eye out for domestic matsutake or pine mushrooms, a variety that tastes a little like cinnamon.
Also see: Three-Cheese Lasagna With Porcini Mushrooms And Spinach
Padrón peppers
Shishito peppers are so last year. Instead, give its Spanish cousin the padrón a try the next time you want to play with capsicum. Right now is the peak season for these plump, bright green peppers which offer a mild, slightly nutty taste. And, like shishitos, you have the fun of getting a sporadically spicy specimen in the mix, so eating them is like the Russian roulette of snack foods. "They have a unique texture and viscosity that's almost comparable to okra, but in a positive sense," says Conn. "Also, they tend to be a touch bolder than the shishito, and a little spicier."
You can treat these little green pepper simply, and Conn advises that a little salt goes along way. "They are great with a little cured ham and a glass of beer or wine," says the chef, who serves them in a fried potato dish at the restaurant. He also recommends making a tangy escabeche to add a seasonal twist to beef like he does in his dry-aged ribeye with padrón pepper escabeche (recipe below).
Husk cherries
"These things will blow your mind," says Conn. "They're like candy. I use them to garnish the cheese plate." Best of all, you really don't have to do anything with them since they already look beautiful and have a lot of flavor. But what, you may wonder, is a husk cherry? Also called ground cherries, this small round yellow fruit is related to the tomatillo and looks like a cherry, but like its brethren, it's characterized by a beige paper lantern "husk." You can peel the husk away and serve the fruit solo or let the husk trail behind the berry like a superhero cape, an eye-catching style.
As for the flavor, look out for flavors that range from pineapple and mango to orange and grape tomato. Either way, the end result is a unique little fruit that adds a sweet zing not only to a cheese platter, but in cocktails, as a garnish for fresh fish or simply on its own.
Dry Aged Ribeye with Padrón Pepper Escabeche
Courtesy of Dave Conn of Tinto
Servings:
4
Ingredients:
4 (14-ounce) aged ribeye steaks
3/4 pounds fresh padrón peppers
1 bunch scallions
1 head of garlic
1/2 bunch fresh thyme
2 lemons, Meyer preferred
12 ounces sherry vinegar
4 ounces honey
4 ounces olive oil
1/2 bunch flat leaf parsley
To prep in advance:
Reduce sherry vinegar slowly in a small saucepot until it achieves almost a syrup-like consistency.
Add half of the honey to the reduced sherry vinegar, cool and reserve.
Roast whole garlic cloves, just submerged in olive oil, in a small pot or pan covered with aluminum foil at 300 degrees for 25 to 30 minutes or until completely tender and light golden brown.
Cool, and store submerged in oil, refrigerated until ready to use.
Directions:
Briefly pan fry or grill pardon peppers with a sprinkle of sea salt.
Cook for 5 to 6 minutes or until skin is blistered and flesh has become tender but has not begun to lose color. Set aside to cool.
Trim root from scallions, and separate white part from green tops. Split scallion whites lengthwise, toss lightly with oil and salt and grill on cut side for two minutes, flip and grill on opposite side until tender. Set scallion whites aside to cool. Slice scallion greens as thinly as possible.
Smash roasted garlic to a smooth paste.
Remove stems, skin and seeds from cooked padróns and dice small. Dice roasted scallion whites.
Chop thyme and parsley fine.
Combine diced padróns, scallion (whites and greens), one tablespoon of roasted garlic puree, zest of two lemons, two to three tablespoons of reduced sherry vinegar, juice of 1/2 lemon, four ounces olive oil, two ounces of honey, thyme and parsley. Season with salt and pepper to taste. Can be refrigerated for up to five days.
Season steaks with salt and pepper and grill to desired temperature. Allow to rest, slice and spoon padrón escabeche over sliced steaks. Garnish with any other late summer vegetable desired.
This post is brought to you by our friends at Pure Leaf
Read these Market Watch stories on Food Republic: