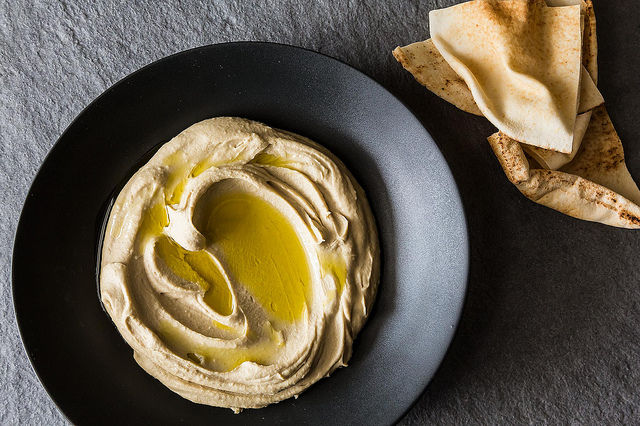 One day in our conference room up in the sky, we got to talking about food cultures we all loved but wanted to know more about. With that, the idea of Around The World In 5 Editors was born. Each day this week, one of the editors breaks in with a lineup of stories, recipes, interviews and personal essays dedicated to their respective country. Today, in honor of #IsraelDay, we drop some serious hummus knowledge.
Most people have some concept of hummus — you know, that beige-hued spread stuffed into pitas, used as a dip for carrots and veggies at parties and served at every Middle Eastern restaurant in the country. While the basis of this tangy, nutrient-packed dish remains the same — chickpeas, sesame paste, lemon juice and garlic — hummus offers nuances depending where you are and who is making it.
Traditionally, hummus is served on a large plate, usually drizzled with olive oil and herbs and accompanied by fresh pita, tomato, onion, cucumber salad and maybe some falafel. You can find it doled out this way at restaurants all over Israel, a template chef Michael Solomonov is using at his new casual eatery Dizengoff, scheduled to open later this year in Philadelphia.
"I think everybody likes hummus, and given its popularity in our restaurant Zahav, I think having it available for lunch will be great," says Solomonov, adding that in Philly there is nothing akin to his new hummusia. Like in the Holy Land, the Israeli-born chef will make his hummus fresh each day so it doesn't wan in the refrigerator. He'll top it with seasonal vegetable garnishes, warm chickpeas or foul (fava beans) and meats like braised oxtail and lamb. Meat on hummus? Well, that's just one of a handful of unique facts about this dish that may surprise you. Here are eight more.
1. Hummus Is Made All Over The World
It's not just in Israel where people argue over the best hummus, Palestinians, Egyptian Arabs, Greeks and other Middle Eastern and Mediterranean countries also claim hummus as their dish. As to where it truly comes from, no one can say for certain, though the earliest mention of the spread dates back to Egypt during the 13th century. The truth is, hummus has been made all over these areas for hundreds of years, a dish likely imported west from the chickpea-growing Arab countries to Greece.
2. But There Isn't A Big Difference In The Recipe
The only major difference between hummuses lies in how much cumin and tahini, or sesame paste, is used. Turkish hummus substitutes butter for olive oil. And sometimes small amounts of Greek yogurt and hot peppers can be added. But hummus is almost always the marriage of chickpeas, sesame paste, lemon juice and garlic.
3. Wars Are Fought Over Hummus
According to chef and restaurateur Yotam Ottolenghi, scuffles can occur in Israel when it comes to which hummusia makes the best hummus. Ottolenghi, who shares his hummus recipe with us below, writes about the hummus wars in his book Jerusalem: A Cookbook. "Jews in particular, and even more specifically Jewish men, never tire of arguments about the absolute, the one and only, the most fantastic hummusia…it is, like the English fish-and-chips shop, a savored local treasure," he writes.
4. Hummus Might Just Make You Wanna…
Another aspect to hummus that most people don't think about—using it as an aphrodisiac. After all, it's made with chickpeas, a powerhouse of protein and feel-good vitamins. Aphrodisiac expert and chef Fed Federer refers to these little legumes as the "Queen of Aphrodisiacs," not surprising given they are packed with iron, magnesium, zinc, and potassium, all known to aid in sexual functions and boost physical energy. So, while it might not be sexy to incorporate hummus in the bedroom, feed your lover the dish before and get ready to see a whole new side to this Israeli staple.
5. Hummus Is Crazy Healthy
Low in saturated fat and high in fiber and protein, hummus also offers complex carbohydrates to make you feel satisfied and full. "Instead of mayonnaise or ranch dip, Americans are looking for something that not only tastes good, but is healthy for them to eat," says Denise Hazime, author of the new cookbook Idiot's Guides: The Mediterranean Diet Cookbook. "With the emergence of Dr. Oz and the Mediterranean diet, more and more people are learning about the health benefits of hummus and other Mediterranean dishes."
6. Hummus Is Not Only For Pita
Try it smeared onto your sandwich, baked on fish, or made into a flavorful dip to perk up vegetables, chips or pretzels. The bright lemon finish helps cut fats and works well with seafood, and because of its creamy texture, you can substitute this as a dip or spread just about anywhere. Remember, it even goes well with meat.
7. You Didn't Think You Would Be Craving Hummus After Reading An Article
Well, now you know.
Basic Hummus Recipe
Reprinted with permission from Jerusalem: A Cookbook by Yotam Ottolenghi and Sami Tamimi. Published by Ten Speed Press, a division of Random House, Inc.
Ingredients
1 ¼ cups dried chickpeas
1 teaspoon baking soda
6 ½ cups water
1 cup, plus 2 tablespoons light tahini paste
4 tablespoons freshly squeezed lemon juice
4 cloves garlic, crushed
6 ½ tablespoons ice-cold water
1 ½ teaspoons salt
Directions
1. The night before, put the chickpeas in a large bowl and cover them with cold water at least twice their volume. Leave to soak overnight.
2. The next day, drain the chickpeas. Place a medium saucepan over high heat and add the drained chickpeas and baking soda. Cook 
for about 3 minutes, stirring constantly. Add the water and bring 
to a boil. Cook, skimming off any foam and any skins that float 
to the surface.
3. The chickpeas will need to cook between 20 and 
40 minutes, depending on the type and freshness, sometimes 
even longer. Once done, they should be very tender, breaking up easily when pressed between your thumb and finger, almost but 
not quite mushy.
4. Drain the chickpeas. You should have roughly 3 cups now. Place the chickpeas in a food processor and process until you get a stiff paste. Then, with the machine still running, add the tahini paste, lemon juice, garlic, and 1½ teaspoons salt. Finally, slowly drizzle in the iced water and allow it to mix for about 5 minutes, until you get a very smooth and creamy paste.
5. Transfer the hummus to a bowl, cover the surface with plastic wrap, and let it rest for at least 30 minutes. If not using straightaway, refrigerate until needed. Make sure to take it out of the fridge at least 30 minutes before serving.
---
Read more about hummus on Food Republic: