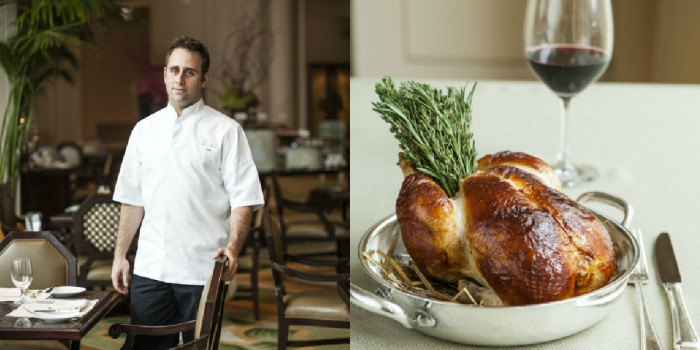 David Tamarkin, one of the good guys in the food media world, has been reviewing restaurants at Time Out Chicago for eight years, serving as Food Editor for the past four. Tamarkin, who previously lived in New York, is in a cool spot covering the Chi — writing about one of the country's most diverse and growing food scenes (Mexican, ramen, degustation menus, gastropubs, burgers, farm-to-table pizza and all things Achatz). But it was only recently that Tamarkin found perfection, awarding his first perfect five-star review to The Lobby in the Peninsula Hotel. He writes:
Wolen's food is deeply delicious and palpably soulful. It quiets cravings that live deep in the trenches of the belly, and does it with astonishing grace….none of [the] entrées compares to the chicken for two. The thing is a spectacle: Like at New York's NoMad, it's stuffed with herbs and shown off to the table before being carried back into the kitchen to be carved. Then it comes back as a perfect breast, stuffed under the skin with butter and brioche, with roasted apples and some chocolate-enriched chicken jus on the plate. It tastes as insanely delicious as it looks, and you think it's the best chicken you've ever had.
The Wolen in the review is Lee Wolen, formerly of Eleven Madison Park in New York, and Butter and Moto in Chicago. We reached out to Tamarkin to find out more about this chicken.
Congrats on finding perfection. That is tough, no?
Well, it's tough and it's not tough. I would never say that eating out three or more times a week is tough (although, you know, the occasionally meal can be pretty painful). But it's true that it's very rare to find all the elements in place. The nice thing about the Lobby is that the elements are all there but it's not at an Alinea or EMP price point.
Did you expect Wolen's cooking to be this exceptional? Did you try his cooking at Moto and the other spots?
He may have been cooking at Moto when I ate there in 2005, but I certainly didn't have any expectations about him from that meal. (And honestly, if I were to draw conclusions from his time at Moto, they probably wouldn't have been good ones.) So, no, I didn't have any expectations. Which was nice! It's nice to be surprised.
The chicken for two was the standout dish. How does chicken— an often-overlooked protein — elevate to this rare level of excellence?
First of all, I should come clean about being a real chicken guy. I like chicken, okay? And I think chicken is more difficult to get right in a kitchen, because you can't "undercook" it, like with steak.
Listen, I'm not hating on chicken…
There's a sweet spot with chicken. And Wolen hits the sweet spot.
What was the price of the chicken? The one at NoMad in New York is sort of expensive…
He also obviously took a lot from the Eleven Madison Park/NoMad playbook in presentation, which is a win for Chicago because it's such a grand, gorgeous ritual. But his chicken is different from NoMad's in that it's stuffed with brioche and butter — not truffles and foie. This chicken is $54. How much is Nomad's?
$79. So in the same ballpark. North of 50 beans.
Eff the NoMad's chicken. That's too much. The Lobby's ends up being less than $30 per person, which I think is reasonable for a dinner of that caliber. See, this is why I left New York…
But, dude, Chicago has some pretty swish places too!
Yes, Chicago has some ridiculously priced restaurants, especially right now. I feel like I'm having more and more discussions with Kramer, my colleague, about how expensive everything is. There's a new restaurant in town — I won't name it — where the chef is pretty green. Never been an executive chef before. Our meal there will be $380— and that's without any alcohol. And I'm like, the fuck? When you review a restaurant like that the price does become a major factor, because the only thing keeping restaurant criticism from being the most inane, obnoxious form of journalism on Earth is that it's a form of consumer advocacy. We take that very, very seriously here. So if we're going to recommend a $30-per-person chicken, it has to be really memorable. And the Lobby's is, happily. For a birthday meal, you can't beat the carrot salad and the roast chicken at The Lobby. You really can't.
How close were you to awarding five stars in the past?
I've had a lot of close calls. The first time I ate at the Purple Pig I wanted to give it five stars. I forget now why I didn't, but I remember having those talks with my colleagues. Also, just recently, I loved a place called Bavette's. But it's a steakhouse, and I didn't love all the steaks, so 5/5 seemed out of line.
So what changed here?
This time, I got a sense early on. I remember eating Wolen's food and thinking, "What the fuck is happening here?" In a good way.
How do you follow-up a 5/5 review. What type of place are you reviewing next?
I actually haven't made my first visit to the next restaurant I'm reviewing, but they don't serve chicken, so…good fucking luck. Just kidding. Kind of.