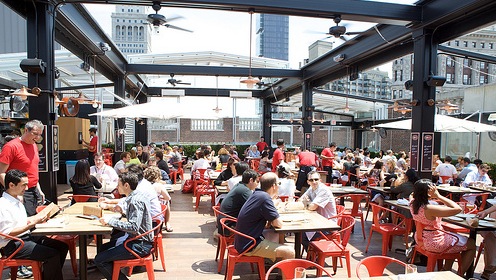 The summer season is coming to an end here in New York, and as bars and restaurants look forward to their Autumn menus (and all that Oktoberfest beer), I suggest that everyone make the most of these last few weeks of summer and enjoy the bliss of drinking in the great outdoors. We all know that some drinks taste just that much better when there is some sunshine. Here is my end of summer drinking bucket list, complete with venue suggestions and a refreshing punch recipe:
1. Get to a beer garden
Everyone knows how good beer tastes on a warm day, and how much fun it is to hang out with friends while solving the world's problems over a beer buzz in the sunshine. Also, drink cocktails at the newly opened garden behind The Mulberry Project. It has always been one of the best bars in New York for fresh fruit cocktails and can now be enjoyed in the tranquil haven behind the hidden bar in Little Italy. The Biergarten at the Standard, 848 Washington Street, 212-645-4646 | The Mulberry Project, 149 Mulberry Street, 646-448-4536
2. Park drinking is not just for hobos
One problem with beer gardens is getting a seat. Whenever I have the great idea of heading to one, it appears that the rest of New York also wakes up that morning with the same thought. My backup plan is to head to the park. While technically not entirely legal, you can bring a picnic and disguise your booze. Insider tips: Pour white rum or vodka into water bottles to add to juices or soft drinks. Mix sangria in Tupperware or fill Gatorade containers with punch. Punch is a particularly good drink on a sunny day. It is not too potent and dilutes more and more as the day goes on, making it very session-able. Of course, I do not recommend doing any of this as it might be breaking some laws. If you must, however, here is a recipe to make on a sunny day:
Sydney Ducks' Gin Punch
1. Muddle the thin-cut peel of 3 lemons with 2 ounces superfine sugar.
2. Add 1 cup fresh-squeezed lemon juice and stir until sugar has dissolved.
3. Add 4 ounces rich pineapple syrup (2:1 Demerara, with fresh pineapple macerated in it for 8-12 hours), 1 ounce Green Chartreuse and 1 liter of Plymouth gin. Stir again.
4. Add 1 quart of weak green tea (3 tea bags, infused 3 minutes in 1 quart hot water and left to cool).
5. When ready to serve, add 1 liter of cold seltzer and a large block of ice. Serves 10.
3. Absinthe and oysters at Masion Premiere
One of the most misused and misunderstood spirits is absinthe. Change your perceptions and head to the garden at Maison Premiere to drink absinthe and eat oysters. Drink their Eye of the Wind (Duplais Verte absinthe, lime, cucumber, mint) and their Rockefeller Royale (Lucid absinthe, St. Germain, Green Chartreuse, mint, sparkling wine) to discover why absinthe was once drank all across Paris in the summer months, and pair that with some delicious oysters. Maison Premiere has over 30 varieties of absinthe, making it one of the best selections in the city. The garden itself is charming, quaint and leisurely and will transfer your mind away from the mayhem of the city. Maison Premiere, 298 Bedford Avenue, 347-335-0446, maisonpremiere.com
4. Find a roof bar
Just like with beer gardens, prepare to wait for your seat or get to one early. New York is home to the most iconic skyline, and to enjoy it with a drink in hand is a pleasure not to underestimate. I like Bookmarks at the Library Hotel, which features drinks by Jonathan Pogash. La Birreria above Eataly is also a great spot and their food is fantastic. Bookmarks, 299 Madison Avenue, 212-983-4500, hospitalityholidings.com | La Birreria, 200 Fifth Avenue, 212-937-8910, eatalyny.com/eat/birreria
5. Sunset on the High Line
Take a date to watch the sunset and drink a cold glass of cold Riesling (or a whole bottle if it's going well) at Terroir Wine Bar on the High Line. It is the park's only sit-down restaurant and I have a lot of respect for James Beard award-winning sommelier Paul Grieco and his love of Riesling. He does his part to promote local New York wines, not to mention that the food comes from Marco Canora, who uses a creative approach to please vegetarians and meat eaters alike with local fresh vegetables and his signature meatball sub. Terroir on the Porch, 459 West 15th Street
6. Chilled bubbles
Some may argue that enjoying chilled Champagne beats drinking a cold beer in the sun. I personally cannot argue with that, and would gladly drink champagne like beer if budget were no matter. Balthazar is always a fun place to get a little sloshed on bubbly, and NoMad has a bottling of Billecart-Salmon unique to their bar. Chef Daniel Humm is currently offering a seven-course tasting menu at NoMad, which combines amazing views and wonderful food.
Balthazar, 80 Spring Street, 212-965-1414, balthazarny.com | The NoMad Hotel, 1170 Broadway, 212-796-1500, thenomadhotel.com/#/dining
7. Go tropical
Nothing says summer better than a tropical tiki drink. Head to Lani Kai for Tiki Monday with Brian Miller and drink piña coladas and daiquiris until your frozen heart is content.
Lani Kai, 525 Broome Street, 646-596-8778, lanikainy.com
8. The British summer: A refreshing long G&T
It might be the English in me, but my favorite thing to drink in the four days of summer we get in the UK is gin and tonic. The trick is a good gin: I recommend Beefeater Dry, as its strong flavor is good to balance the tonic. A good tonic is also essential: Fever Tree and Q Tonic are always staples in my fridge. Add a fresh slice of lemon or lime, pack in some ice, and you have heaven in a glass.
9. Summertime = margarita time
I know that for many of us margarita time is an all-year round sport, but there is something to be said for sipping one in the summertime. Mayahuel is my first stop in New York for this drink. Owner Phil Ward has the best list of agave spirits list in the city. As he puts it, "I don't have the biggest because I only keep the good ones." Mayahuel, 304 East 6th Street, 212-253-5888, mayahuelny.com/home.php
10. Drink all your summertime favorites at once at a barbecue
Persuade a friend with a garden to throw a barbecue; everyone knows someone who loves to be in charge of the grill. Knock up a salad or two, then build an offering of everything you like to drink in the sunshine: icy beer, cheap rosé, champagne, rum punch, and my personal favorite, gin and tonic.
---
More Drink Ford Tough on Food Republic: