How To Make Ginger-Infused Mekhong Rum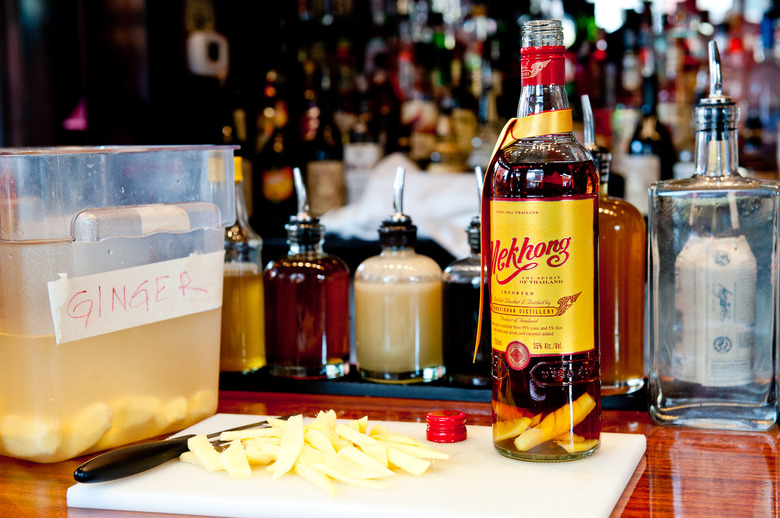 Lately all kinds of neato tricks are turning up on cocktail lists in some of our better (and even not so better) bars. Namely, hand-infused syrups, spirits and tinctures that make our libations a little tastier. If you thought these tricks were strictly for those with a steady supply of suspenders, handlebar mustaches and full-sleeve tattoos, you'd be mistaken. Infusing spirits is in fact pretty darn easy — start with this simple ginger-infused Thai-style rum.
We recently stopped by Talde, Top Chef alum Dale Talde's new and much buzzed about spot in Brooklyn, and while the food is absolutely heavenly — think pad thai with fried oysters and bacon — they are also doing inspired things behind the bar. When we walked in, Talde's partner, John Bush, was cozied up to the bar slicing fresh ginger into matchsticks and jamming them into bottles of Thai Mekhong rum. It looked fun, so we asked how they serve it at the restaurant and where they got the idea.
Bush does a Thai-style rum and Coke with fresh lime juice. He got the idea from his time spent living in Koh Samui in Thailand back in 1994. "On the beach, that's all we drank: Mekhong and Coke." But there were signs back then that the guy had an eye for the better things in life. Apparently there was "a guy" (there's always a guy) at the very far end of Chaweng Beach who used fresh ginger and lime in his instantly elevated Mekhong and Coke.
The method couldn't be simpler, it just requires a little advance planning.
Peel a knuckle of ginger and cut it up into chunky matchsticks (it doesn't have to be precise).
Pour out (and drink, please) a little from a standard 750-ml bottle of Mekhong and replace the volume with the fresh ginger.
Close up the bottle and let it sit for about a month. That's it, voilà. Easy peasy. Now get to it, summer is nearly upon us!
More on infused spirits at Food Republic: