Christmas Leftovers: Make Colcannon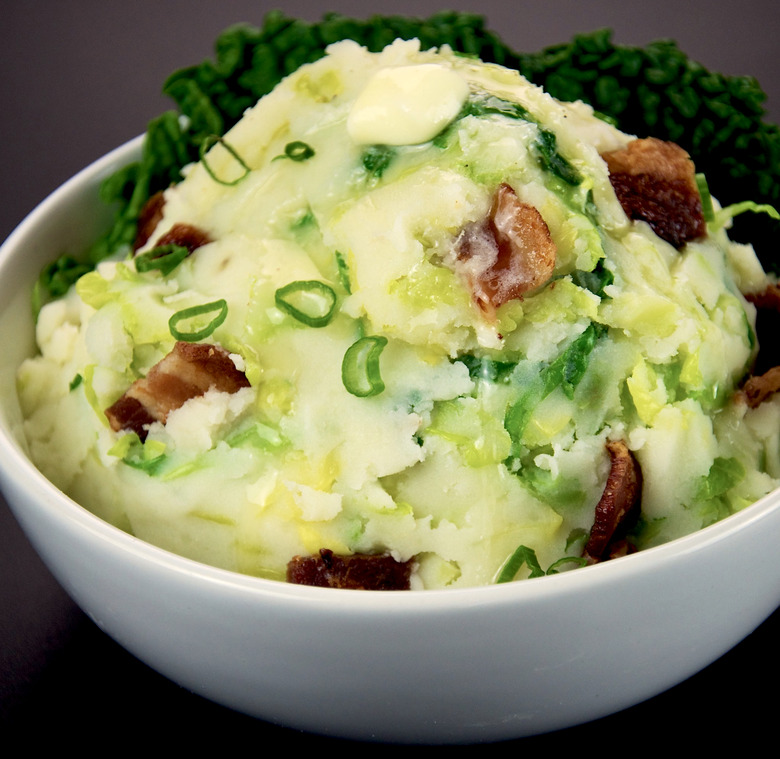 Try Irish leftover mashed potatoes for lunch.
The easiest leftover makeover for all the Christmas food in your fridge is almost as easy as making a ham sandwich. And definitely easier than making a Thanksgiving sandwich — that takes dedication. It's not incorporating your leftovers into macaroni and cheese, although this is always an effective method, and it doesn't involve boiling a large poultry carcass or ham bone. Wield your potato masher, friends, today is colcannon day.
Colcannon is a lad's best friend, along with whiskey, drinking songs and other fun Irish stereotypes. It combines traditional mashed potatoes with leftover vegetables and bacon to create a hearty, comforting and extremely filling dish. Pressed into patties, lightly floured and pan-seared, it's known as "bubble and squeak," due to air noisily escaping from the dense potato mixture as it cooks.
First, make some bacon and crumble it, or fry up some chopped ham until crisp. Next, take your leftover greens (cabbage and kale are traditional, but mustard greens, arugula, spinach or Swiss chard will also do nicely) and quickly saute in a pot with a little minced garlic, just to warm them through. If your potatoes are already mashed, add them to the pot, loosen them up with a little heavy cream and stir well to combine with greens. If your potatoes are not already mashed, mash them at this time and add a good-sized knob of butter and splash of heavy cream. Add the pig and stir in, then serve in a bowl or fry into bubble and squeak.
Can't bear to attack the beast beneath the tinfoil just yet? A perfectly poached egg or two is the perfect topping for those of you taking a brief break from turkey and friends.