Saving Heirloom Apples With Cider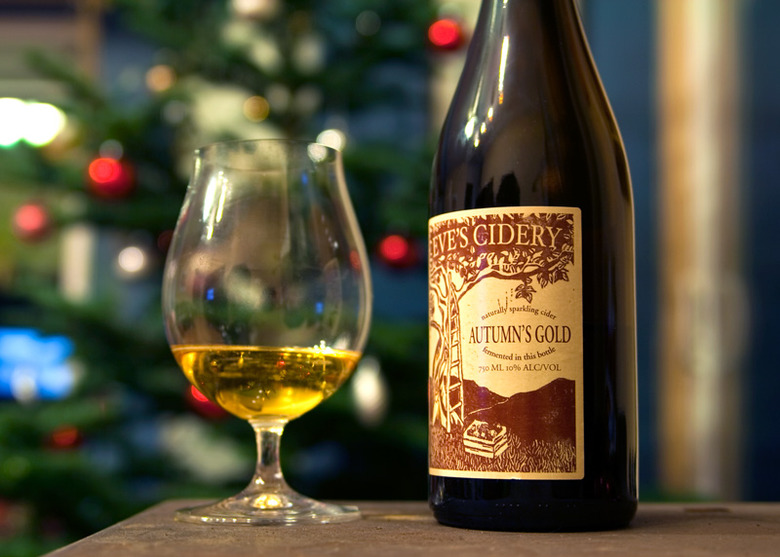 Photo: OldTimeCider.com
Brown Snout, Fox Whelp, Newtown Pippin: if you guessed that these were Middle Earth characters or fancy dog breeds, you'd be wrong. They're actually apple varieties that go into making some of the artisanal hard ciders that will be featured at New York's upcoming Cider Week (Oct. 16-23 at various locations).
The fermented-apple beverage is often thought of as an alternative to beer. After all, it's typically served on tap by the pint or stored in 12-ounce bottles in the beer fridge. But when you talk to cider-making folks, you realize that the production and even the consumption of cider can be closer to wine.
"The way we make cider is similar to the making of grape wine," says Autumn Stoscheck of Eve's Cidery, whose products will be featured at participating bars and restaurants during Cider Week. "We grow our apples almost exclusively for the purpose of fermenting them. We're more interested in flavors and sugars than we are in aesthetic beauty."
Most of Eve's ciders are blends. But like other cideries, the company also produces a single-variety bottling made with Northern Spy apples. The apple variety, says Stoscheck, is "wonky" and bruises easily, but has the right sugars and acidity to ferment nicely. Eve's also makes a single-orchard cider from English and French varieties, and is about to start experimenting with newly available Spanish apples.
"We're in Appalachia where we have old timers who still live in the houses they were born in," says Stoscheck. "People here have this collective memory where every farmstead has an orchard out back. There were literally hundreds and hundreds of varieties. As the trees get older in people's backyards and aren't being taken care of, they disappear. And that's a big loss because these varieties are treasures."
The tag line for Cider Week is "saving orchards with cider." Participating restaurants and bars throughout New York City will feature special tastings, pairing dinners and classes. Gidon Coll, the founder of Original Sin Cider, hopes the events will raise awareness of the cider category and shed some much-needed attention on farmers from the northeast, many of whom are still recovering from the effects of Tropical Storm Irene.
"In this country, 11 commercial varieties represent 90% of apple sales in supermarkets," says Coll, who was raised on a dairy farm in upstate New York. "Yet, there are thousands of varieties of apples, including many that originate in New York. They have wonderful histories and much more unique flavors than store-bought apples."
He cites the Newtown Pippin, the heirloom variety that inspired him to make the cidery's first single-varietal product, out this November. It's known as the only popular heirloom apple that originated in the five boroughs of New York. It was first seeded in 1740 on Queens' farmland and quickly earned a reputation as the finest eating apple of its day, according to Coll. George Washington and Thomas Jefferson grew the Newtown Pippin on their personal estates, and it was the first apple exported, helping to establish this country's fruit-export business. Original Sin will also release a Cherry Tree cider this fall, both of which New Yorkers can get an early taste of during Cider Week.
"At that time, the Newtown Pippin was considered more than just a great apple. It was a point of national pride," explains Coll. "One book claims that 1804-1904 was the Golden Age of apples. It was a time when magazines would review new varieties of apples the way they review movies today."
Getting thirsty yet? You should be. Cider is not only refreshing on its own, but pairs wonderfully with food. It has many of the characteristics great food wines boast, such as crisp acidity that cleanses the palate, and firm tannins to help offset fat. And if your mom ever made you apples and cheese slices as an after-school snack, you can probably believe that cider can out-pair wine for your favorite fromage just about any day of the week.
---
More ways to eat and drink more sustainably on Food Republic: