Strategic Variations On Chicken Salad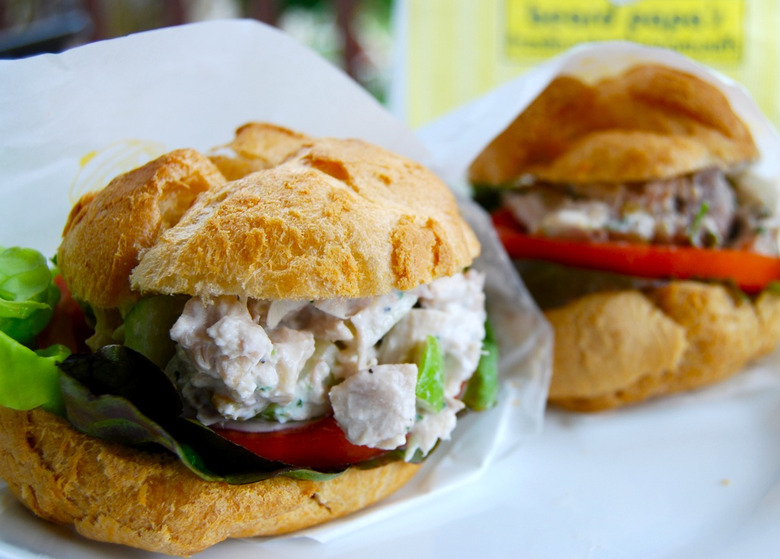 chicken salad sandwich
I've had curry chicken salad, buffalo chicken salad, Waldorf chicken salad (that's with walnuts and red grapes) and chicken salad with tons of fresh dill. I've had Asian chicken salad (that's with mandarin oranges and sliced almonds), chicken salad with bacon and Ranch dressing and Caesar chicken salad on a croissant. I really feel like all these variations on leftover chopped or shredded chicken, diced celery and mayo have become as tired as the original. So I came up with three new ways to apply the tried-and-true chicken salad method.
Variation on a classic: Fried chicken salad
Leftover fried cutlets work best here, so make some extras when you get your chicken parm on and enjoy this for lunch the next day. Shred chicken, toss with a little mayo, finely chopped pickles and crumbled blue cheese and serve on a biscuit. Sound a little rich and heavy? You bet it is.
A healthier but equally tasty alternative: Greek yogurt chicken salad
Combine shredded chicken with enough plain, low-fat Greek yogurt to achieve desired consistency, toss in some chopped fresh herbs, scallions, salt, pepper and a squeeze of lemon and serve on a baguette with baby spinach.
One that uses sriracha because that's what people like: Sweet and sour sriracha chicken salad
Toss shredded chicken with sesame oil, sesame seeds, a generous squirt of sriracha, finely diced carrots, a tiny squeeze of honey and a splash of rice wine vinegar and serve on pumpernickel.
Want to create your own proprietary chicken salad recipe? Here's a trick: Figure out what you like and toss it in a bowl with shredded chicken and some sort of binding agent. It's just that easy.
Coming soon: my random chicken salad recipe generator.