Drinking With A Distiller: Jim Rutledge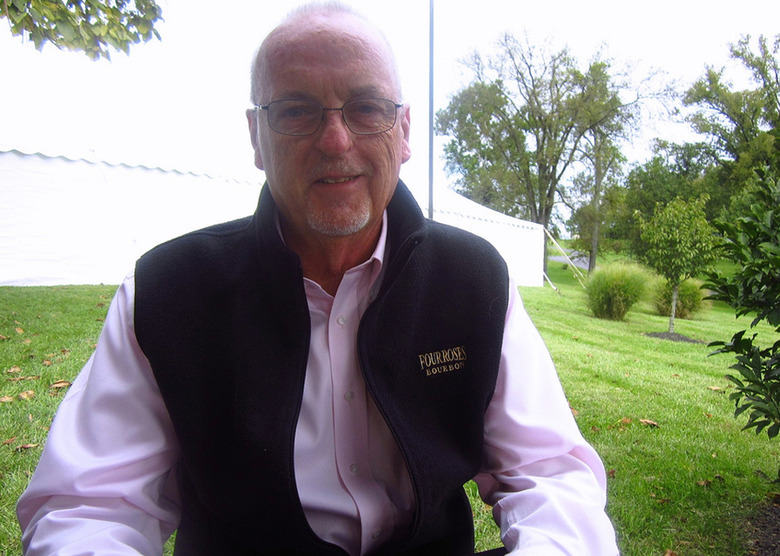 When I told my father and uncle, both hanging around the 60-year-old-mark, that I was heading to Lawrenceburg, Kentucky to check out the Four Roses bourbon distillery, both made this I just passed a kidney stone face of anguish.
This confused me.
In my mind, the brand represented one of Kentucky's most storied bourbon producers, having been in the business since the 1860s. My recent history with the bourbon—a press tasting at Tales of the Cocktail and picking up a bottle of their so-called yellow house label—had proven the product was a legitimate mid-range bourbon (with harder-to-find single barrel and small batch bottles fetching even higher marks).
But I soon realized the root of the issue: Seagram's. Back in 1941, the company purchased Four Roses and soon took the business out of Kentucky to create a blended whiskey made from mostly neutral spirits (vodka), with only a small amount of bourbon added to each bottle. This was truly a terrible product, reserved for bottom-shelves and hard-luck hobos. And, apparently, it contributed to a historic hangover for both my father and uncle.
Thankfully, the Four Roses story has a happier ending. When Seagrams was sold to Vivendi Universal in 2002, Four Roses was subsequently spun off to Japanese brewers Kirin, which soon discontinued production of the rotgut. Master Distiller Jim Rutledge has been with the company since 1995. He's a mild-mannered guy with a brain equally attuned to chemistry as to marketing. As we sat at a picnic table sipping his prized single barrel, he shared his thoughts on mixology, white dog and how aging bourbon has its limits. He's no fan of barrels sitting over eight years.
In 2002, you began to pull the blended Four Roses product off the shelves. How did that make you feel?
Wonderful. I mean, that wasn't our product. It was made somewhere else. It was something I'd been debating and arguing and trying to make happen for years and years, and that was the best feeling in the world. We destroyed it. We pulled it off the shelves and destroyed it.
Let's talk mixology. Are you a fan?
You hear a lot of bourbon distillers say the only way to drink it is neat or with an ice cube. I think that people should drink it the way they like it. When I was in London a couple weeks ago, we'd go to these events and it proved that mixed drinks are absolutely lifting our business to another level. There are some drinks I don't like and there are some that are really good, but I try them all.
What do you like?
I like some of the old-time drinks, like Manhattans. I of course like the mint julep.
Do you ever mess around with mixing with different vermouths?
I don't mix, but I've had Manhattans mixed where the sweet vermouths were substituted with something else. I couldn't tell you what it was, I'm not a mixologist, but it was really good. I like traditional. I like the Perfect Manhattan.
Rye is super trendy right now. Do you plan to produce it in the future?
We've got to get approval from our owner [in Japan] and right now he's beginning to bend. He's beginning to field so many questions himself that he's realizing how popular rye is becoming.
Speaking of popular spirits, do you plan on releasing a so-called white whiskey?
Our CEO felt like it was taking away from our primary distilled spirit brand, which is a Kentucky straight bourbon whiskey. And he was afraid that this was something else—not bourbon. And I can understand where he's coming from. White dog is not a bourbon.
Do you have a taste for white dog? Do you like the stuff?
If you taste ours, you will see.
Well, it's a great category. And from a business standpoint, you're not really doing anything with it.
Oh yeah, there's a lot been done with it! They're all different. I'd love to show you our 10 recipes and you'd see how distinctively different they are, and you'd be very surprised.
Let me rephrase. When I say you're not doing anything with them, you're not aging them. You're not sitting on inventory for four, five, eight years.
Right, it's economical.
You just told a large room full of people that bourbon peaks at six to eight years. So what's the deal with 20-year bourbons. Why should we pay a lot for that?
There are some bourbons that will age slow, once the natural sugars of the wood have dissipated. You get some really good ones, but it's up to the individual. I just don't like aged bourbons, so I'm not a good person to attest to that. Usually the [aged] bourbons are too woody and too harsh for me, but there are some exceptions. And there are a lot of people who like them like that.
I've found a lot of those drinkers are Scotch drinkers, because the sweet flavors have gone from the bourbon, being replaced with more of a wood, dry taste which resembles a little bit of scotch. But I just don't like the old, aged bourbons.
And you guys aren't sitting on anything 10, 15, 20 years aged? Do you have 30-year old barrels?
Oh no, absolutely not. I know what it does, I don't need that. It's not worth anything. It's not going to be good.
---
More brown spirits coverage on Food Republic: