Summer's In A Roll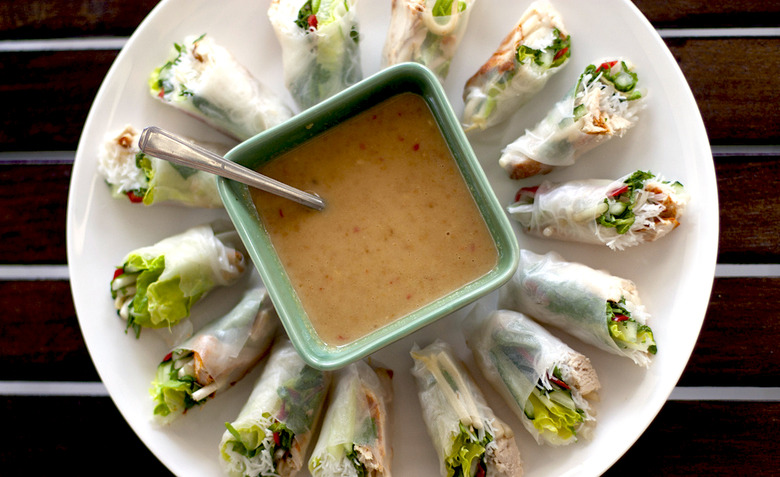 vietnamese summer rolls
Vietnamese food seems to have two seasons: winter, when rich, beefy pho reigns as king of comfort and warmth, and summer, when light, refreshing, crunchy offerings like banh mi and summer rolls make for super-pleasant impromptu park picnics. Since we've already touted the endless virtues of the banh mi, let me turn my sights on the summer roll.
I truly fell for these portable treats one unbearably hot August day in Los Angeles, when my lovable companion Hathanh brought over a massive tray of her mother's homemade summer rolls. Were 9 of our friends living in this 8-bedroom house? Yes. Did it take us longer than 20 minutes to devour the entire platter of at least 3 dozen rolls? It did not.
When I discovered how easy it was to make them myself, I went into mass summer roll production. If you suck at rolling up a burrito, you'd rock at making summer rolls. If all you can do is boil water and "kind of" chop vegetables, you're set. Summer rolls involve nothing more than soaking rounds of rice and tapioca paper in water, adding boiled rice noodles, lightly boiled shrimp and an assortment of cut-up raw cucumbers, carrots, lettuce, cilantro and mint. Oh and pouring rice vinegar in a little bowl for dipping purposes. The tapioca-rice wraps are flexible, stretchy, self-adhesive and basically foolproof. They're also naturally gluten-free and can easily be made vegetarian or vegan. Sound like a crowd-pleaser yet?
We love this recipe for Tiger Shrimp Summer Rolls, which pair remarkably well with a classic Negroni. We realize it's not even noon, but it's hump day in the summer and sometimes that means an expertly-paired and highly refreshing cocktail with lunch. Feel like switching it up? This summer roll recipe, featuring crab, comes to us straight from Hanoi.
I say with confidence that all American Vietnamese restaurants feature summer rolls year-round on their menus, so order a serving or two, confirm that they're awesome, hit the Asian supermarket and create your own variation on this light, cool dish. Just don't bring them to a gathering of hungry college students.