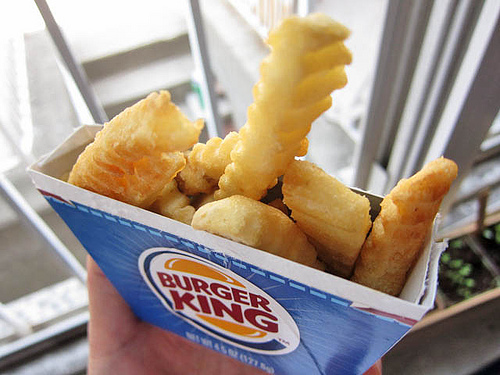 The National Restaurant Association, in conjunction with Healthy Dining, yesterday announced its voluntary initiative called Kids LiveWell in an effort to offer healthier menu options for children in chain restaurants.
Over 19 chains — including Burger King, Chili's and IHOP — representing 15,000 locations in the U.S., have joined the program, which requires restaurants to provide dining options that meet nutritional criteria based on the 2010 USDA dietary guidelines and health organizations' scientific recommendations.
Founder of Healthy Dining, Anita Jones-Mueller, stated, "Kids LiveWell empowers parents to confidently make informed decisions about their children's meals as part of maintaining a healthy lifestyle."
According to the National Restaurant Association's statement on the Kids LiveWell program, restaurants must:
Offer a children's meal (entrée, side and beverage) that is 600 calories or less and contains 2 servings of fruit, vegetables, whole grains, lean protein and/or low-fat dairy; with limited sodium, fats, and sugar
Display or make available the nutrition profile of these menu items
Promote and identify the healthy menu items
As part of the initiative, Burger King will no longer automatically include fries in kids' meals, but will instead ask parents if they'd rather substitute apples or milk. McDonald's, which has been pressured by health organizations to retire their famed mascot Ronald McDonald, is conspicuously absent from the list of participating restaurants.
While most agree that Kids LiveWell is an important measure for combating childhood obesity, Nutrition Policy Director of the Center for Science in the Public Interest, Margo G. Wootan, isn't impressed.
She writes, "There's less to the National Restaurant Association's new program for children's meals than meets the eye." Wootan's article points out that that many fast food chains already have 2 or 3 healthy alternatives for kids, but that they remain ineffective when they are buried amidst a menu of high-calorie items. She suggests that the majority of children's menu choices should be healthy instead of only a few.
Children's nutrition is also in the news today after the Council for Better Business Bureaus announced that the Children's Food and Beverage Advertising Initiative (CBFAI) will follow uniform nutrition criteria for all foods advertised to children. Junk food advertising, like fast food chains, has been criticized for adding to America's childhood obesity epidemic.