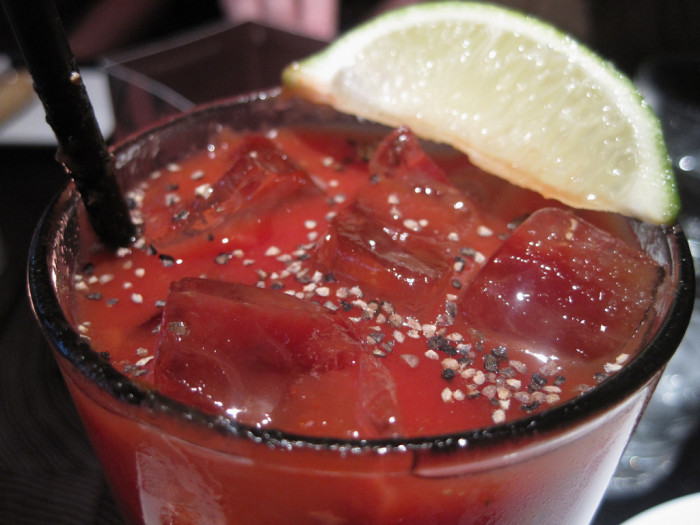 In this era of high-proof spirits making a well-deserved comeback, not everyone is looking for maximum alcohol by volume. A number of bartenders are offering great low-alcohol cocktails that make use of wine and beer, but no hard liquor. It's a way to offer something fun and festive in a glass even without a full liquor license.
Leif Huckman of Goat Town in NYC's East Village has several variations on classics on his cocktail list, including a Bloody Mary and a Dark 'n' Stormy. Only he has managed to create these without having a drop of hard liquor in the house. With just a wine and beer license to work with, Huckman is concocting inventive cocktails using various amari, fortified wines, regular vino and ales. Take his Bloody Mary, for example, which incorporates sake infused with juniper berries to mimic gin. Or the Stout & Stormy, which is housemade ginger beer and a float of stout (no dark rum needed). If you didn't know, you'd hardly be the wiser that there isn't a drop of spirits in the glass.
At Jones Wood Foundry on NYC's Upper East Side, mixologist Meaghan Dorman was enlisted to create a brief list of cocktails using only soft booze. Kina's Ritual makes use of Cocchi Americano and Bonal for a bitter, Negroni-esque elixir. The Italian Diplomat is a version of a classic cocktail that never had any hard stuff in it in the first place. This one is made with Cardamaro Amaro, Carpano Antica and Dolin dry vermouth.
In New York, of course, this is nothing new. The Bourgeois Pig has been doing soft cocktails for years. It offers a selection of wine drinks, including the E .V. Swill (muddled lime and mint with Lustau PX sherry and a champagne top), and beer drinks like the Shandygaff (ginger beer, lime, La Chouffe Golden Ale). The best part? You definitely don't have to stop at one.