Why You Should Be Drinking Assyrtiko, Santorini's Favorite Wine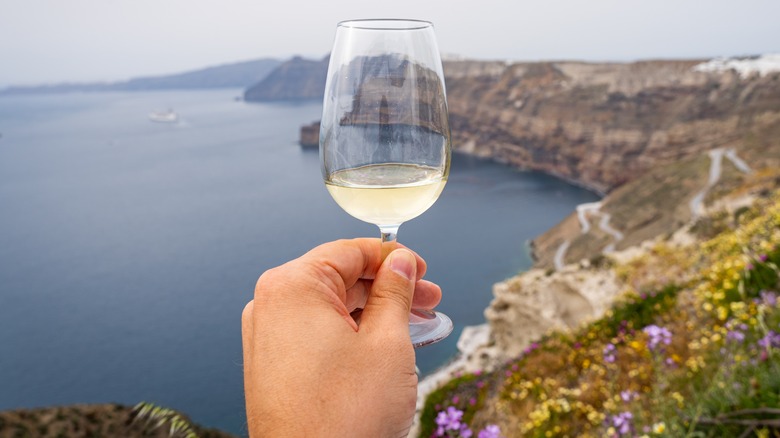 andreyandreevphotography/Shutterstock
Who wouldn't want to flaunt themselves while luxuriating on a sunny beach in Greece? The Mediterranean nation has long been associated with great food, beautiful beaches, and a rich, dynamic history. But what complements all these aspects well? Greek wines.
The island of Santorini, one of Greece's most photographed vacation spots, is famous for producing Assyrtiko, a white wine grape that yields one of the island's most renowned wines. Assyrtiko wines are light, dry, and highly acidic, featuring notes of citrus and tropical fruits balanced by a grounding minerality. The terroir of Santorini is well-suited to this style due to the underlying salinity in the soil, which imparts a distinct character to the wines.
Nikos Varvarigos, Chief Winemaker at Santo Wines, shared with Food Republic that "Assyrtiko is a variety that focuses on structure, extract[,] and flavor volume rather than aromatic character," and that the wine "has the ability to express the terroir with intensity."
How to drink Assyrtiko wine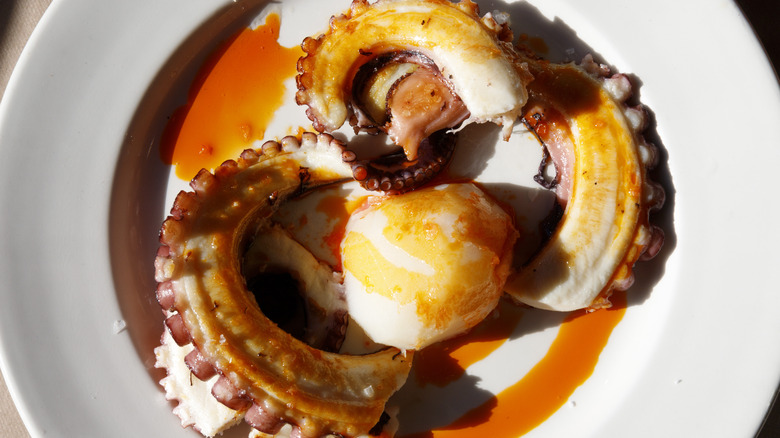 Xurxo Lobato/Getty Images
Assyrtiko, well-known in Greece, is growing in popularity worldwide, and fans of Sauvignon Blanc or Chablis will quickly become converts to the Assyrtiko drinking club. Assyrtiko wines come in still or sparkling varieties, and the grapes are also used to make Vinsanto, another traditional Santorini wine. This sweet dessert wine, similar to Italian Passito, is made from raisins, resulting in a thick, sweet wine that pairs well with honey-drenched desserts — we recommend pairing it with this simple baklava recipe. Assyrtiko can also be used to make Retsina, a Greek wine aged with added pine resin.
Assyrtiko wine is excellent on its own as an apéritif, but as Nikos Varvarigos explained, it truly excels as a pairing for traditional Greek dishes and cuisine. "Lemony meat dishes such as pork and chicken will pair well with Assyrtiko," he recommended, stating also that barrel-aged Assyrtiko wines pair beautifully with rosemary-cooked rabbit.
Assyrtiko's unique history and terroir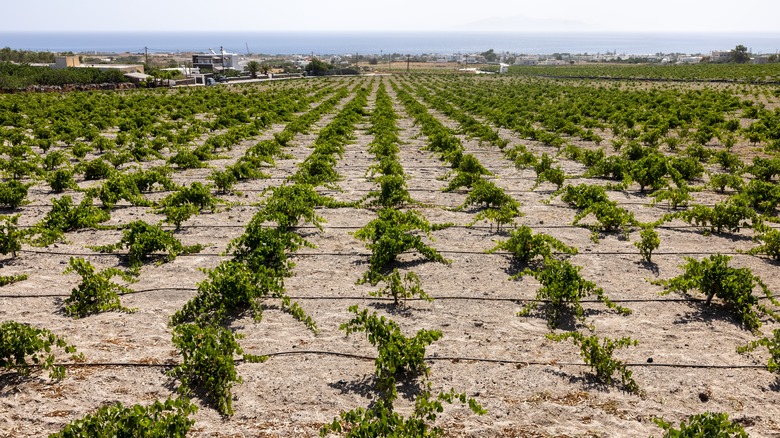 wjarek/Shutterstock
Nikos Varvarigos told Food Republic that "[t]racing the winemaking tradition of Santorini takes us back in time to the third millennium B.C." In fact, Santorini vineyards, where Assyrtiko is grown, are some of the oldest in Greece and, according to Varvarigos, home to native vine stumps that never needed to be grafted with non-native grape varietals. This is a rarity in Europe, as most vineyards had to graft North American plants onto their rootstock after the phylloxera blight nearly decimated Old World wine. Santorini's relatively inhospitable climate — "with its lack of aluminum and high sand content," Varvarigos explained — made its vineyards immune to the blight, meaning that Assyrtiko is one of the last truly native grape varietals in Europe.
Additionally, Varvarigos explained that Santorini's microclimate, influenced by its northern winds, keeps temperatures cool in summer. This helps maintain the acidity and nuance of Assyrtiko wines in an otherwise harsh climate. Hot and dry, the island is characterized by its volcanic soil, which has consistently provided ample nutrients for wines grown there, even through thousands of years of volcanic eruptions. Consequently, the island produces unique and reliable wines with a long and rich history.