What Is Nutritional Yeast And How Do You Use It?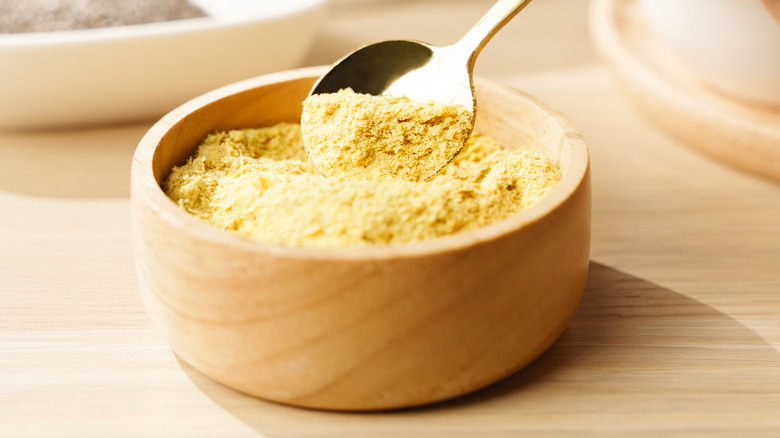 myboys.me/Shutterstock
Once relegated to dusty bulk bins in the back corners of natural food stores, nutritional yeast — a staple in many vegan households — is finally enjoying its moment in the spotlight. Previously labeled with nondescript names like "vegetarian support formula," it is now featured in mainstream cookbooks and upscale restaurants, thanks to its umami qualities that even omnivores appreciate. Affectionately known as "nooch," it has become much easier to find, with many major grocery stores now stocking it. This plant-based, cheesy-tasting yeast can be used both as a seasoning and as a topping, and it is a key ingredient in making many non-dairy cheese sauces.
Derived from the same strain of yeast as brewer's and baker's yeasts (Saccharomyces cerevisiae), nutritional yeast is deactivated. This means it won't make dough rise, and that it's distinct from the type of yeast used in baking bread. Nooch is valued for its savory flavor and, as its name suggests, for its impressive nutritional profile.
What is nutritional yeast?
Marcus Z-pics/Shutterstock
In addition to its cheesy taste, another reason nutritional yeast is popular among vegans is that it's often fortified with vitamin B12. This essential nutrient is neither naturally produced by the body, nor particularly accessible in a plant-based diet — it's mostly found in animal meat, fish, and dairy products. Nutritious nooch serves as a good source of this hard-to-find vitamin, presented in the form of a tasty, multipurpose condiment that is also free of fat, sugar, and gluten. Despite its seemingly salty flavor, nutritional yeast is low in sodium.
Traditionally sold in shaker bottles for easy sprinkling, nutritional yeast is yellow and comes in either flake or powdered form. Some manufacturers now offer it in bags, while old-school health food stores continue to sell it in bulk. Unrivaled in its cheese-like flavor, nooch is an excellent substitute for Parmesan cheese, and has gained popularity even beyond vegan circles as a popcorn topping. Its versatile texture also makes it suitable for various culinary applications: The powder can be blended into a creamy sauce for vegan mac and cheese, or transformed into a rich and spicy vegan cashew queso, perfect for nachos or as a dip. Beyond its culinary uses, a serving of two teaspoons provides three grams of plant-based protein. It wouldn't be incorrect to view nooch as a delicious way to conveniently incorporate vitamins and protein into every snack.
How is nutritional yeast made?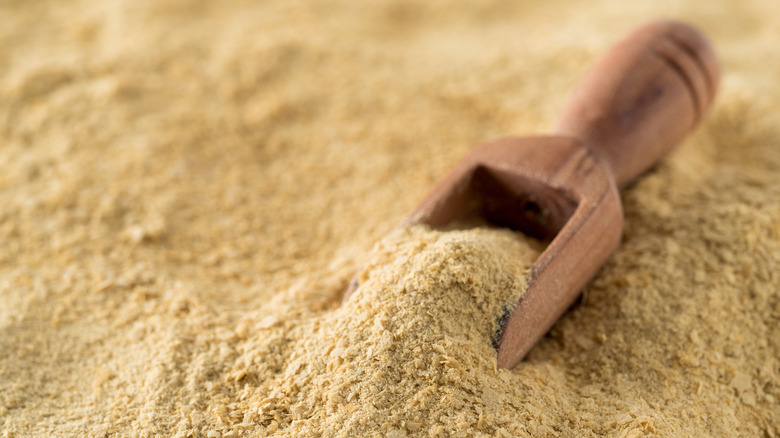 Fascinadora/Shutterstock
To produce nutritional yeast, you have to feed a high-glucose carbohydrate — typically derived from cane or beet molasses — to live yeast (Saccharomyces cerevisiae). As the yeast consumes the sugars, it grows and ferments. The resulting mixture is then pasteurized, which kills the yeast and renders it inactive — meaning it can no longer be used as a leavening agent for bread. If the product is to be fortified, vitamins are added at this stage. The yeast is then heat-dried (contributing to its savory, toasty flavor) and ground into either flakes or powder.
This sequence of fermentation, pasteurization, and heating imbues nutritional yeast with its naturally cheesiness, even though it's a vegan product. When the protein in the yeast begins to break down at the cellular level, it produces the amino acid glutamate. This is not the same as monosodium glutamate (MSG), although it is the same source of MSG's umami flavor.
Nutritional yeast vs. brewer's yeast vs. baker's yeast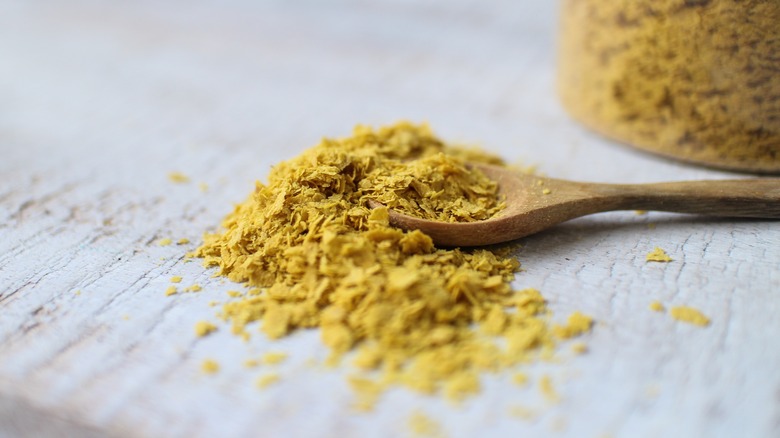 SUPERGAL/Shutterstock
Nutritional yeast, brewer's yeast, and baker's yeast all originate from the same species of yeast (Saccharomyces cerevisiae), which could loosely be thought of as a mother fungus. However, the similarities end there, as each type of yeast is created through different processes and serves its own distinct purpose.
Both nutritional and baker's yeasts are cultivated on sugar-rich sources, such as molasses, while brewer's yeast is a byproduct of beer and bread production. Just like nooch, brewer's yeast is also deactivated; however, brewer's yeast is particularly notable for its high levels of minerals such as chromium, selenium, and potassium, whereas nooch is not. Though brewer's yeast can be mixed into foods or beverages, it has a bitter flavor that some people find easier to ingest in pill form. For others, it's an acquired taste enjoyed in the form of British Marmite or Australian Vegemite — both popular, pungent spreads made from brewer's yeast extract and commonly enjoyed on toast.
Baker's yeast, on the other hand, is an active, living organism. It serves as the leavening agent that creates bubbles and foam in sugar water during proofing (a step to ensure the yeast is still viable), causes dough to double in size, and enables bread to rise while baking. This form of yeast is not intended for raw consumption; it is specifically used for baking, during which the cooking process kills the yeast.
What does nutritional yeast taste like?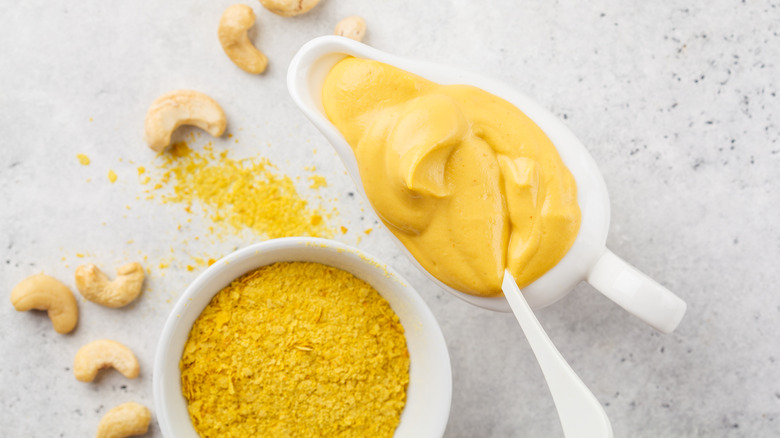 Nina Firsova/Shutterstock
Nooch's flavor is often compared to cheese, but its taste profile is unique and complex, earning it a devoted following. In addition to its cheesy notes, it can also be described as nutty, eggy, slightly smoky, and even a touch funky. If you've ever savored the cheesy residue left on your fingers after eating Cheetos, you have a close approximation of what it tastes like.
Nutritional yeast fully embraces umami flavor, lending an almost meaty level of savoriness — making it a great addition for adding depth to meat-free meals, like this comforting creamy polenta with white beans and spinach. While it's not actually salty, it does satisfy salt cravings, and when used as a seasoning in cooking, it imparts a robust quality to soups, stews, gravies, and sauces. These umami characteristics make nutritional yeast a star ingredient in many recipes for seitan, a plant-based meat substitute that closely mimics the taste and texture of animal protein.
How to cook with nutritional yeast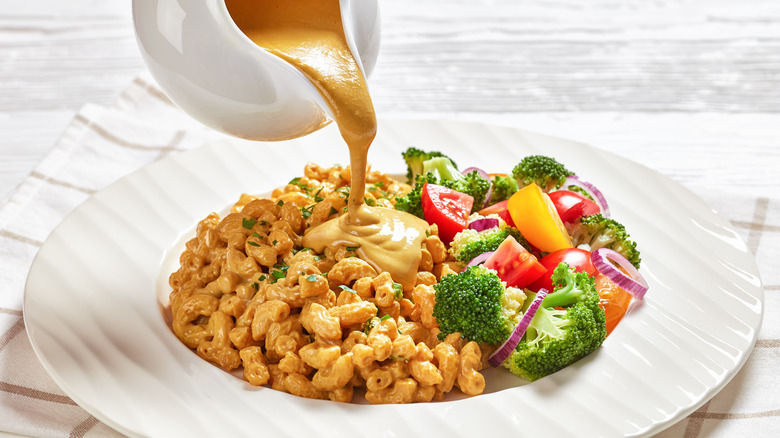 from my point of view/Shutterstock
Nutritional yeast is incredibly versatile; it can be used straight from the jar, incorporated into dishes to enhance flavor, or included as an ingredient in cooking. Consider sprinkling it wherever you would normally use Parmesan or grated cheese, such as on pasta, pizza, baked potatoes, soups, and salads. Popcorn deserves special mention as an ideal vehicle for nooch, and the seasoning also pairs well with roasted nuts, kale chips, and french fries. You can mix nutritional yeast into batter and breading to elevate the flavor of fried foods or incorporate it directly into dough for exceptional bread. Adding it to a tofu scramble lends a savory punch, and it can also enhance the taste of actual eggs.
Nutritional yeast particularly excels in recipes for vegan cheese sauces. Despite being a dry powder, it blends seamlessly with liquids, avoiding a chalky texture or aftertaste. The powder dissolves when mixed with water, plant milk, oil, or butter, and can serve as the base for a variety of dishes, such as melty artichoke dip, silky Alfredo sauce, or a roux for faux-cheesy casseroles, gumbo, or chowder. Nutritional yeast is a staple ingredient in vegan pesto, scalloped potatoes, roasted vegetables, and creamy polenta.
Nutritional information about nutritional yeast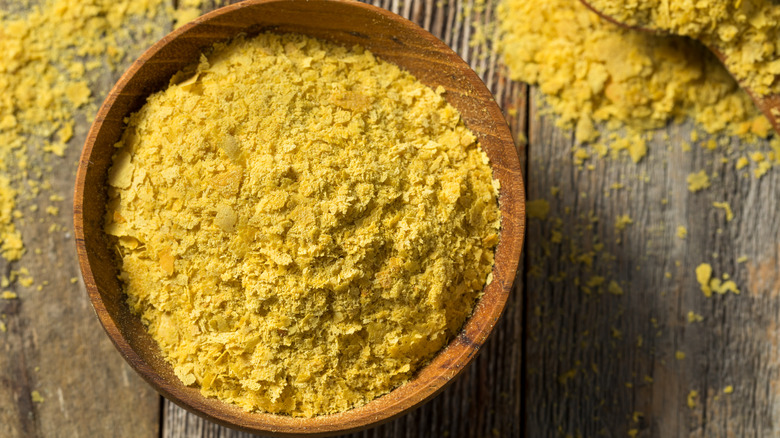 Brent Hofacker/Shutterstock
Nutritional yeast is available in both fortified and unfortified varieties. Fortification adds synthetic vitamins to the product, most notably a boost of vitamin B12. Fortified nutritional yeast also tends to contain significantly more than the daily recommended intake of other B vitamins, as well as a substantial amount of protein per serving and trace amounts of minerals, though each brand's ingredient list and vitamin content can vary. For instance, a ¼-cup serving of Bob's Red Mill nutritional yeast provides 60 calories, eight grams of protein, and 730% of the daily recommended value for vitamin B12. Additionally, it includes all nine essential amino acids, making it a complete protein.
Despite having the word "yeast" in its name, nutritional yeast — which does not contain any live yeast cultures — does not cause or exacerbate yeast infections. The yeast strain that can lead to yeast overgrowth in or on the body is entirely different and unrelated to this nutritional supplement.
Where to buy nutritional yeast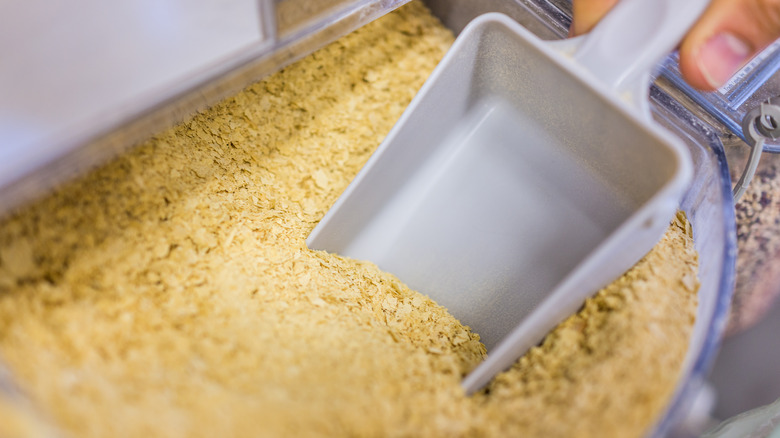 Kristi Blokhin/Shutterstock
Gone are the days when finding a reliable source of fortified nutritional yeast was a challenge. It is now easily accessible in many supermarkets and simple to order online. Amazon offers a wide array of nooch options, and popular brands that you might be able to find in-person include Red Star, Bragg, Bob's Red Mill, and KAL. Some stores, like Trader Joe's, even offer their own signature versions.
You can typically find nutritional yeast in plastic shaker bottles or resealable bags, located either in the baking or spice aisle, or alongside other nutritional supplements. Some stores still offer it loose in bulk bins, where it can be purchased by the pound. It's important to note that different brands have varying formulations, and not all of them fortify their nutritional yeast products. Always check labels for ingredients and nutritional information to ensure the product meets your individual needs.
How to store nutritional yeast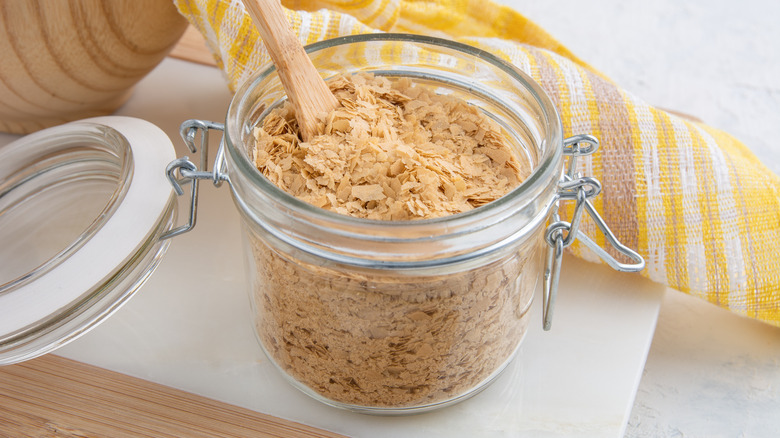 Gema Alvarez Fernandez/Shutterstock
Since the yeast in nooch is inactive, it doesn't require refrigeration and can stay good for up to two years when properly stored. In most cases, you can leave it in its original container as long as the lid is tightly secured, or the bag is well-sealed. Alternatively, you can transfer it to a jar with a tight-fitting lid to keep out moisture. If you use it regularly and go through your stash quickly, you can keep it on your countertop for easy access; otherwise, store it in a cool area of your kitchen.
While some sources recommend storing nutritional yeast in dark or opaque glass or ceramic containers, the standard plastic shaker bottles in which it is commonly sold are neither dark nor opaque. Therefore, while it's unlikely that the occasional exposure to light will significantly affect it, feel free to keep it in a visible but shaded location, so you'll remember to use it and can easily add a dash to your dishes as a finishing touch.