Exploding Lemonade Is A Naples Street Food Tradition
If you ever find yourself in Naples, Italy, and happen to notice people spontaneously bending over at the hips with their legs spread wide, don't be alarmed. Despite how cheeky this may look (no pun intended), there's nothing untoward happening here. More than likely, they are simply indulging in a particularly messy type of lemonade. 
Naples offers limonata a cosce aperte, which translates to "open legs lemonade" in English. This refreshing beverage is commonly served by various street vendors and is typically enjoyed after a meal as a great non-alcoholic digestif. In a TikTok video by user @italy_alfresco, you can see people sipping this fizzy drink, which is made from freshly squeezed lemon juice, soda water, and a touch of baking soda. Once the vendor adds the baking soda and gives it a quick stir, the drinker must consume it rapidly because, like a volcano, the lemonade instantly starts to foam and erupt, splashing everything below the belt, including feet and pants. This is precisely why those who partake in it assume the unique position with their legs spread.
According to @italy_alfresco, the vendor featured in the video has been serving limonata since 1836, with the same family operating it for the last 50 years. Undoubtedly, they have been providing their refreshing drinks to generations of families and numerous tourists.
How to make lemonade explode
So, how does one trigger a lemonade explosion? The reaction between the citric acid in the lemon, the sparkling water, and the sodium bicarbonate causes the liquid to foam and expand, erupting right from the cup and down to the ground. This reaction is similar to that of an antacid designed to settle your stomach after a hearty meal, which is why this lemonade is excellent as a digestive aid. But the fresh lemon flavor of the drink is also unparalleled.
For starters, cosce aperte, as it is commonly called, is exclusively made with lemons from Sorrento, a coastal town south of Naples renowned for its abundance of citrus groves and large lemons. As explained in the TikTok video, the juicers that vendors use to extract the juice are equipped with sharp cutters that puncture the lemon skins as they're being juiced, releasing flavorful lemon oil into the cup. Once soda water and baking soda are added, the drink must be consumed quickly because the liquid continues to foam. This is where adept chugging skills come in handy, especially if you want to keep your shoes dry.
There are no sweeteners or syrups added, so the flavor is sharp and intensely lemony. It might be an acquired taste, but it's undoubtedly a must-try for anyone seeking an authentic taste and experience of the city of Naples.
Other Neapolitan street food traditions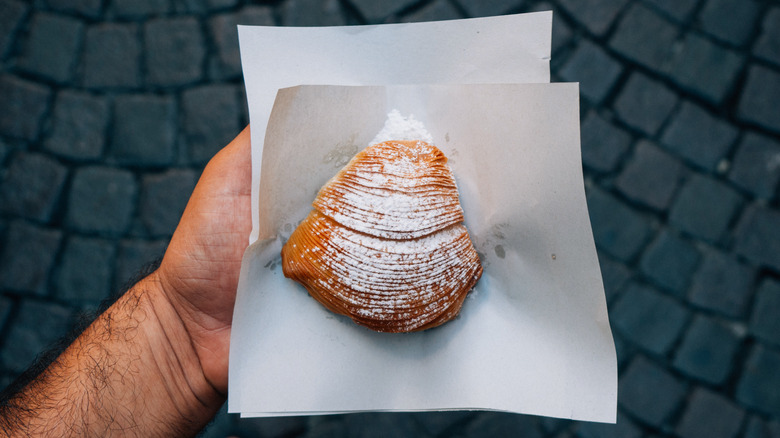 Filippobacci/Getty Images
You don't have to have just finished a 12-course meal to enjoy cosce aperte; you can sample it anytime. However, Naples offers plenty of other traditional street foods that might give you a reason to need a digestif. First and foremost, you simply can't leave Naples without savoring pizza, considering the bustling city is the birthplace of this global favorite. From the classic Margherita pizza to pizza al portafoglio (which translates to wallet pizza, because you can carry it with you) to fried pizza, you'll find one or all of these variations of the pizza pie generously scattered around Naples.
Cuoppo is another handheld delicacy you're likely to spot in the hands of many as you stroll through the city. A cuoppo is a sheet of paper used by vendors that's rolled into a cone shape and filled with fried delights. These could range from seafood like fried sardines and squid to vegetables like zucchini flowers, or even fried rice balls and potato croquettes.
And if you have a sweet tooth, Naples has no shortage of confections they proudly call their own, such as sfogliatelle. These pastries are made of thin dough shaped like a lobster tail or clamshell, deep-fried until crispy, and filled with sweetened ricotta cheese and dried fruit. They can be enjoyed from morning to evening. If you indulge in all of these delights in one afternoon in Naples, you'll undoubtedly want to visit a cosce aperte vendor to wash everything down.