Delta Airlines Raises The Bar With New In-Flight Wine Program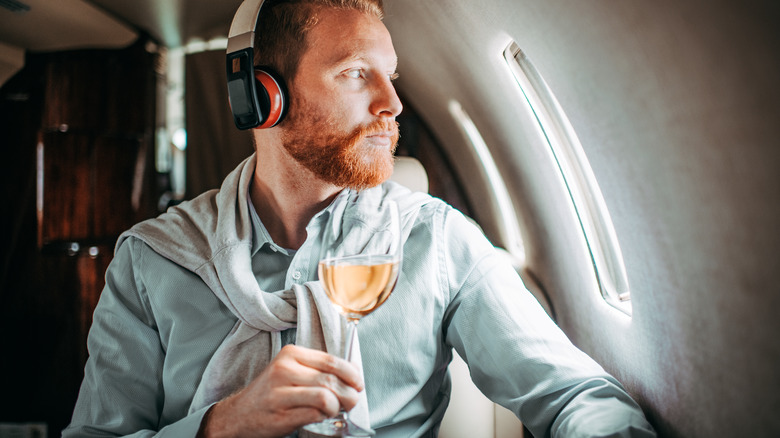 Extreme-photographer/Getty Images
It's true: Food and wine taste different when we're flying. This is due to factors associated with flight, such as engine noise, lower humidity, and reduced air pressure levels. These conditions affect our ability to discern specific flavors and aromas; our sense of smell is muted, as is our perception of sweet and salty flavors. On the other hand, our appreciation for spicy flavors may be slightly heightened.
To counteract these high-altitude effects, some airlines offer more flavorful and spicy foods. Delta Airlines has opted for a different strategy, announcing a new wine program in collaboration with Andrea Robinson, a Master Sommelier. Starting this fall, over a dozen high-quality wines will be available to select passengers. These wines are curated to complement Delta's in-flight meals and are designed to perform well in a high-altitude environment. The selection process was rigorous. Over 1,300 different wines were submitted to the program, but Robinson and the Delta team narrowed the list down to 17 based on various criteria, including how senses are affected in-flight.
"A good wine makes good food taste even better," Robinson noted via Delta's press release. "That's especially true at altitude where you don't have as much moisture and aroma concentration; wines with vibrant acidity and punchy fruit and aromatics, keep your taste buds active, and help bring out the flavors of food."
Delta unveils new wine lists for fall flights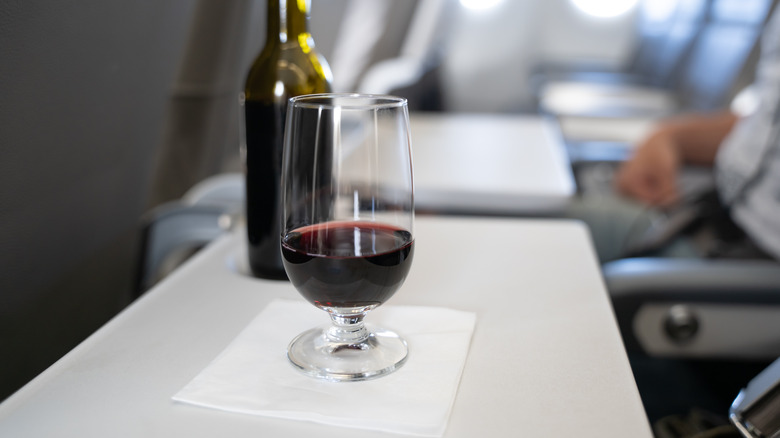 Alvaro Alonso Garcia/Shutterstock
According to Delta, the availability of the newly introduced wines will vary depending on passengers' seating arrangements. For instance, ultra-premium Delta One passengers will have access to an in-flight wine menu that features the most extensive variety of choices. In addition to two high-quality red and white wine options — unlike first-class passengers who may choose only one red or white — Delta One passengers can also enjoy specialized selections of Champagne, rosé, and port. New wines will be available in the main cabin as well, although the options will differ between domestic and international flights.
Andrea Robinson, one of only 26 women worldwide to achieve Master Sommelier accreditation, aided in selecting the new wine offerings. These include domestic options like a Cabernet Sauvignon from California's esteemed Jordan Winery, as well as international selections from Argentina, France, New Zealand, and Spain. The diverse range of wines set to rotate on Delta flights this fall also includes House of Brown, a Chardonnay made exclusively by women of color. Delta has featured House of Brown since 2020 and will continue to include it in its new wine list.
It's worth noting that two of the new wines have celebrity affiliations. "Sex and the City" star Sarah Jessica Parker collaborated on Invivo X, SJP, a classic New Zealand Sauvignon Blanc. Heisman Trophy winner and Pro Football Hall of Fame inductee Charles Woodson partnered with California-based O'Neill Vintners to produce an aptly named Intercept Cabernet Sauvignon.