Chipotle Is Testing An 'Autocado' Machine For Faster Guacamole Prep
This year, Chipotle is forecasted to use 100 million pounds of avocados in its locations across the United States, Canada, and Europe. That means there's a whole lot of slicing and scooping going on in order to craft the chain's popular guacamole. However, through a collaboration with Vebu — a food industry-focused automation, robotics, and intelligence company — Chipotle may be able to automate those time-intensive tasks in the near future.
The machine, called the Autocado, is a collaborative robot (cobot) that, once loaded by a human, will slice, core, and peel avocados. The machine is expected to cut guacamole prep time, which currently takes 50 minutes per batch, by 50%.
Vebu sought to create the machine after working closely with Chipotle to determine the day-to-day processes that employees least preferred or those that could be made more efficient. The machine can process up to 25 pounds of avocados, so that is a lot of time and energy saved.
Benefits of the Autocado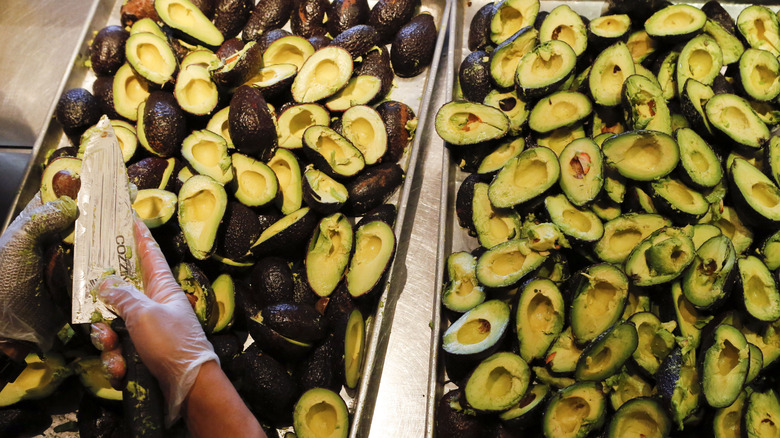 Bloomberg/Getty Images
While the Autocado will eliminate the need for Chipotle employees to do the cutting, coring, and scooping, the chain assures that the rest of the process of preparing the guacamole will still be executed by kitchen staff. The use of the Autocado is also intended to give employees the opportunity to shift more of their time to serving guests.
According to FoodPrint, about 4-10% of food is wasted in restaurants in the United States each year. The Autocado is intended to help with that, too. Initially, the Autocado is expected to eliminate waste by being able to precisely extract the fruit from the skin, but Vebu is also working to develop and implement AI and sensor fusion that will aid in the effort, as well.
Chipotle is also testing another automated product for its kitchen to assist with the production of tortilla chips. Chippy, developed by Miso Robotics, cooks and seasons the chips using Chipotle's traditional recipe. The prototype is being tested in a location in Fountain Valley, California.