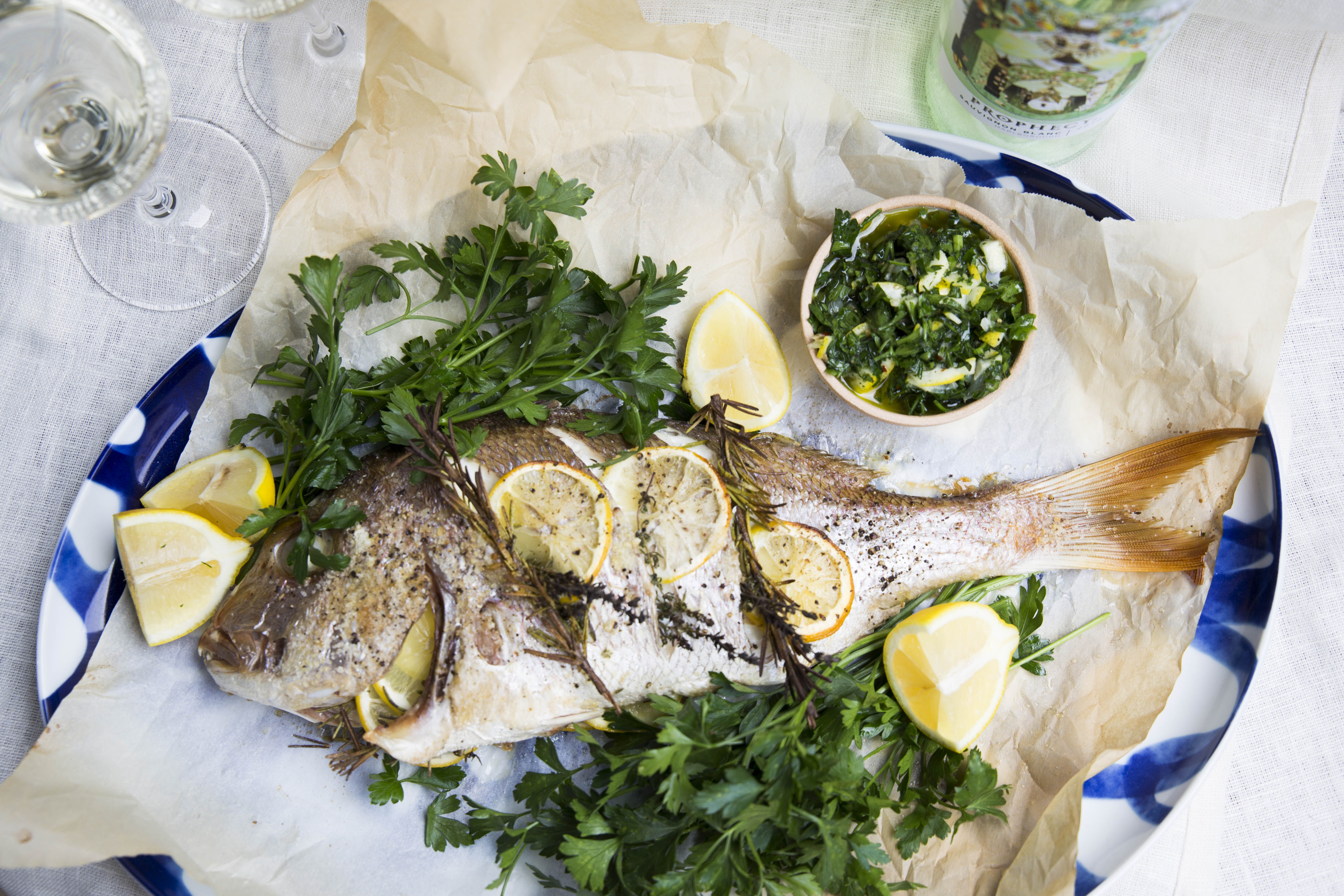 Cooking fish in general is daunting for many, but the thought of roasting and serving a whole fish can seem beyond the realm of possibility for the average home cook. In reality, roasting up a whole fish couldn't be easier and makes for quite an impressive dinner presentation. Roasting fish with the bones in keeps it moist and succulent — plus there's a bit of impressive culinary theater involved when it's time to pull the filets off the bones and serve.
I like to serve the fish right on the parchment paper it was roasted on — simply lift the fish and paper off of the roasting tray, place it on a large, colorful platter and surround it with fresh herbs and lemon wedges. So easy, and the slightly browned parchment paper gives off a cool, laid-back dinner party vibe.
The light, lemony snapper pairs beautifully with Prophecy Sauvignon Blanc. The whole lemon slices gently flavor the fish during the roasting process, and the citrus notes in the wine really draw out that subtle lemon essence in a beautiful way. Serve it with a simple arugula salad and a bowl of roasted potatoes to really let the fish be the hero of the meal. This recipe easily scales up — just make one 2two-pound fish for every two people.
Brought to you by our friends at Prophecy Wine:

Ingredients
1

2-2.5 pound

whole red snapper, cleaned and scaled

4

tablespoons

good extra-virgin olive oil, divided

1 1/2

teaspoons

kosher salt, divided

8

sprigs

thyme

4

sprigs

rosemary, halved

1

cup

parsley, finely chopped

1

tablespoon

red wine vinegar
Directions
For the snapper
Preheat oven to 425°F.

Pat snapper dry, inside and out. Using a very sharp knife, make 3 slashes, down to the bone, on each side of the fish. Rub with 1 tablespoon olive oil inside and outside of the fish and season with 1 teaspoon of salt and pepper.

Stuff all slits with lemon slices, thyme and rosemary. Stuff the cavity of the fish with all remaining thyme and rosemary. Reserve 6 lemon slices and stuff the rest into the cavity. Cook fish for 30 minutes.

Meanwhile, chop remaining lemon slices finely and combine with parsley, 3 tablespoons olive oil, ½ teaspoon salt and red wine vinegar in a small bowl.

Serve fish immediately with parsley salsa.