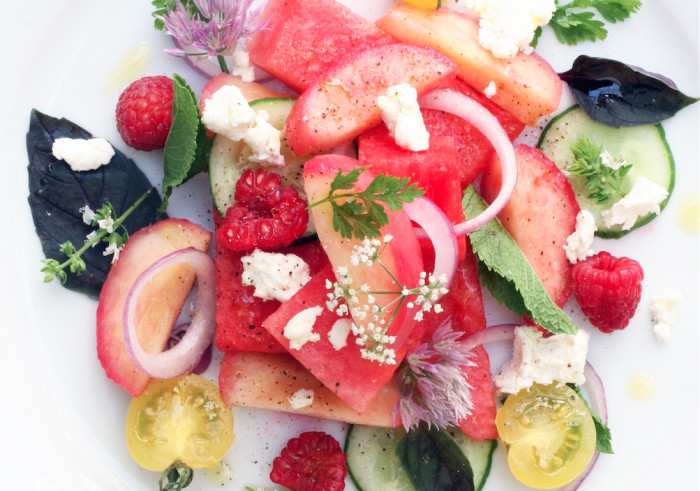 "This salad is inspired by the season's bounty in Burgundy. The markets are filled with an assortment of beautiful vegetables and fruits this time of year," says Marjorie Taylor, chef and co-owner of the Cook's Atelier cooking school in Beaune, France. "This salad is perfect on a hot summer day. Here at our cooking school in Burgundy, France, we inspire home cooks from all of the world to seek out the best local seasonal ingredients at their own farmers' markets. Feel free to adapt the recipe to what looks best at your farmers' market. This is the perfect example of simple food using the best-quality ingredients. Not too much fuss, but you end up with a stunning result."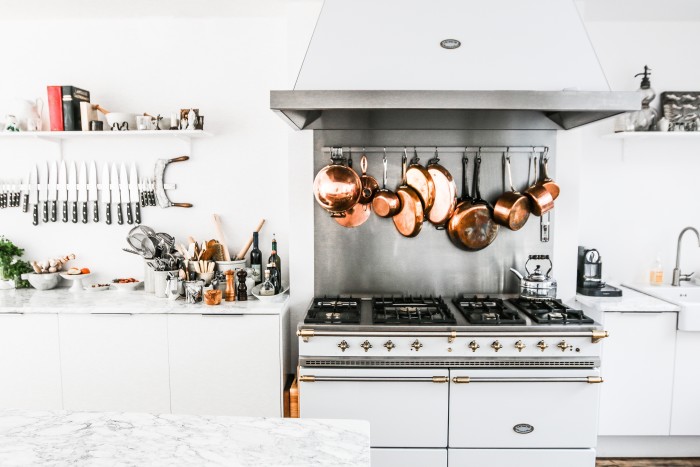 Ingredients
1

small watermelon, about 2 pounds

4

perfectly ripe peaches, skins removed

1

cucumber, sliced thinly

1

small red onion, thinly sliced

1

handful

of raspberries

1

handful

of tiny yellow tomatoes

1

handful

of fresh basil leaves

1

handful

of fresh mint leaves

A few chive blossoms

1

ounce

chevre, crumbled

sea salt and freshly ground black pepper
Vinaigrette
1

tablespoon

white wine vinegar

3

tablespoons

extra-virgin olive oil
Directions
For the salad
Put the vinegar in a small bowl and stir in a pinch of sea salt. Add the olive oil and set aside.

Cut the watermelon into pieces, removing the rind and the seeds. Slice the peaches in half, pull out the pits, and slice them in half again.

Arrange the watermelon and peaches on the plate and tuck the cucumber and red onion around the plate. Add the raspberries and yellow tomatoes in and around the watermelon and peaches.

Sprinkle the fresh herbs around the salad. Crumble the chèvre on top.

Season with salt and pepper. Drizzle the vinaigrette over the salad and serve immediately.