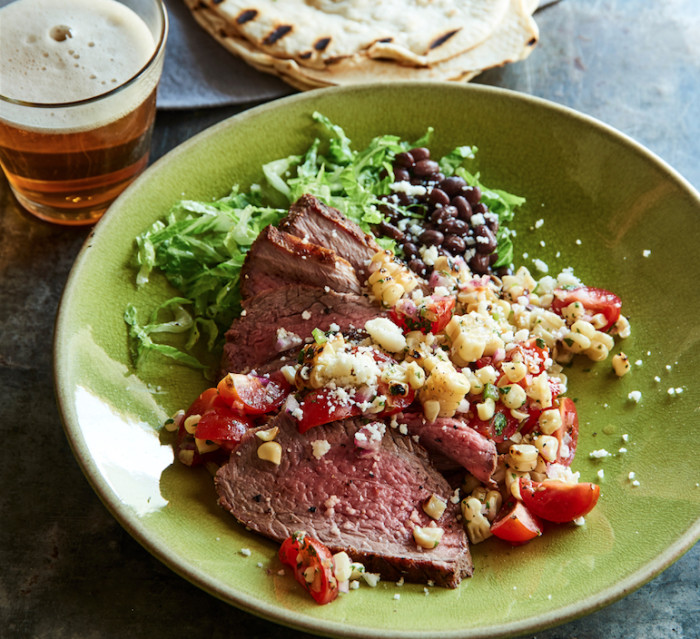 Look no further than the grilling masters at the test kitchens of Weber for innovative ways to use everyone's favorite hot weather cooking device. This tri-tip with corn salsa is a classic, delicious way to enjoy a summer steak. 
Corn salsas taste best when made with freshly harvested summer corn. The kernels lose much of their flavor and sweetness over the course of even a few days, with their natural sugars quickly turning to starch. At the market, look for ears with tight green husks and store them unhusked in the refrigerator until ready to grill.
Ingredients
Salsa
2

ears

corn, husked

1

cup

cherry tomatoes, cut lengthwise into quarters

1/3

cup

finely chopped red onion

2

tablespoons

extra-virgin olive oil

2

tablespoons

finely chopped fresh basil or cilantro leaves

2 to 3

teaspoons

minced serrano chile pepper

2

teaspoons

lime juice

1/2

teaspoon

kosher salt

1/4

teaspoon

freshly ground black pepper
3

tablespoons

extra-virgin olive oil, divided

1

teaspoon

ancho chile powder

1

teaspoon

ground cumin

Kosher salt and freshly ground black pepper
1 1/2 to 2

pounds

tri-tip roast, excess fat and silver skin removed

1

15-ounce can

black beans, rinsed and drained

1 1/2

cups

thinly sliced hearts of romaine

1/2

cup

crumbled or coarsely grated Cotija or queso fresco cheese (2 ounces)
Directions
For the tri-tip
Prepare the grill for direct and indirect cooking over medium heat (350° to 450°F).

Brush the cooking grates clean. Grill the corn over direct medium heat, with the lid closed, until browned in spots and tender, 10 to 15 minutes, turning occasionally. Remove from the grill and, when the corn is cool enough to handle, cut the kernels off the cobs and put the kernels in a medium bowl. Add all the remaining salsa ingredients and mix well. (The salsa can be made up to 6 hours ahead. Cover and refrigerate. Let stand at room temperature for 1 hour before serving.)

In a small bowl mix together 2 tablespoons of the oil, the chile powder, the cumin, 1 teaspoon salt, and 1/2 teaspoon pepper. Spread the mixture all over the tri-tip. Let the tri-tip stand at room temperature for 15 to 30 minutes before grilling.

Grill the tri-tip over direct medium heat, with the lid closed, until well marked on both sides, 8 to 10 minutes, turning once. Move the tri-tip over indirect medium heat, close the lid, and cook to your desired doneness, 15 to 20 minutes for medium rare. Remove from the grill and let rest for about 5 minutes.

Meanwhile, in a heavy, medium saucepan over low heat on the stove, combine the beans and the remaining 1 tablespoon oil and cook until heated through, about 5 minutes, stirring once or twice. Remove from the heat and season with salt and pepper.

Cut the meat across the grain into very thin slices. Serve right away with the black beans, lettuce, corn salsa, and cheese.