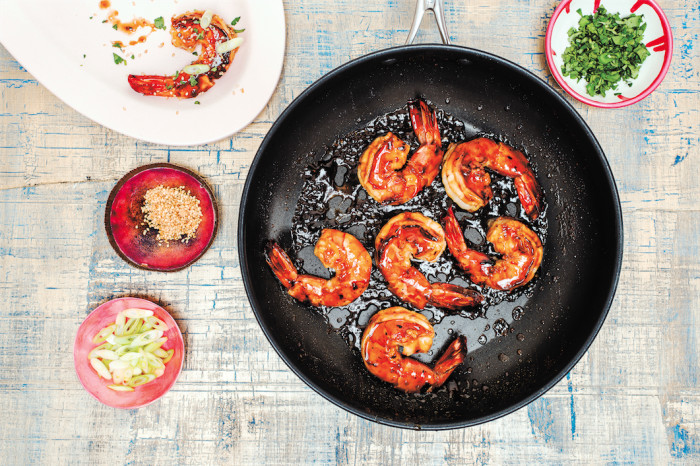 Sabrina Ghaynor, known as the "the golden girl of Persian cookery," has a new collection of recipes out for the Middle Eastern food enthusiast in us all. Part Old World, part modern cuisine, Sirocco is a beautiful representation of one of the world's most vibrant food cultures. 

Iranians love all things sour: lemons, limes, pomegranate molasses, young plums and tamarind. I especially love tamarind because you can use it so well in savory cooking and balance it with sweetness to create something really delicious. In this recipe, I simply mix tamarind paste with honey to make a marinade that has lots of flavor without much effort. These shrimp are also great to skewer and are easy to cook on the barbecue.
Ingredients
For the marinade
3 1/2

ounces

tamarind paste

1/3

cup

honey

2

garlic cloves, peeled and crushed

2

tablespoons

light brown sugar

3-4

tablespoons

chili oil (or olive oil, if preferred)

flaky salt
For the shrimp
1 3/4

pounds

raw jumbo shrimp (the biggest you can find), ideally peeled but with tails left on

vegetable oil, for frying

2

heaping tablespoons

toasted sesame seeds

1/2

ounce

cilantro, leaves roughly chopped

3

scallions, thinly sliced from root to tip
Directions
For the shrimp
To prepare the marinade, thoroughly blend the ingredients in a mixing bowl until the sugar dissolves. Add the shrimp and work the marinade into them using your hands. Cover the bowl with plastic wrap and allow to marinate at room temperature for 30 minutes.

Heat a large skillet over medium-high heat and drizzle in a little vegetable oil. Drain any excess marinade from the shrimp, then fry them quickly on both sides until they are cooked through and slightly charred.

Cooking times will vary depending on the size of the shrimp — if using standard supermarket shrimp, you won't need to cook them for more than 1 minute or so on each side. But if you are using larger, meatier shrimp, you may need to reduce the heat slightly and allow them to cook for a little longer. The marinade is sticky and sweet, which means it will blacken in the pan slightly, so don't panic if the shrimp look charred. They will still taste delicious. Serve sprinkled with toasted sesame seeds, cilantro and chopped scallions.