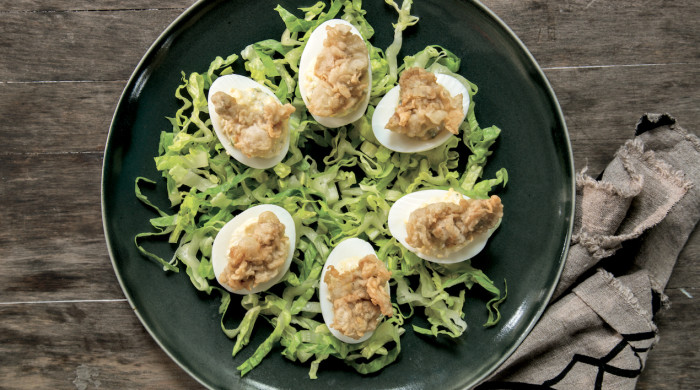 "I'm not a football man; I'm a party man. So if there's a party, I'm in. If there's something where people are gathering around the TV to watch, I'll be there," says Marc Murphy, owner and executive chef at the Benchmarc restaurants in New York City. He loaned us one of his many, many party food recipes for the upcoming festivities.
"Deviled eggs are one of those party foods that everyone is always so excited to eat, but no one really thinks to make them," says Murphy. "For me, the inspiration came simply from the fact that I love eating them and I think they're a great base for so many interesting toppings, like the fried oyster, which adds a great salty crunch. If you plan on making this dish the day you get your oysters, get your fishmonger to shuck them for you. It's a messy and sometimes dangerous job."
Ingredients
12

eggs

1 1/2

cups

mayonnaise

1/4

cup

pickled jalapeños, chopped

1/4

cup

celery, finely chopped

1

tablespoon

roasted garlic (mashed)

2

tablespoons

mustard

salt

black pepper
Fried oysters
24

whole shucked oysters

2

cups

seasoned flour

Salt and pepper

3

quarts

choice frying oil (peanut, soybean)
Directions
For the eggs
Put the eggs in a pot and cover with cold water. Bring to a boil, remove from the heat and let sit covered for 10 minutes. Strain the eggs out of the water. Cover with cold water and ice. Let cool for 15 minutes.

Peel the eggs, cut in half horizontally and remove the yolks to a bowl. Mash the yolks with the mayonnaise, garlic and mustard. Fold in the celery and jalapeños and season to taste. Spoon a teaspoon of the mix into each egg white half.
For the oysters
In large heavy-bottomed pot or Dutch oven, using a high-temp thermometer, heat oil to 350 degrees. "Dredge" whole oysters in seasoned flour, tapping off excess flour. Drop floured oysters into frying oil, in batches of 6-8. Fry until golden brown, about 1 minute. Remove oysters from oil and season with salt and pepper.

Top deviled eggs with crispy oyster and garnish with smoked paprika.