Spinach, Soft Egg And Parmesan Pizzetta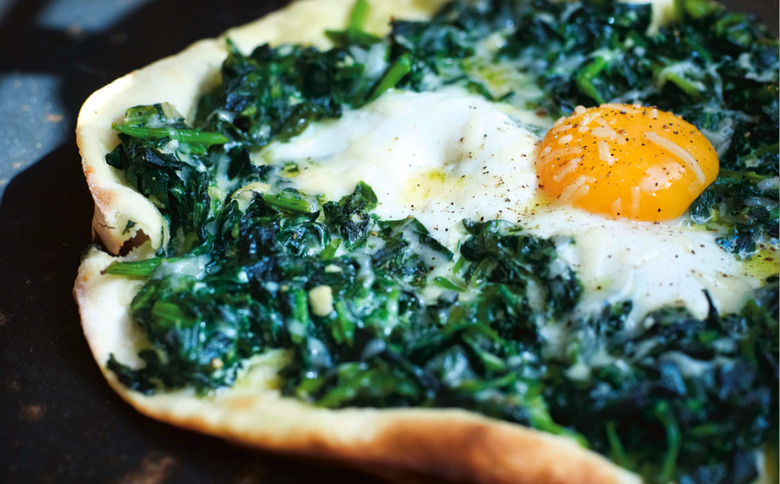 Photo: Jenny Zarins
We may receive a commission on purchases made from links.
Russell Norman's recently published cookbook, Polpo, may be named for his London restaurant (which is named after the Italian word for octopus), but there are many more recipes to be had. We were compelled to try out a recipe that combines creamy, earthy saffron risotto with the classic slow-braised veal shanks known as osso buco.
I don't know the first incidence of a runny egg on top of a pizza but whoever had the idea deserves a medal. It's a glorious moment when you cut into the center of the pizza and the yolk breaks and oozes yellow onto the plate. The base for this pizzetta needs a bit of practice – you want the dough and filling to be slightly thicker at the edges to prevent the egg from running over the sides.
Spinach, Soft Egg And Parmesan Pizzetta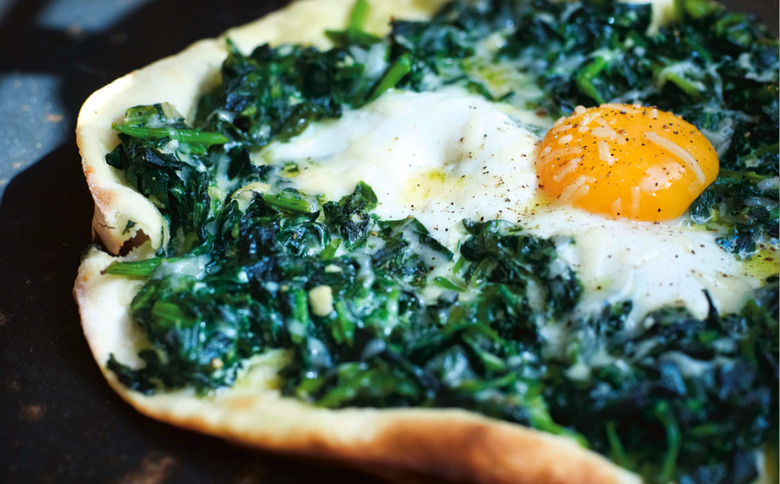 Ingredients
1 very large handful spinach
1 tablespoon creme fraiche
1/4 garlic clove
1 small handful grated Parmesan
flaky sea salt and black pepper
1 large golf-ball-sized piece pizza dough
1 small free-range egg
Directions
Preheat your oven to its highest setting (500°F or above). At the same time put a pizza stone or baking sheet in the oven to heat up.
Now you need to blanch your spinach. Take a very large handful (spinach reduces in volume dramatically when cooked) and plunge the leaves into boiling salted water for one minute.
Remove the spinach and plunge into ice-cold water. Squeeze dry and finely chop what will now be a smaller handful. Add the crème fraîche, garlic, about three-quarters of the Parmesan, a pinch of salt and a grind of pepper. Mix together to form a deep-green paste.
Roll the dough out to around 8 inches in diameter. Evenly spread the spinach mixture over the pizza base making sure it is slightly raised at the edges, creating a tiny wall. Crack an egg into the centre and place on your pizza stone in the oven for 6–8 minutes.
One minute before your pizza is ready, sprinkle over the remaining Parmesan and a grinding of black pepper.
Please don't overcook. It is essential that the egg is runny when served.
Breakfast Pie Recipe
Ham And Gruyère Waffle Tartines Recipe
Creamed Corn With Crispy Bacon On Sourdough Bread Recipe