Soup With Glazed Pork, Noodles And Dumplings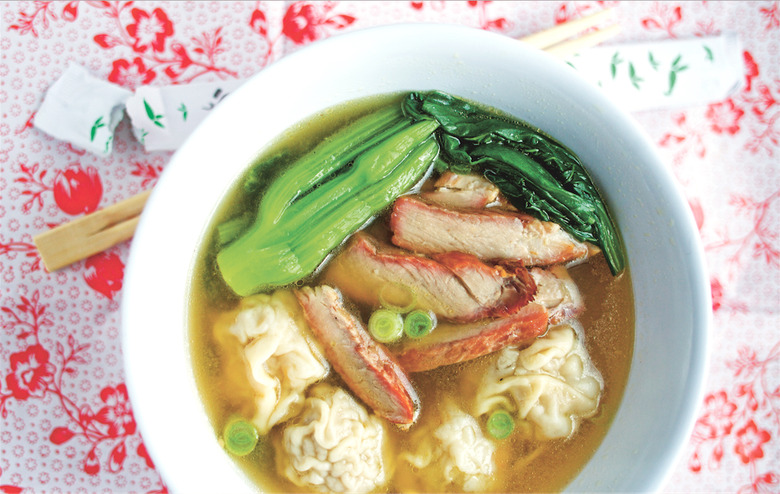 We may receive a commission on purchases made from links.
Name a major world city; it probably has a Chinatown, and the food there is likely excellent. Professional chef and photojournalist Jean-Francois Mallet has catalogued some of the world's best Chinatowns (and 100 of their most beloved recipes) in his new cookbook. Some Chinatowns lean Vietnamese, others Thai. Some boast regional Chinese menu items you've never seen before, and some have the best darn bowl of pork dumpling noodle soup you've ever eaten. Speaking of which, fire up the stockpot!
Soup With Glazed Pork, Noodles And Dumplings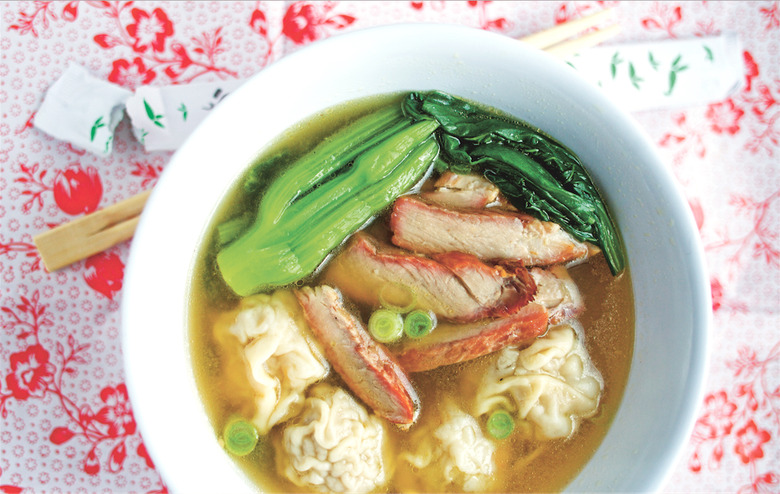 Ingredients
4 cups chicken stock
1 bunch bok choy
14 ounces roast pork
7 ounces Chinese egg noodles
4 spring onion (scallion) stems
1 garlic clove
10 1/2 ounces lean pork
3 1/2 ounces peeled prawns
1 tablespoon soy sauce
1 teaspoon sesame oil
1 teaspoon Cane sugar
1 egg yolk
24 wonton pastry squares
Directions
Prepare the dumplings. Peel and finely chop the garlic. Chop the pork and prawns (shrimp) in a food mixer, then add the garlic, soy sauce, sesame oil and sugar. Use your hands to mix all the ingredients together well. Beat the egg yolk in a bowl with 2 tablespoons cold water and set aside.
Baste one wonton pastry square with the egg yolk. Place a knob of the filling in the center of the pastry square and close up the dumpling like a little purse. Continue until you have used up all the mixture. Drop the dumplings into a large pan of salted boiling water and cook for 8 minutes, then divide among six large bowls.
Bring the chicken stock to a boil in a pan. Cut the pak choi into six lengthways then cook it for about 5-6 minutes in the chicken stock. Chop the roast pork and set aside.
Cook the noodles in boiling water according to the packet instructions, then drain and divide among the bowls. Add the pieces of roast pork and cabbage, then pour over the piping hot stock and sprinkle with chopped spring onions (scallions) before serving.