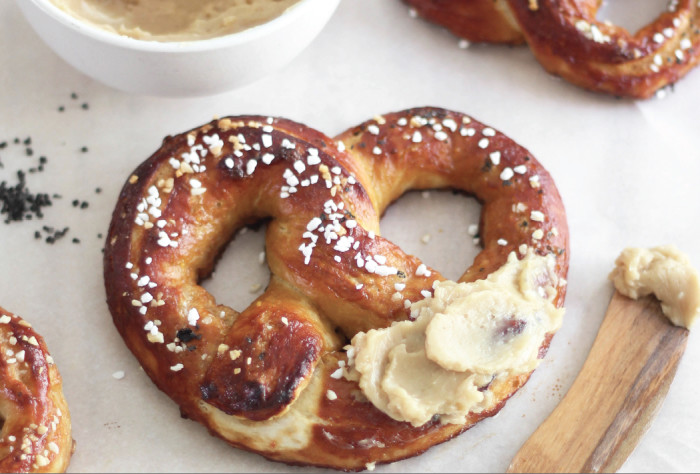 Nothing amplifies something sweet like a bit of salt, a concept dessert blogger Heather Baird knows very well. Her new cookbook, Sea Salt Sweet, is an ode to that savory, slightly crunchy moment in every perfectly balanced dessert that means you've done your job well. Soft, chewy homemade pretzels need nothing more than a thick schmear of sweet honey butter to achieve flavor nirvana.
Ingredients
Pretzels
1 1/2

cups

warm water (110° to 115°F)

1

tablespoon

granulated sugar

2

teaspoon

fine-grain sea salt

2 1/4

teaspoons

active dry yeast

4 1/2

cups

all-purpose flour

4

tablespoons

unsalted butter, melted

White vegetable shortening or vegetable oil, for rising bowl and work surface

2/3

cup

baking soda

1

large egg yolk

1

cup

Swedish pearl sugar

Coarse Hawaiian black lava salt
Whipped butter
1

stick

unsalted butter, softened

2

tablespoons

wildflower honey

3

tablespoons

molasses
Directions
For the pretzels
Combine the warm water, granulated sugar, and salt in the bowl of an electric mixer fitted with the dough hook attachment. Stir in the yeast and allow it to stand until bubbly and foamy, about 5 minutes. Add the flour and butter to the mixture and mix on low speed until well combined. Increase the speed to medium and knead until the dough is smooth and elastic, 4 to 5 minutes. The dough should be firm and not sticky.

Grease a large bowl with white vegetable shortening or vegetable oil, and transfer the dough to the bowl. Turn the dough over to coat the entire surface. Cover it with plastic wrap and allow it to rise in a warm place for 1 hour, or until the dough doubles in size.

When the dough is raised, place 2 1/2 quarts/2.4 liters of water and the baking soda in a large pot (6 1/2 quarts/6.2 liters or larger) and bring it to a full boil. Turn out the dough onto a greased work surface and divide into 8 equal pieces.

Cover 2 large baking sheets with parchment paper.

Roll out a piece of dough under your palms into a long rope, about 24 inches/61 cm in length. Position the rope into a U shape, with the ends pointing away from you. Hold a rope end in each hand and cross them twice about 3 inches/7.5 centimers from the tips. Press the ends down into the U shape at about 4 o'clock and 8 o'clock, allowing about 1/4 inch/6 millimeters of the ends to overhang the bottom of the U. Place the pretzel on the prepared baking sheet and repeat the rolling and twisting process with the remaining dough pieces.

Place the pretzels in the boiling water one at a time, for about 30 seconds. Remove them carefully with a large slotted spatula and return the pretzels to the prepared baking sheets.

Preheat the oven to 450°F/230°C.

Beat together the yolk and water in a small bowl. Coat each pretzel with the mixture, using a pastry brush. Bake for 6 minutes, then generously sprinkle pearl sugar over each pretzel; also sprinkle each pretzel with 1 or 2 pinches of Hawaiian black lava salt. Bake for 6 minutes longer, or until deep brown in color. Let the pretzels cool on the pans for 5 minutes, then transfer them to a cooling rack.
For the butter
Place the butter in a medium bowl. Add the honey and molasses and beat at high speed with an electric mixer. When the mixture is lightened in color and fluffy, transfer the butter to a small bowl and serve alongside the warm pretzels.