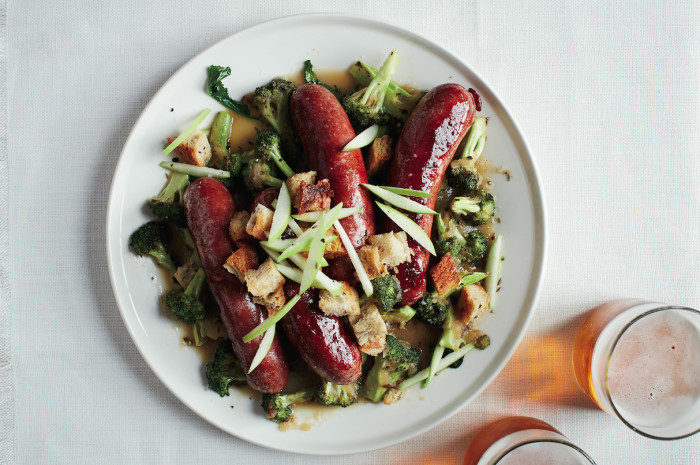 Every year, Food & Wine magazine releases a cookbook packed with the best recipes of the last 365 days. Hear that? Food & Wine. Best recipes of the year. Any page you turn to will sport a winner, but while Oktoberfest rages on, memorize this sausage recipe, make it for a crowd and celebrate the great fall festival with hard cider. And/or beer.
Ingredients
1

dried chipotle chile

2

granny smith apples, halved and cored, plus 1/2 an apple cut into matchsticks for garnish (optional)

1

cup

rye bread, crusts removed and bread torn into bite-size pieces

1/2

cup

Hard Cider

1/4

cup

apple cider vinegar

2

tablespoons

light brown sugar

kosher salt

4

(4-ounce)

smoked pork sausages or cheddar wursts

1

tablespoon

extra virgin olive oil

1

pound

broccoli, cut into 1-inch florets

1

tablespoon

Dijon mustard

1/2

teaspoon

caraway seeds

1 1/2

tablespoons

unsalted butter, cubed
Directions
Preheat the oven to 325°F.
In a bowl, cover the chipotle with hot water and let stand until softened, 30 minutes.
Bake the halved apples cut side down on a rimmed baking sheet for 30 minutes, until tender. Let cool.
Scoop the apple pulp into a food processor and discard the skins.
Stem, seed and chop the chipotle; add it to the food processor and puree.
Meanwhile, spread the bread in a pie plate and bake the pieces for about 10 minutes, until golden.
In a saucepan, boil the hard cider with the vinegar, sugar and apple puree.
Simmer, stirring, until reduced to 3/4 cup, 10 minutes.
Remove from the heat and season with salt.
Light a grill.
Grill the sausages over moderate heat, turning, until lightly charred on both sides and cooked through, 12 minutes.
Transfer to a plate and tent with foil.
In a skillet, heat the oil until shimmering.
Add the broccoli and season with salt. Cover and cook until browned, 2 minutes.
Stir in the mustard, caraway, cider sauce and 1/2 cup of water and bring to a boil.
Remove from the heat, stir in the butter and season with salt.
Serve the sausages with the broccoli and sauce, garnishing with the bread crumbs and apple matchsticks.
Find more sausage dinners on Food Republic: