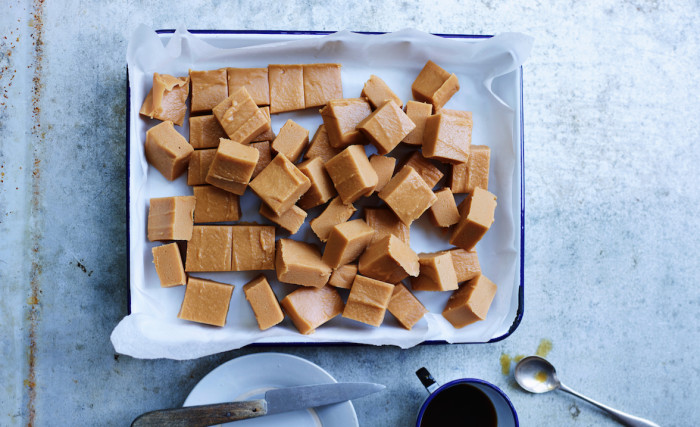 Smoked everything, all the time! That's the motto of food author Charlotte Pike's new book. With recipes and techniques for adding smoky flavor and succulent texture to everything in your fridge, larder and beyond, this is one book the smoke enthusiast needs to own. And for dessert? Smoked butter fudge. 
Smoky fudge is unusual, but really delicious. I think it is best enjoyed outdoors, after a barbecue or as a campfire treat. The smokiness counters the intense sweetness well, and this is my favorite kind of fudge — soft, smooth, and creamy.
Ingredients
16

tablespoons

smoked salted butter

1

14-ounce can

condensed milk

3/4

cup

whole milk

4

teaspoons

corn syrup

3 1/2

cups

granulated cane sugar

3

teaspoons

vanilla extract

1

heaping teaspoon

sea salt
Directions
For the fudge
Line a shallow 8 x 12-inch pan with nonstick parchment paper. Set aside. Put the butter, condensed milk, whole milk, corn syrup, and sugar in a large, heavy-bottomed saucepan. Heat over low heat, stirring regularly, until the sugar has completely dissolved.

Increase the heat and bring the fudge to a boil. When it reaches boiling point, set the timer and boil for 12 minutes. It should reach the soft-ball stage now. To test, carefully remove a teaspoonful of the mixture and drop it into a glass of very cold water. It should quickly form a soft, smooth ball. If the fudge is too runny still, boil for another 2 minutes and test again. Don't boil for much longer, though, as it will be too firm.

Remove the pan from the heat, stir in the vanilla extract and sea salt, and set aside to cool for 10 minutes. Transfer the fudge to a stand mixer with a whisk attachment and beat for 5 minutes until thickened and the fudge has lost its sheen. You can also beat the fudge by hand in a very large mixing bowl with a wooden spoon if you don't have a stand mixer. It is hard work though!

Transfer the fudge to the prepared pan. Smooth the top using a offset spatula, cover with plastic wrap, and put in the fridge to firm up for at least 4 hours. Carefully cut into squares. Keep in the fridge or an airtight lidded container for a couple of weeks.