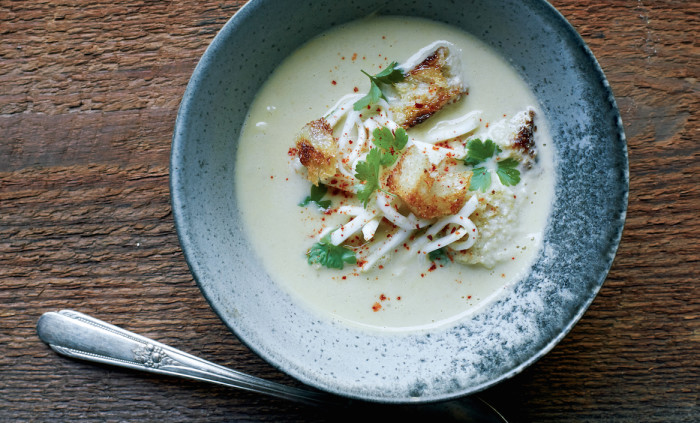 There is a movement afoot in some of the best Paris restaurants. A bistro is defined by a tiny kitchen and dining room, a menu based on what's available, appealing and inventive to the chef and an all-around intimate culinary experience that will leave you sated and inspired. Food writer, editor and instructor Jane Sigal's Bistronomy, a collection of her favorite bistro recipes, is a must-buy for any French-food fanatic. Try your hand at these recipes that are at once trendy and classic, and maybe plan a trip to Paris while you're at it! 
At La Pointe du Grouin, chef Thierry Breton (the guy behind the bar in a red wool knitted cap, summer or winter) makes a hearty seafood soup with small blue crabs. These are the same as the pricey soft shell crabs you eat whole in spring and summer but with their hard, cold-weather shells, they're a fraction of the price. They don't have much meat on them — you toss them after they're cooked — but they add intense seafood flavor to soups and sauces.
Make Ahead: The soup can be prepared through Step 2 and refrigerated for up to 2 days. The croutons can be stored in an airtight container for up to 2 days.
Variation: If you can get your hands on scallops in the shell, save the coral and everything else you're tempted to throw out. Wash them well and use instead of blue crabs to make a fantastic variation of this soup.
Ingredients
6

tablespoons

extra-virgin olive oil

2

pounds

small blue crabs, halved crosswise

1

large onion, halved and thinly sliced

1

large celery rib, finely chopped

8

large parsley sprigs, tied in a bundle

sea salt

1

cup

dry white wine

4

cups

water

4

ounces

celery root

1

tablespoon

fresh lemon juice

4

ounces

sourdough bread, torn or cut into rough 1-inch cubes

1/2

cup

heavy cream

Micro parsley sprigs or chopped parsley, for garnish

Piment d'Espelette
Directions
For the velouté
In a large sauté pan or skillet, heat 2 tablespoons of the oil. Add half of the crabs to the pan and cook over medium-high heat, turning them once, until they turn red on both sides, about 2 minutes. Transfer the crabs to a bowl. Repeat with 2 tablespoons of the oil and the remaining crabs.

To the same pan, add the onion, celery, parsley bundle, and a pinch of salt. Cover and cook over low heat, stirring occasionally, until softened, 8 to 10 minutes. Return the crabs to the pan with the wine. Bring to a boil and simmer over medium-high heat until nearly evaporated, about 5 minutes. Add the water, bring to a boil, and simmer over medium heat, partially covered, for 30 minutes.

Meanwhile, thickly peel the celery root. Using a mandoline, thinly slice it 1/8 inch (3 mm) thick, then cut into julienne strips. In a medium bowl, toss the celery root with the lemon juice.

In a medium skillet, heat the remaining 2 tablespoons of oil until shimmering. Add the bread cubes and cook over medium-low heat, stirring occasionally, until crisp and golden, about 5 minutes. Season with salt, remove from the heat, and let cool.

Remove the crabs and parsley bundle from the soup and discard. Working in batches, puree the soup in a blender until very smooth. Return the soup to the saucepan, stir in the cream, and gently reheat. Season with salt. Pour the soup into a tureen or pitcher. Spoon the celery root, croutons, and parsley sprigs into bowls. Sprinkle with piment d'Espelette. Serve with the soup.