Sea Urchin Toasts With Shiso And Lime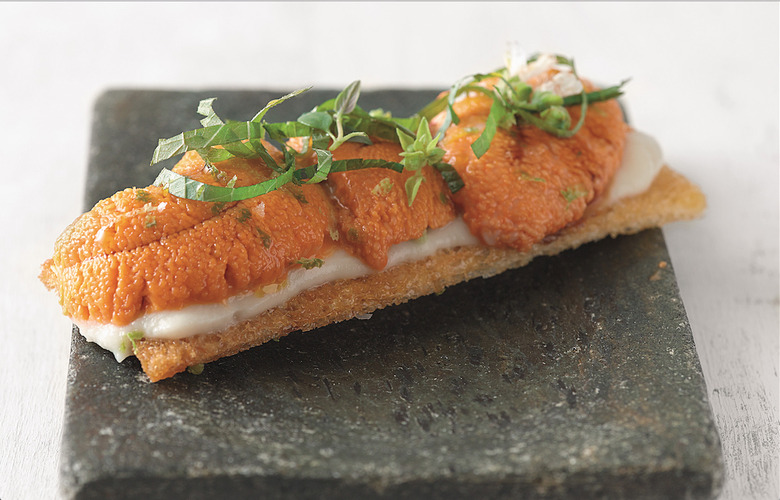 We may receive a commission on purchases made from links.
On my days off , I eat sushi and sashimi more than anything else. I love Japanese food, and this is my favorite way of treating sea urchin. The crunch of the toast, the briny sweetness of the sea urchin, and the heat of the mustard and wasabi are a great combination — it's so delicious.
Sea urchin "tongues" are shaped like tongues but are actually the roe from inside the spiny sea creatures. I prefer the sweet large varieties harvested off the West Coast. Sometimes labeled uni, these delicacies are sold at specialty or Japanese fish markets and counters. They often come packaged in bamboo trays. Look for plump, bright orange sea urchins that smell sweet and slightly briny.
Sea Urchin Toasts With Shiso And Lime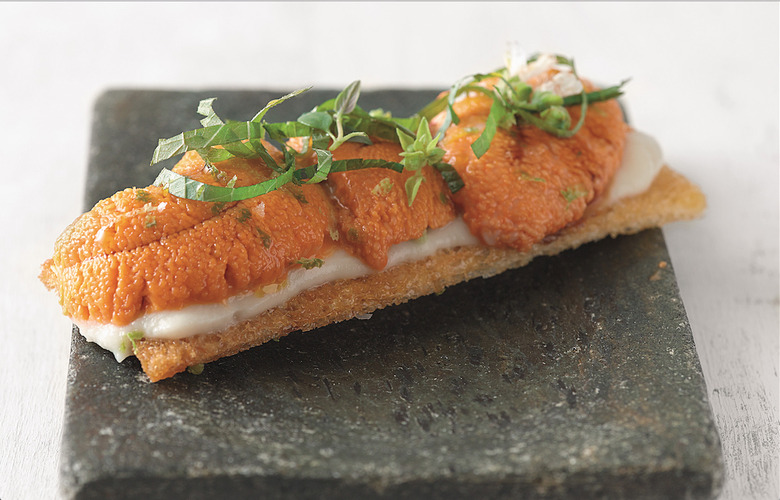 Ingredients
1/2 cup small cauliflower florets
1/2 cup whole milk
Kosher salt and freshly ground white pepper to taste
1 tablespoon extra-virgin olive oil
4 (1 1/2 by 2 1/2 by 1/8 inch) baguette slices
2 teaspoons pickled mustard seeds (page 201)
2 teaspoons freshly grated wasabi
12 tongues West Coast sea urchin
Mustard oil to taste
Soy sauce to taste
1 lime
1 shiso leaf
Maldon sea salt for serving
Directions
In a small saucepan, combine the cauliflower, milk, and a pinch of kosher salt. Bring to a simmer over high heat, then lower the heat, cover, and gently simmer until a cake tester pierces the cauliflower with no resistance.
Transfer the cauliflower mixture to a blender and puree until smooth. With the machine running, add the olive oil. Continue blending until emulsified. Press the puree through a fine-mesh sieve, season with kosher salt and pepper, and refrigerate until cold. Extra puree can be refrigerated for up to 3 days.
Preheat a broiler or salamander.
Rub the baguette slices with olive oil and toast until golden brown and crisp. On each toast, spread 1½ teaspoons cauliflower puree, leaving a ⅛-inch (3-mm) rim all around. Arrange three dots of mustard seeds on the puree, one dot on each end and one in the middle. Arrange three dots of wasabi next to the mustard dots. Align three sea urchin tongues on the baguette, tucking in their tapered ends. Very lightly drizzle the mustard oil, then the soy sauce over the sea urchin. Place the toasts on a baking sheet and warm them under the broiler for 30 seconds.
Zest the lime directly over the sea urchin, then cut the lime and squeeze a few drops of juice on top. Top with the shiso leaves and Maldon salt. Serve immediately.