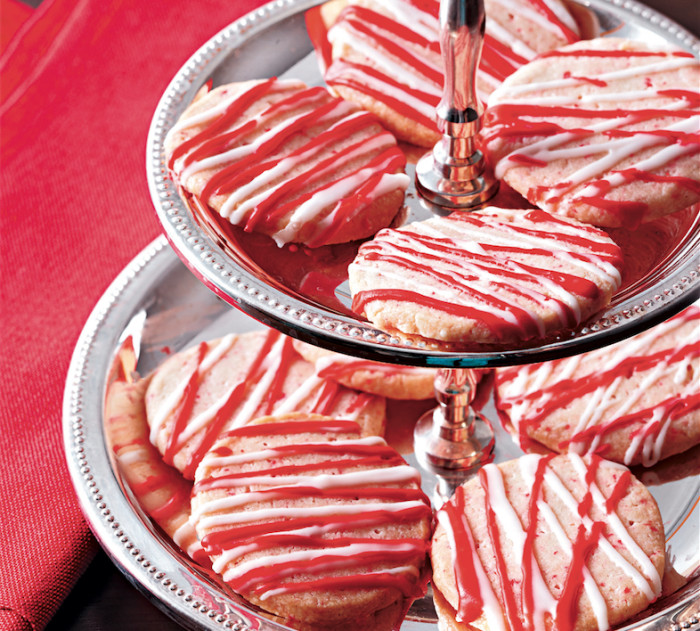 Get your holiday bake on with Christmas Cookie Swap! This book of winter treats, like jam-filled pecan linzer cookies, will fill your house with the wonderful fragrance of seasonal baked goods. From the chip-studded to the peppermint-coated and sugar-sprinkled, there's a recipe in here for every dessert lover. 
Peppermint glaze adds a minty-fresh zing to these crumbly shortbreads.
Ingredients
12

hard round peppermint candies

1

cup

butter, softened

1 1/2

cups

powdered sugar

2

cups

all-purpose flour

1/8

teaspoon

table salt

Plastic wrap

4

teaspoons

milk

1/4

teaspoon

peppermint extract

1/4

teaspoon

red food coloring paste
Directions
For the shortbreads
Place the peppermint candies in a food processor. Cover; process until finely ground.

Beat the butter and 1/2 cup of the powdered sugar at medium speed with an electric mixer 3 minutes or until light and fluffy. Beat in the ground candies, flour, and salt at low speed just until blended. Shape the dough into an 8- x 2-inch log; wrap in plastic wrap. Chill 2 hours or until firm.

Preheat the oven to 350°F. Unwrap the dough; cut the log into 1/4-inch slices. Place the slices about 2 inches apart on ungreased baking sheets.

Bake at 350°F for 12 to 14 minutes or until the edges are light golden brown. Cool on baking sheets 2 minutes. Transfer to wire racks, and cool completely (about 20 minutes).

Stir together the remaining 1 cup powdered sugar, milk, and peppermint extract in a small bowl. Divide the glaze in half. Tint half of the glaze with red food coloring. Drizzle red and white glazes over the cookies.