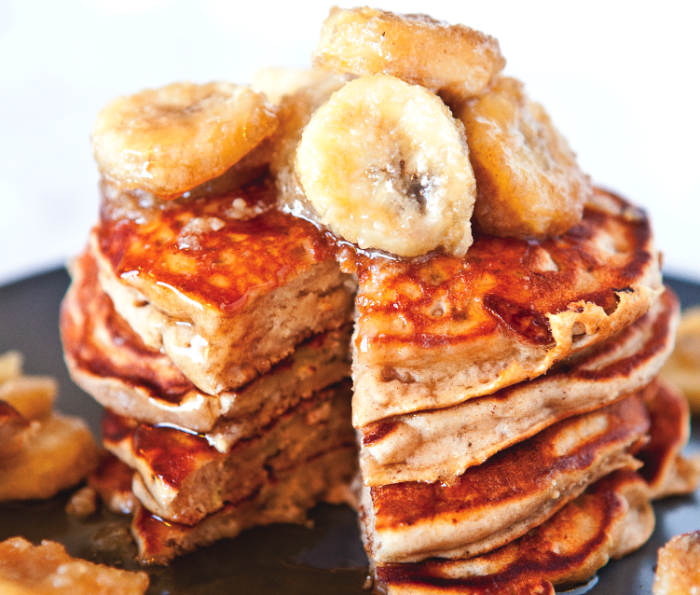 It's a good thing we stock up on peanut butter, because we're going to need it. Averie Sunshine's new cookbook, Peanut Butter Comfort, has over 100 innovative, delicious and yes, totally comforting peanut butter recipes. First up, peanut butter and banana pancakes using the sweet stuff in every step.
Peanut butter and bananas are a favorite combination and these pancakes are made with peanut butter and bananas twice. First, peanut butter and bananas are incorporated into the batter. Then, the finished fluffy hotcakes are topped with caramelized bananas and peanut butter-infused maple syrup. For those weekend mornings, brunches or days where you want to jazz up your usual pancakes, this recipe delivers.
Ingredients
Peanut butter banana pancakes
1

large egg

1/4

cup

creamy peanut butter

1

medium ripe banana, mashed (about 1/2 cup mashed banana)

3/4

cup

cream or milk

2

tablespoons

granulated sugar

1

tablespoon

light brown sugar, packed

1/2

teaspoon

cinnamon

1/2

teaspoon

vanilla extract

1

cup

all-purpose flour

1

teaspoon

baking powder

1/2

teaspoon

baking soda

pinch of

salt
Caramelized bananas
1

banana, sliced into rounds about 1/4-inch thick

2

tablespoons

light brown sugar, packed

1

tablespoon

butter

1/2

teaspoon

cinnamon

1/4

cup

cream or milk

1/2

teaspoon

vanilla extract
Peanut butter maple syrup
1/2

cup

maple syrup, warmed

1

tablespoon

creamy peanut butter

1/2

teaspoon

vanilla extract

1/4

teaspoon

cinnamon
Directions
For the peanut butter pancakes:
In a large mixing bowl, combine the egg, peanut butter, mashed banana, cream, sugars, cinnamon and vanilla and whisk until combined. There will be some lumps in the batter because of the banana and peanut butter swirls will be present. Add the remaining ingredients and stir until just combined; don't overmix after adding the flour or the pancakes will be tough.
Spray a non-stick skillet with cooking spray and place about 3 tablespoons of batter per pancake onto the skillet. Cook pancakes over medium-high heat on the first side for about 3 minutes and on the second side for 1 1/2 to 2 minutes, or until browned and done. Repeat until all batter is gone.
Heat oven to 175 or 200°F and place finished pancakes in an oven-safe baking dish to keep them warm while cooking the remaining pancakes and making the caramelized bananas.
For the caramelized bananas:
In the same skillet used for the pancakes (no need to wash it; just wipe it with a paper towel), spray more cooking spray, add the banana slices and sear them for about 1 minute over medium high heat.
Add the brown sugar, butter, cinnamon and cream and cook over medium heat, stirring gently and continuously, for about 3 minutes, or until sauce begins to thicken, reduce, brown and caramelize. Turn off the heat, add the vanilla and stir to incorporate, using caution when adding the vanilla because it could bubble up. Immediately pour the caramelized bananas and sauce over pancakes.
For the peanut butter maple syrup:
Combine all ingredients in a small bowl and whisk or stir until smooth. Drizzle over the pancakes and bananas.
Leftover pancakes will keep in an airtight container in the refrigerator for up to 5 days, or in the freezer for up to 3 months; reheat pancakes in the microwave or in a skillet—they make for a quick breakfast option on busy mornings; or wrap in plastic wrap and toss into lunch boxes.
More pancakes recipes on Food Republic: