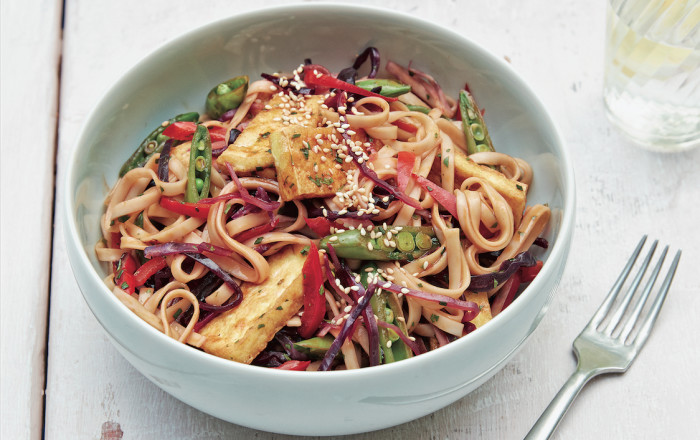 Julian Metcalfe, founder of U.K.-based fast-casual superstar Pret a Manger, has a new cookbook out featuring recipes from his new fast-Asian concept, Itsu. Think high-protein, low-carb salads, brown rice, sushi, soups and noodles — fresh food that tastes as good as it looks. Here's hoping it opens Stateside, and in the meantime, try out one of its most popular dishes.

 Time-saving tip: Steam the vegetables over the saucepan you are cooking the noodles in so they cook at the same time.
Ingredients
3 1/2

ounces

dried udon noodles or 5 1/2 ounces ready-cooked udon noodles

5 1/2

cups

boiling water

1/2

teaspoon

salt

1/2

head

white or red cabbage, sliced

1

yellow or red pepper, cored, deseeded and sliced

3 1/2

ounces

sugar snap peas

2

tablespoons

sesame seeds, preferably toasted, to serve
Crisp tofu
1

tablespoon

vegetable oil

5 1/2

ounces

firm tofu, cut into 1/2-inch-thick slices
Spicy Udon Sauce
4

tablespoons

Sriracha chili sauce or other hot red chili sauce

2

tablespoons

soy sauce

2

teaspoons

rice vinegar

juice of 1/2 lime

1/2

tablespoon

toasted sesame oil

1

tablespoon

chopped chives

1

tablespoon

chopped coriander
Directions
For the spicy udon sauce
Put all the ingredients into a bowl and mix together well.
For the udon and tofu
Cook the udon (if using dried) in a saucepan of the measured boiling water with the salt added for 6 minutes.

While the noodles are cooking, steam the cabbage and peppers for 4-6 minutes, adding the sugar snap peas for the final 2 minutes of the cooking time. (If you are using ready-cooked udon, cook the vegetables for 3 minutes in the salted boiling water and add the udon for the final minute.)

For the tofu, heat the oil in a nonstick frying pan until it is smoking. Pat the tofu slices dry with kitchen paper, add to the pan and fry over a high heat for about 30 seconds on each side until they are crisp and brown. Remove to a plate.

When cooked, drain the noodles (and vegetables if cooking together) well and put them into a large bowl. Add the steamed vegetables and crisp tofu and dress with the sauce.

Serve while hot, with the sesame seeds sprinkled over the top.