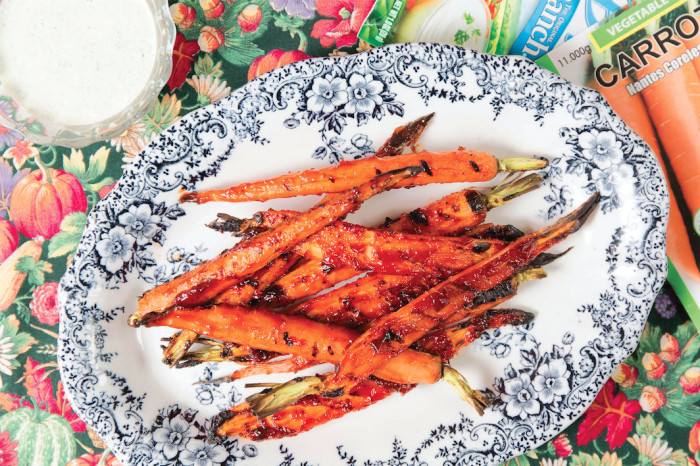 Just because Lucky Peach magazine is famous for meat-laden recipes like porky ramen, fried chicken and piles of shellfish doesn't mean they can't publish an awesome vegetable-based cookbook. This fresh, fiber-rich, plant-based collection of "Turbocharged Recipes for Vegetables With Guts" is so good you'll forget you were ever craving that lap cheong or roast duck. Okay, maybe you won't forget, but you'll certainly be able to table it in favor of Lucky Peach's BBQ carrots with ranch. They're on the table in half an hour, flat. 
Marc Vetri is one of America's most masterful masters of authentic Italian cuisine. But here, he shows off his ability to put the CLASS in TRASH instead. Okay, admittedly, he makes his own barbecue sauce and I'm telling you to buy KC Masterpiece (or another similar/preferred bottled sauce) because I'm pro-ease.
Why not buy the ranch too? you might be asking. Because Vetri's ranch is a wonderful extra-ranchy ranch that's worth the effort. Of course, if you don't listen to me on that point and sneak off into the Hidden Valley, I'll probably never know unless I'm hiding in your house somewhere observing every tiny creepy little detail of your life and keeping careful note of how often you trim your toenails. But the payoff isn't about class or toenails or Italia; it's about the versatility of carrots and the pleasure of a dish that reconfigures the experience of eating carrots dipped in ranch at a backyard cookout into a fun-to-eat side dish. Squiggle the ranch over the carrots if it appeals; we opted to put it in a dipping bowl here.
Reprinted with permission from Lucky Peach Presents Power Vegetables!
Ingredients
2

pounds

medium carrots

2

tablespoons

extra-virgin olive oil

Kosher salt and freshly ground black pepper

1/2

cup

archetypal supermarket barbecue sauce
Ranch Dressing
1 1/2

tablespoons

dried parsley

1/2

teaspoon

dried dill

1/2

teaspoon

garlic powder

1/2

teaspoon

onion powder

1/4

teaspoon

dried chives

1/4

teaspoon

kosher salt

1/4

teaspoon

freshly ground black pepper

1/8

teaspoon

cayenne pepper

1/4

cup

mayonnaise

1/4

cup

buttermilk, plus more if desired
Directions
For the ranch
Combine the dried herbs and spices in a spice or coffee grinder and blitz them into a green powder. (Don't have the power tools? Don't worry. Just stir 'em together.)

In a bowl, stir together the mayonnaise, buttermilk, and green herb/spice powder. Thin with additional buttermilk as you see fit. This will keep for days in the refrigerator, good in all the places that ranch usually is.
For the carrots
Heat a charcoal or gas grill to medium or the broiler to high.

Wash and trim the carrots, then halve them lengthwise. Toss the carrots with the olive oil, salt and pepper to taste, and half of the barbecue sauce—add more if needed; they should be glazed in it. Grill or broil the carrots, turning and basting with more sauce, until they are nicely charred but not burned, 5 or 6 minutes. Move to a cooler spot on the grill or turn the oven down to 350°F, and continue cooking the carrots until tender but not mushy (you can test them with a thin knife or a fork; they should yield but not mush), about 10 minutes in total.

Serve the carrots with the ranch drizzled all over the place or chastely segregated in its own bowl.